Embellishing a Photo Cluster

Article Courtesy Scrapjazz.com: by Denise Gormish
A photo cluster is a grouping of several photographs on one page. The photographs are placed in close proximity to one another. Photo clusters can be arranged in many ways, including all lined up, within a box shape or slightly overlapping. Photo clusters are a great way to get lots of photographs on one page.
Photo clusters, though, can also be a great place to embellish your scrapbook page. Here are some ways to embellish photo clusters:
Arrange Embellishments in a Visual Triangle. Use the photo cluster as a place to create a visual triangle. The visual triangle can be used with any type of embellishment including brads, stickers, chipboard and flowers. In my layout "Sightseeing" I placed flowers on the outer edges of three spots of the photo cluster.
Center the Embellishment. An embellishment can also bring focus to a photo cluster by placing the embellishment in the center of the cluster. This works particularly well in a square photo cluster. In my layout "Seahorses" I added a flower and button to the center of the photo cluster.
Use Embellishments for Vertical Balance. Embellishments can be placed around the photo cluster. They can either be put to the left or to the right of the cluster. Balance can be added to a layout by positioning a repeating embellishment on the left and right of the layout. In my layout "Success Comes with Effort" I was able to use a dark font combined with a small image as an embellishment. This combination moves the eye through the photo cluster.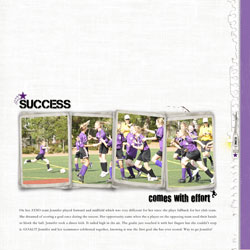 Use Embellishments for Horizontal Balance. Photo clusters can also be embellished from top to bottom. It also gives balance to the layout.
Highlight the Photo Cluster with Embellishing Lines. For a more graphic look, a photo cluster can be embellished with lines. The lines can be drawn, printed, or made with stickers or chipboard. In "Snow Play" I created a line all around the photo cluster. This gave focus to the entire photo cluster. I also included top and bottom clusters of text to add more balance to the layout.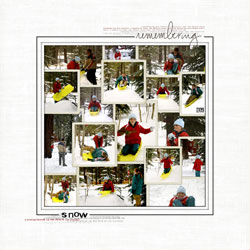 Next time you arrange a photo cluster consider the many creative ways you can enhance your photo cluster and entire scrapbook page.
Digital Supplies from DesignerDigitals:
Cathy Zielske: Cathy Zielske's Layered Template No. 02
Katie Pertiet: On the Edge Flourished Overlays, Snow Kit, Chipboard Alphabet: White, Stacked Photo Clusters No. 03, Digital Date Stamps Vol. 15, Recorded Brushes and Stamps No. 02, Drop Shadow Styles Collection, Caught on Film Layered Template, Kick It Brushes and Stamps, Alandia Paix Element Pack, Star Statements Brushes and Stamps, Date Tags No. 02, All You Need Overlays No. 06, Photo Clusters No. 21
Michelle Martin: Pacifica Solids Paper Pack, Luisa Solids Paper Pack
Pattie Knox: Frosted Alphabet No. 03, Shimmer Me Tidbits: Starry Night
Lynn Grieveson: Natures Best Flowers, Alicia Kit
Art Warehouse: Memories Circles No. 06 Brushes and Stamps
Jesse Edwards: Clean and Serene No. 01 Solids Paper Pack, Beaming Solids Paper Pack, Lucky One Supplement Paper Pack, Clean and Serene No. 02 Solids Paper Pack
Anna Aspnes: MonoBlendz Oceana Paperie, Observe WordART No. 01, Magic Sparkles No. 02 BrushSet, Artsy Hearts Brushes and Stamps
Ali Edwards: Hello Life Title + Journal Blocks
Cassie Jones: Laying It All Out No. 15: A Matte Finish