Article Courtesy Scrapjazz.com: by Rachel Myerson
"No bird soars too high, if he soars with his own wings"
Humans have always been impressed with birds. Not only do they fly, they also look beautiful. Recently, images of these beautiful creatures are being used to embellish our scrapbook pages and cards.
There are so many ways to use birds as embellishments. One obvious way is to use patterned papers with birds on them. My son loves birds, so I often use bird-themed papers in layouts about him. My dad loves birds too, so I thought this bird-themed paper from Jenni Bowlin studio would be appropriate for this layout about the two of them, even though the subject of the layout has nothing to do with birds. There are many other lovely bird-themed papers from Cosmo Cricket, Little Yellow Bicycle, BasicGrey, Webster's Pages, and other favorite manufacturers.
Stamps are another way to add birds to your layouts and cards. I enjoy coloring in my bird stamps when I use them on cards. Mary Eason used a bird and birdhouse stamp on this beautiful Christmas card.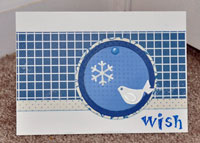 Another way to add birds to a layout is to die-cut them. I like using Stickles to add sparkle to die-cut birds. On this card, I also used a pearl for the bird's eye.
There are also many bird-themed embellishments that can be added to layouts. On this layout, I used a Prima pebble with an image of a bird in addition to the bird die-cuts.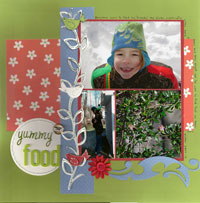 "A wise old owl sat on an oak; The more he saw the less he spoke; The less he spoke the more he heard; Why aren't we like that wise old bird?"
An owl is a very special bird, often used to symbolize wisdom. Therefore, it is a perfect choice for school and graduation layouts and card. Mary Eason made this owl-shaped graduation card. Fun titles and phrases can be added to owl cards and layouts by using the spelling "whoooo" as Mary did on this cute layout.
Birds are perfect embellishments on layouts about many different subjects. Next time you are looking for something new to add to your layouts, I hope you will consider trying bird embellishments.
"Birds fly over the rainbow, why then - oh why, can't I?"