May 2010 Sketch Challenge

Article Courtesy Scrapjazz.com: by Stacy Milford
One of my favorite scrapbook tools has become sketches. For me, a sketch serves as instant inspiration. It can take all of the guesswork out of a layout or card, and allows me to get to the fun stuff – creating and playing with all of the wonderful papers and embellishments!
For the sketch challenge this month, I created a sketch that incorporates multiple photos. This sketch is perfect for occasions when many photos are taken. I find it so hard to narrow down my photos for birthday, vacation and school layouts. For these occasions, I prefer to use many photos to help tell the story.
The first layout that I'd like to share with you was created by Virginia Hertel, aka Buttonscrapper. She was able to adapt the 12" x 12" sketch and did a wonderful job in creating an 8 ½" x 11" layout. Rather than using two horizontal photos in the upper portion of her layout, Virginia chose to use one vertical photo, which really becomes the focal point of her layout. What a gorgeous photo! She chose to go with three smaller photos, set at fun angles, below the vertical photo. I love her fun approach to numbering her photos, which then ties back to her journaling. To finish it all off, the great Kansas embellishments really tie everything together.
Next is a card created by Tammy Moore, aka Msntlm. I was really excited to see that Tammy was inspired by the sketch to create this beautiful card. She chose to eliminate a few elements of the sketch and that really is the beauty of working with a sketch – to make it your own! Tammy used a gorgeous color palette of purples, a punched border and a fun trio of ribbon, a button and a pin to create the perfect wedding card. Her stamped sentiment is so fun too: Husband, Wife…Happy Life!
Patty Folchert, aka ScrappyHappy, took the sketch and doubled it! She had many photos from her son's recent first birthday that she wanted to use to document that milestone and this sketch helped her do just that. The adorable Jillibean Soup patterned papers add a bit of whimsy to Patty's layout and help highlight all of the fun going on in her photos. Journaling blocks along the bottom of the layout tell the story of the day and also incorporate some fun farm animals too!
I adore the fun and flirty style of Kayla Richards, aka Kayla R, and she didn't disappoint with her "my love" layout. She also chose to create an 8 ½" x 11" layout and highlighted one main photo, accented by two smaller photos. The vibrant color combo and simple embellishments allow her photos to shine. Her inking and stamped journaling lines add texture to the layout without overwhelming her photos. Overall, Kayla's layout just screams FUN and I love it!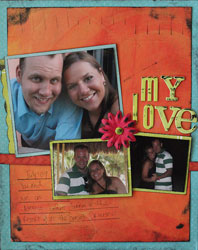 The layout that I created using this sketch highlights some of my favorite photos from our family vacation to San Diego during the summer of 2008. It was our first-ever trip to the beach and I love how this layout documents walking to the beach, finally getting there, and then of course, playing in the water! I wanted to show off the pattern of the Making Memories paper, so I flip-flopped the top portion of the sketch to suit my needs. Several word stickers sprinkled across the layout help tell our story and a few lines of journaling finish it all off along the bottom.
I hope that you have been inspired by these wonderful projects and look forward to seeing your creations using the May sketch. Be sure and upload them into the Scrapjazz gallery for all of us to enjoy!