June 2010 Sketch Challenge

Article Courtesy Scrapjazz.com: by Heidi Anne Giebel
This month I took a simple sketch that included one 4" by 6" photo and a large embellishment. I created four scrapbook pages and one card, which were inspired by this sketch. You could easily substitute a journaling block for the large embellishment at the bottom left.
For the first layout I stayed true to the sketch. The 4" by 6" photo is placed vertically in the center of the page with the title above it slightly to the right. I created a large scalloped circle for the doll die cut to sit in and the placement of the scallop strips are as shown in the sketch.
I changed this second scrapbook page slightly by adding a journaling block just below the title. Also, instead of a large circle embellishment, I used a square embellishment and tilted it slightly to add some interest.
For the next layout, I switched the placement of the title to the bottom left of the layout where the large embellishment would have been. I placed the large embellishment in the top right of the layout. With the floral patterned papers, the delicate title just seemed better suited for the bottom of the layout than the top.
For this layout, I again placed the title at the bottom left. Instead of placing a large embellishment on the page I swapped the scalloped strips for large rickrack strips and placed them at the top right. I added journaling to the top left of the page and also under the rickrack strips.
Lastly, I created a card that was inspired by this sketch. I layered the patterned papers in a similar fashion to the sketch and added a large embellishment to the top right of the card. I also placed a scalloped strip of patterned paper to the bottom left of the card.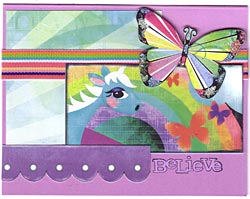 I hope that this month's sketch, layouts and card will inspire you to create a page of your own and post it in the ScrapJazz gallery.