Step-by-Step: A Happy Hello

Article Courtesy Scrapjazz.com: by Stacy Milford
My passion for scrapbooking and documenting the life of my family through photos and words sometimes has to take a backseat to the demands of everyday life. There are days (sometimes weeks!) when I just don't have the extra time. When this happens, I have found that I can create a card in less than 30 minutes and be completely happy with the results! Besides, who wouldn't enjoy receiving a handmade card over a store-bought one?
So, with some new supplies just itching to be used, I created this whimsical circle scallop card just to have on hand. I really can't wait to send it in the mail to a special someone.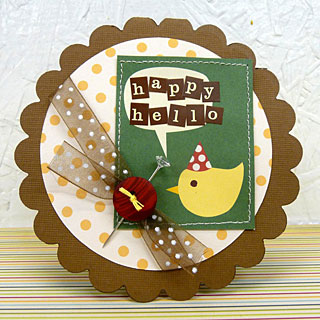 Here are the simple steps to help you create this card:
Supplies:
Instructions:
Fold a 12" x 12" piece of cardstock in half.
Choose the largest Classic Scallop Circle die, which measures approximately 4 ¼" in diameter. Place the cardstock over the die, so that the folded edge doesn't completely cover the die, which will create the "hinge" at the top of the card.
Run the cardstock and die through the Cuttlebug to create the base for the circle scallop card.
Choose patterned paper and cut into a circle that measures 3 3/8" in diameter. Cut sheer ribbon to 4" and place across the circle as shown in the example. Tape loose ends to the back of the circle. Apply adhesive to the back of the circle and adhere to the center of the scallop circle cardstock base. Be sure that the hinge is at the top.
Cut patterned paper image to measure 2" x 3". Add stitching along the edge of the image. Apply adhesive to the back of the image and adhere over the patterned paper circle, allowing the ribbon to lie across the corner of the image.
Add a sentiment to the card using Cosmo Cricket Tiny Type alpha stickers.
Add the button to the top of the ribbon using embroidery thread.
Add a little sparkle to the card with a Making Memories gem pin.
If you only have a bit of time, why don't you grab your supplies and make a card? I hope this step-by-step has inspired you to do just that. We would love to see your card creations in the Scrapjazz gallery!