Step by Step: Backyard Groovin'

Article Courtesy Scrapjazz.com: by Trish Dykes
As soon as I saw the new Live Loud collection by Imaginisce, these photos of my daughter dancing around our backyard came to my mind. I had not scrapbooked them before, because I could not find any papers that seemed to fit the theme.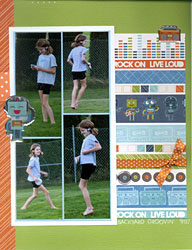 Not only are the papers in this collection double-sided, but they have a glossy texture that adds dimension to the design. The Live Loud collection also includes great quality coordinating ribbons, epoxy glass stickers, clear rubber stamps, and rub-ons.
Supplies:
Imaginisce ribbon - Live Loud Collection
Autumn Leaves white rub-on letters and stars
Instructions:
Cut the orange strip off the bottom of the Backstage Pass paper and trim to 8 ½" x 11". Adhere to the left side of the cardstock.
Cut a piece 3 ½" x 8" from the remaining Backstage Pass paper. Wrap a 9" piece of orange ribbon around the paper and then glue it to the cardstock 1/4" in from the right edge and 1 ½" down from the top. Tie ribbon into a bow on the front.
Trim two of the photos to 2" x 3 ½" and two of them to 2" x 4 ½". Arrange them together as shown and adhere to the blue cardstock. Trim and then adhere the photo block to white cardstock. Trim again, leaving a 1/4" edge. Glue to cardstock, slightly overlapping both the orange strip and the patterned paper on the right.
Apply Double Platinum epoxy stickers as desired. I used one on the left edge of the photo block, one on the top right corner of the patterned paper and one on the patterned paper, matching the CD design.
Use rub-on letters to put the title on the layout under the patterned paper on the lower right. Rub an additional line of stars on the top left side of the cardstock.