August 2010 Color Combo Challenge

Test
Article Courtesy Scrapjazz.com: by Rachel Myerson
Recently I was shopping for athletic shoes and noticed a pair that was brown and orange. Although I did not choose to purchase them, I was intrigued by the color combination. After pondering these colors, I decided to add one more color, lime green, to create this month's color challenge. I like this color scheme because it is very versatile. Seasonally, the bright green and orange make it perfect for summer, while the brown and orange make me think of autumn. The brown makes it suitable for boys and men, and the brighter shades make it suitable for girls and women.
For my first project, I created a card for my father; I used an owl because he likes to think he is old and wise.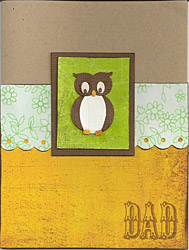 Mary Eason used the color scheme to make a card for a female friend.
For my layout, I decided to add one more color to the palette, in this case blue. The bright colors, combined with brown, seemed perfect for a masculine school-themed layout.
For my final layout, I used the raw kraft (for the brown) paper and chipboard to emphasize the harshness of the volcano, with the hint of green to bring out the small plants that manage to grow there. The orange is more subtle, as it is a translucent button.
Whether you're scrapping the dog days of summer or the cooler weather of fall, consider this color scheme for some of your outdoor layouts. We would love to see your work, so don't forget to share your creations here at Scrapjazz.