Digital Technique: Recoloring Digital Items

Article Courtesy Scrapjazz.com: by Denise Gormish
One of the advantages of digital scrapbooking is the ability to recolor any item. Brushes, alphabets, images, text, paper and word art can all be colored easily. There are several methods for coloring a digital item.
Lower the Opacity. By reducing the opacity of the item, you can get a subtler and lighter shade. The color will lighten as it is reduced. If you will be reducing the opacity a lot, layer a white background under the item you are changing. If you do not, it will get lost in whatever item is below it. I liked a certain patterned paper for my layout, "Babies," but it was too dark. I lowered the opacity to 34% to get the more pink effect that I wanted.
Clip to Digital Cardstock or Patterned Paper. Clipping a paper in the desired color and/or pattern to your item will easily change its color. The item can be anything but remember it will change the whole item to the color of the paper. Thus, it is more useful for stamps and other images that are one color. In my layout, "Lucky Traveler," the background featured two sets of stamps. I made a copy of the stamp, giving me two versions – the original and the copy. For the original stamp I clipped the purple paper to it. The copied stamp was placed on top of the purple paper layer and I clipped the orange paper to it. At this point the top layer (the orange one) shows through and the purple can't be seen. Using the eraser tool I erased the orange from where ever I wanted the purple to be visible. To clip the paper to the stamp, I placed the cardstock paper above the stamp and I did Layer-Create Clipping Mask.
Fill in the Area. You can fill in a border, text, frame, etc. with the "color fill" command. To use "color fill" select the magic wand. Make sure you are on the layer you want to work with and then select the area to be changed with the magic wand. That area will appear with marching ants around it. Choose Layer – New Fill Layer – Solid Color. Name the layer, then choose the color. It will fill in the area with your new color. In my layout, "FreeSpirit," I wanted to change the color of the sticker. I made new color fill layers to make the title red and the birds and flowers blue-green.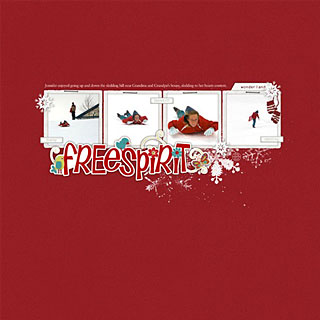 Create Multiple Layers. Any of these techniques can be used more than once and/or in tandem with one another to color an area of the layout. Feel free to use whichever method works best for the item you wish to color.
Personalize your layout by changing the colors to suit your needs. Take advantage of these methods to give your pages the best look.
Supplies for DesignerDigitals:
Katie Pertiet: Scrubbed Layered Template,Watery Wings Brushes and Stamps, Little Shores Kit brads, Little Princess Element Pack, Fine Lines Border Lines Brushes and Stamps No. 04, Freespirit Layered Template, Snow Fun Kit, Digital Date Stamps Vol. 01, Tabbed Brushes and Stamps No. 03, Holiday Word Strips, Snow Pushers Paper Pack, Drop Shadow Styles Collection, Lucky Layered Template, Tabbed Dates Brushes and Stamps, Classic Cardstock: Spring
Michelle Martin: Siri Paper Pack, Siri Solids Paper Pack, Janine Solids Paper Pack, Carissa Solids Paper Pack , Love, Peace and Happiness Solids Paper Pack
Jesse Edwards: Flying South Brushes and Stamps
Anna Aspnes: SnowSpray No. 01 BrushSet
Pattie Knox: Felty Flakes No. 02