September 2010 Sketch Challenge

Article Courtesy Scrapjazz.com: by Rachel Myerson
I have been working with 11" x 8 ½" landscape lately, so this month's sketch was designed for that shape. However, it can be stretched and modified to fit any shape that you like to scrap. I've included a space for a single photo or a photo collage and plenty of spaces for patterned papers or ribbons. I've asked three designers to interpret the sketch and make it their own.
Our first layout, "Prom," comes from Sheredian Vickers. She stretched the layout into a square and beautifully combined many patterned papers and ribbons to complement her photo. I love what she did with the journaling.
Mary Eason also used a single photo and stretched the sketch into a square. I love the way she used those round embellishments in place of the rectangles and the way she ran the title in both directions to use up the empty space.
Carly Blaiss divided the photo area in quarters to display four photos of her son in that cute hat. She used lots of border shapes and lots of bright colors in her fun interpretation of the sketch.
For my layout, I stayed with the landscape shape and used papers and stickers from Crafting Jewish Style along with a Biblical quote to highlight this family tradition.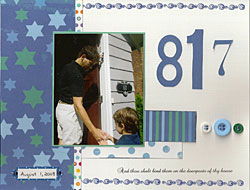 I hope you enjoy using this sketch.