Using a Silhouette with a Mac Computer

Article Courtesy Scrapjazz.com: by Michelle Francis
I purchased the original Silhouette by QuicKutz a little over two years ago and I was worried I wouldn't be able to do what I wanted to do because I have an Apple computer instead of a Windows-based computer. I did research and found stories of hope and stories of despair. I talked to my husband about the pros and cons of purchasing a Silhouette compared to buying a Cricut. For him, it all came down to the endless possibilities using the Silhouette with all the fonts he's collected as a graphic designer.
I was worried and intimidated by Adobe Illustrator. I had worked in a job where I used it a little, but not much. I would call my husband in and tell him it wouldn't do what I wanted it to do and he would then wave his magic wand and make Illustrator create what I wanted it to. At a point, he told me I needed to learn how to use Illustrator on my own. Here are three important things I learned that helped me to get the most out of my Silhouette while using a Mac.
1 - How to use the shape tool:
To draw simple shapes, use the shape tool. With it, you have the option of creating rectangles, rounded rectangles, ellipses, polygons and stars. Select the shape tool and then select the shape you want to create. Place your cursor where you want the edge of your shape to be and drag it until the shape is the right size. If you want your shape to be an equilateral, hold down the shift key while dragging and make sure you release the shift key after you release your cursor. If you want to make more complex designs, use the pen tool.
2 – How to use the pen tool:
The pen tool is easier to use if you use a mouse instead of a track pad. To start, select your pen tool. Position your cursor where you want to start your drawing and click once. Now, find the next point and either click to make a straight line between the two points or click and without letting go, drag the cursor to make a curved line. Continue adding points to create the desired shape.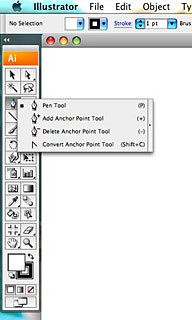 3 – How to create outlines of your text:
Because the Silhouette can only cut shapes, you can convert your text to outlines, which will turn it into a shape. Before you create outlines, make sure you have chosen the right font and check the spelling. This cannot be changed once you create outlines. To create outlines, use the selection tool (black arrow) to select all of your text. Once it is all selected, click on "Type" then "Create Outlines". Your text will now be a shape that can be cut with your Silhouette.
If you make a mistake, click "command" (the key with the apple on it) and "z" at the same time and it will undo your last action.
I hope this will help you overcome your fears of Illustrator. Don't forget to have fun and experiment; I'm sure you'll find ever more uses for your Silhouette.
Author's Note: At the Summer 2010 CHA, QuicKutz announced they will be putting out the new Mac compatible software for the Silhouette this fall.