Article Courtesy Scrapjazz.com: by Heidi Anne Giebel
Halloween is such a frightfully fun time of year; why not keep those ghoulishly bewitching memories handy for the children with this easy Halloween mini album. With just a few supplies and your photos, this mini took less than two hours to assemble.
I designed my pages using Cricut Design Studio . For example, I welded the jack-o-lantern shape onto a 2" x 4 ¼" rectangular shape. For my second page I created a rectangular shape that was 6 ¼" x 4 ¼" and welded the ghost to it. For my last page I created a 7" x 4 ¼" rectangle to weld the witch to.
I used office envelopes that I cut down to 3 5/8" x 5 ½" for the other pages in this mini album. I started by sealing five envelopes. Then I covered each one with patterned paper. Next I traced a half circle on the open edge of each envelope and cut it out. This will be where I slide the photos and journaling blocks in and out of each envelope.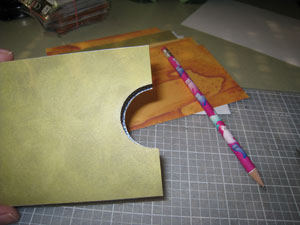 Next, I put my pages in order
and then punched the holes with my Zutter Bind-it-All and bound my book with their ½" black wires.
That's it; you've created a chillingly charming little mini album that would delight even the most fearsome little goblin!