Article Courtesy Scrapjazz.com: by Heidi Anne Giebel
When you're using die cuts on your scrapbook pages or cards, it's really all about the embellishing. It's the little added touches that really bring your die cuts alive and give them character. Here's how I took plain boring die cuts and jazzed them up into something spectacular.
First I cut all the layers of my die cut using my Cricut Expression and the Create a Critter cartridge. You can use these techniques on any die cut with any die-cutting system you may have. I'm assembling a turkey die cut for a thanksgiving scrapbook page that I am making.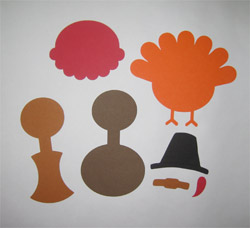 Next, I used an embossing folder and my Cuttlebug to add dimension and texture to certain layers of my die cut. I used two different embossing folders for each layer of the turkey's tail.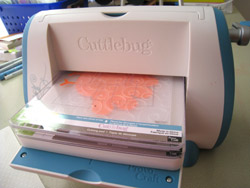 Using a paintbrush and an inkpad, I inked around all the edges of my die cut. This will add another element of dimension to your die cut and also allow it to stand out on your scrapbook page.
Add stamping to your die cut. This will give your die cut even more character and personality. I used Everyday Character Face Parts and More from Peachy Keen Stamps on this turkey die cut.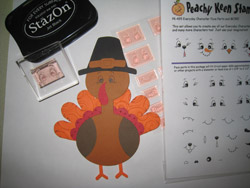 Use your opaque white pen to add highlights to your die cut. Use a fine point black marker to add some "stitching," short strokes that look like little stitch marks, around the edges of your die cut. Use pink or red chalk to add cheeks to your die cut. To add some shimmer or sparkle to certain areas of your die cut, use either Stickles or Sparkling H20's.
Lastly, adhere your die cuts to your scrapbook page.
Products used: