Embellishments: Mini-Prints

Article Courtesy Scrapjazz.com: by Rachel Myerson
Do you embellish your layouts with mini-prints of your photos? Using small prints to embellish your page is one of the oldest techniques around and can be used to create your own personal look and feel.
Whether you print your own photos or order them, there are several options to obtain your mini-prints. The most obvious is to use the little prints that come on the index sheet. However, if you don't get these sheets, there are several other options, including using wallet-sized prints (and cropping as necessary), cropping regular photos into multiple mini-prints, or using the scraps that you crop off your regular photos. Regardless how you get these little photos, there are a variety of ways to turn them into embellishments.
Filmstrip
One of my favorite ways to use mini-prints is to line them up like a filmstrip. In this layout, I used the Tim Holtz Idea-ology Filmstrip ribbon. There are also felt filmstrips from Queen & Co. or metal ones from Deja Views. You can also make your own using a die such as the Sizzix Filmstrip Die, or cutting by hand. I cut the mini-prints from wallet-sized photos and other scraps to populate the filmstrip. When filling filmstrips, the spaces are so small that even scraps of photos look good.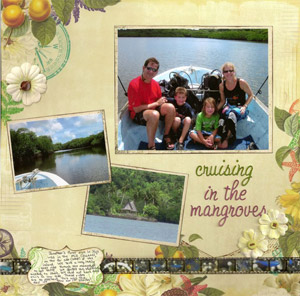 Metal Frames
Putting mini-prints into little metal frames is a great way to make custom embellishments. Creative Impressions makes a variety of metal frames which would be perfect to create your own mini-print embellishments.
Punched Photos
Punches and die-cutting machines are a great way to make embellishments from your mini-prints. In this layout, I punched little circles from my jellyfish photos to create round embellishments.
Round punches like this can also be used as the centers of flowers. Another possibility is to punch a circle, or other shape, around faces, and use them as embellishments. This might be a good way to include all the guests at an event onto a single layout.
Another possibility is to punch those mini-prints into shapes. In this leaf cluster, I used a leaf-shaped punch on photo scraps to create extra leaves which I mixed in with my paper leaves.
I hope I have given you a few ideas of ways to use mini-prints to create one-of-a-kind embellishments. Next time you are looking for just the right embellishments, consider looking to your photos in addition to your embellishment stash.