January 2011 Sketch Challenge

Article Courtesy Scrapjazz.com: by Jeanette Giancaspro
I've been scrapbooking for more than nine years now, so I'm very comfortable with my own style and design. I know what I like and what I don't like, what works for me and what doesn't. I've found that there are certain designs that I tend to use over and over, because they offer so many possibilities for adapting them to various photos and themes. Here is a four-photo sketch based on one of my favorite design schemes, and a few of the scrapbook pages that I've made using it.
In this scrapbook calendar layout, I staggered the photos because I was working with different sizes and orientations. I wrote the journaling next to each photo, instead of using a journaling block. One large embellishment in the upper left corner replaced the three in the sketch that create a visual triangle.
The "LEGO Fun" layout also has staggered photos, but this time, I did make use of the journaling block and the visual triangle of embellishments. Also, in both this layout and the calendar page, I moved the borders around a little bit.
For my final example, I've shown how you can apply this design to a title page in a scrapbook. This is the first page in one of our holiday albums, and it provides a wonderful introduction to what is inside. Since I replaced all of the photos with die cuts, no embellishments were necessary. A centered title looked better in this layout, and a stitched border framed the design nicely.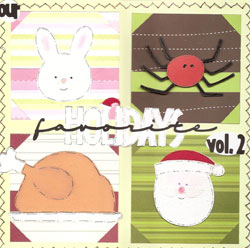 This is one of my favorite design schemes, and the funny thing about it is that I never really sketched it out until now. I guess I never realized how many times I've gone back to it without even thinking about it. It simply looks good to me. I hope that you will find it as versatile as I have, and I can't wait to see what you do with it.