Valentine's Day Home Decor

Article Courtesy Scrapjazz.com: by Heidi Anne Giebel
When I decorate for Valentine's Day I typically hang up pink and red paper hearts, cupid garland or red twinkle lights. This year I wanted to do something different. I wanted to combine my new love for making banners with a table centerpiece.
I started off by cutting six trees (8 ½" x 10") from my Cricut Zoobaloo cartridge in white. I layered and glued three trees together. Then I layered and glued the remaining three trees together giving me two sturdy trees.
Next, I cut each tree in half.
Using my hot glue gun, I glued them together to create a three-dimensional tree.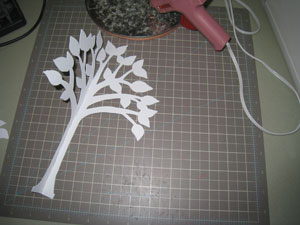 I then glued my tree to a 8" x 8" piece of cardboard that I had covered in white paper
Next, I created all the decorations for my centerpiece including five little children (dressed in red, white, pink and Valentine's patterned paper), some valentines and a picket fence.
I also created a tiny "Happy Heart Day" banner to hang on the picket fence. I strung this banner together using hot glue and thread.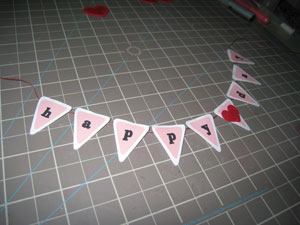 Lastly, using my hot glue gun, I placed the children in front of the tree and the picket fence around the edges of my centerpiece stand. I hung the tiny banner on the fence using a small amount of hot glue. I decorated the tree with tiny hearts and red ribbon bows.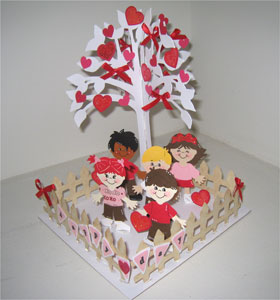 Products used: