Article Courtesy Scrapjazz.com: by Andrea Steed
I love a first-year baby album. I made them for my kids and all my nieces and nephews. So, when a good friend of the family had a baby, I decided she too needed a baby boy scrapbook of her own to display a sampling of photos from his first year.
I wanted to keep the album very small and simple, so I began with a small photo book with 4" x 6" photo sleeves. The book I chose had a baby-themed picture on the front of the album, but since this baby's daddy is a tough-guy high school football coach, I knew "baby-ish" wasn't going to be quite his style. Instead, I opted for a more masculine clean-line look and replaced the ready-made image with a metal monogram separated by eyelets on brown cardstock. For an additional handmade touch (and a tiny bit of baby softness), I added a satin yellow ribbon and a vellum metal-rimmed tag with the baby's birth date.
Next, I cut thirteen circle tabs using the McGill Round Tab Mini Punch and handwrote the months on each tab. These I used to separate the sections of the book into months, leaving six photo sleeves for each month of the baby's first year.
Finally, for one more personalized touch, I used my Silhouette SD to cut the baby's full name to glue into the inside cover. Using three different fonts, overlapping them slightly and merging all of the lettering together, I was able to create a graphic design completely unique to this baby's album.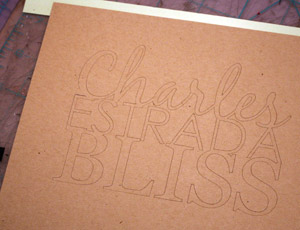 I was very pleased with the end result and proud to present an easy-to-fill personalized baby boy album to the new parents.