Product Review: Fiskars Easy Stamp Press

Article Courtesy Scrapjazz.com: by Jeanette Giancaspro
Product Name: Fiskars Easy Stamp Press
Price: $16.50 (2-Pack of Extra Plates - $9.50)
Product Description:
This is so much more than just a giant acrylic block. It's like having your own personal stamp press right in your own home. With the Easy Stamp Press, you can stamp the same design over and over again, with perfect placement every time. Because of its unique grid design, you can easily line up your clear and unmounted rubber stamps to create whatever design you like. Its sponge feet allow you to stamp without any slipping or sliding. You can combine several stamps to make your own original backgrounds, or use single stamps for focal images. The plate is removable, so if you want to save your design for future use, you can just pop it out and replace it with a new plate.
In Use:
Although it seemed a little intimidating to me at first, the Easy Stamp Press has become my go-to acrylic mount for all of my unmounted stamps, from the tiniest letter stamps to the largest background stamps in my collection. It's perfect for my unmounted wheels too. I've always had a problem getting a crisp, clear, even impression from my larger background and wheel stamps, but now that isn't a problem. I can even stamp on watercolor or textured paper without any uneven, blotchy spots. Because I am also a scrapbooker, I also use the Easy Stamp Press to line up my letters for page titles.
The only drawback to using this tool is that it takes up more room than a traditional acrylic mount. But that's a small price to pay for the ease of use and the excellent results it provide
Tips & Techniques:
Make sure that there is no stray ink on the Stamp Press before applying the stamp(s) to your project.
Place your project and the Stamp Press on a flat, even surface.
Press straight down, and release straight up.
Project Ideas and Examples:
It was quite easy to stamp this collage stamp over a brayered background using the Easy Stamp Press. I was able to line it up perfectly.
After I created the background with Tim Holtz Distress Inks, I arranged the heart stamps to make a lovely anniversary card.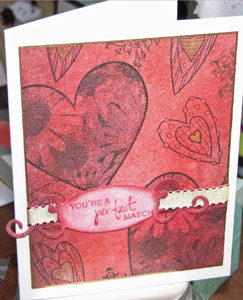 Here I used a single cupcake stamp, which I was able to center perfectly on some circles I had previously cut with my Nestabilities circle dies.
Whether you scrapbook, make cards, or create a variety of paper craft projects, the Fiskars Stamp Press will quickly become a must-have tool in your collection.