Shopping Made Easy with Scrap by Color

Article Courtesy Scrapjazz.com: by Andrea Steed
So, you've seen the cool Scrap by Color tool at Scrapbook.com, right? But have you USED it? Not just to pick color schemes for layouts, but to actually buy the perfect papers and embellishments to bring that layout to fruition? It's so easy, and as I am preparing for an upcoming weekend crop, it's a fabulous way to plan my layouts, shop for supplies and have an all-inclusive kit ready to go when crop time arrives.
Here's how it's done:
First, upload your photo to the Scrap by Color tool. You can upload up to three photos per project, so if you're working on a multi-photo layout, choose the three most prominent photos or one or two that you want to focus on.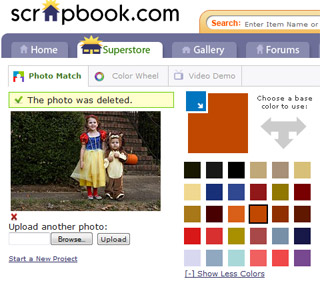 Next, choose a base color that you want to work with. After trying a few different options, I settled on this orangey-red color because it meshed well with the Halloween theme and the bursts of red, yellow and orange in the photograph.
As you'll notice, the Scrap by Color tool will suggest several color schemes based on the base color you chose. For this photo I liked the analogous color scheme , because it had a fall-ish feel to it and meshed the traditional orange and yellow colors of Halloween with the red and brown present in the two costumes.
Now that you've chosen a color scheme, it's time to pick your products. First I chose the orange shade and began searching down below for a product that "spoke" to me in that color. When I found something I wanted to use, I just added it to my shopping cart.
I followed the same browsing and choosing process for each color in the color scheme, mixing between patterned papers, cardstock, and embellishments, until my shopping cart looked something like this:
And I had chosen a layout palette that looked like this: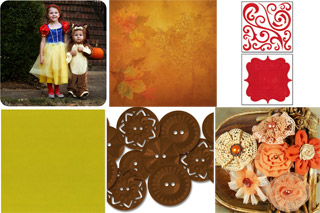 So easy, right? From there, just continue the process from the beginning for each of the layouts you're planning, filling up your shopping cart as you go. Finally, check out, and when your order arrives, you'll be ready to take your Scrapbook.com box of goodies straight to the crop with pre-planned layouts. Trust me, you'll thank me later.
Supplies chosen: