Product Review: Imaginisce i-rock Tool

Article Courtesy Scrapjazz.com: by Georgina Hefferman

Product Name: Imaginisce - i-rock Tool - Cordless Crystal Heat Setting Applicator
Price: $12.99 (gemstones can be purchased separately and range in price from $10 - $13)

Product Description:
Have you ever fiddled around with tiny gemstones, trying to get them to stick to your layouts or cards? I certainly have and that's why I was very excited to receive the i-rock tool for a Christmas gift last year.
The i-rock is basically a battery-operated heat gun of sorts, specially made to help you adhere those little gems to your creations easily and quickly. The bulk of the tool is made from pink plastic but it has a metal heating element on the end. By pressing a button you can heat the element very quickly and then by lightly applying it to a gem you can melt the glue in place and make the gem stick to the page.

In Use:
The first thing I would recommend to you when buying this product is to keep the packaging it comes in. On the back it tells you, step by step and clearly, how to use the product and this can be really helpful the first few times you use it. Before you start, slip the end of the tool off and add three AA batteries – it is clearly marked on the outside of the tool as to which way your batteries need to be inserted. Then make sure the heating element is screwed in tightly. (I tried for ages to get it to work. Then I learned that the element wasn't screwed in tight enough so it wasn't heating up!)
Add your gems to your project and when you are happy with their placement grab your i-rock tool. Move the safety switch to the "on" button (again this is very clearly marked on the tool) and press the button down. Hold this button for 15 seconds until you hear a slight pop. This means the tool is ready to use. Don't touch the metal at this stage – it will be extremely hot!! Keeping your finger on the button, lightly put the metal tip on top of one of your gems. Basically heat is transferred from the metal element and through your gem to the glue underneath. The glue melts and you feel the gem slip or give slightly, that means you're done! You don't need to apply any pressure at all; the tool does all the work for you.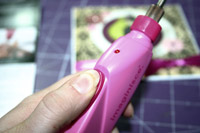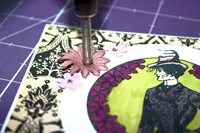 When you release the button and turn the switch to the off position, it begins to cool. I take my batteries out though just in case some of my other crafty stash rests too hard on the button when it's switched on – I wouldn't want any major disasters!
The i-rock really does rock and is available for an extremely reasonable and affordable price. I highly recommend it.
Each gem seems to take a different amount of time to heat up so you have to practice a little depending on what gems you are using. I have to say that I am impressed with how the gems stay stuck to your projects. I have made quite a few things and they haven't lost their stickiness at all.
See video demonstrations using the i-rock.
Tips & Techniques:
Don't worry when you first use your tool; it may smell of burning for a little while but it soon disappears. It's just because your tool is new and it's breaking itself in!
Using this tool can be addictive! Make sure you have plenty of gems available for use before you start.
Don't be fooled into wanting to apply too much pressure to keep the gem in place. There really is no need and if you are not careful you will just end up melting the gem onto the i-rock. That's not a big deal though; you can clean it easily.
Also by not applying too much pressure you can keep your gem in place and it doesn't get stuck somewhere else.
You can adhere gems to all manner of surfaces. I am planning to try a T-shirt very soon; so far I have only tried it on paper. I understand you can use it easily on fabric or clothing. You cannot use it on cell phones though.
Create your own swirly gem stickers for pages and cards without the expense of the premade ones.
Check out the Imaginisce blog for more tips on how to use the i-rock.
Project Ideas & Examples:
Here are a few layouts and cards I have made so far using my i-rock.
See a gallery of layouts using the i-rock tool.