Product Review: Spellbinder Nestabilities

Article Courtesy Scrapjazz.com: by Georgina Hefferman
Product Name: Spellbinders Nestabilities Collection - die-cutting and embossing templates
Price: $15.99 - $24.99
Product Description:
Spellbinders Nestabilities are in my opinion quite simply the best die-cutting product ever! I adore these little metal templates and use them practically every day.
In simple terms Nestabilities are a nest of metal templates with a cutting edge that you can run through a die-cutting machine such as a Cuttlebug and cut shapes out of a variety of materials. You can also use them for dry embossing too. They vary in sizes and shapes and are quite possibly the most versatile product out there.
Spellbinders is the name of the company who manufacturers these amazing templates. Nestabilities is the name of the product range. In fact there are a lot of other wonderful products manufactured by Spellbinders too – including Grand Nestabilities, Borderabilities, Edgeabilities, Shapeabilities and more.
If you have a die-cutting machine then I highly recommend purchasing one or more sets of Nestabilities. (Be warned though, once you have one set you will want them all!)
In Use:
It couldn't be easier to use Nestabilities. I use mine with my Cuttlebug but the principle is the same with any die-cutting machine.
To cut, I create a sandwich with the Cuttlebug plates like this: plate Aon the bottom, plate C on top of that, then the Nestability I want to use with the cutting edge facing upwards, then the paper I want to use followed by plate B. Once you have that you simply run it through your die-cutting machine and you have your finished die cut. It's worth noting that normally when using a Cuttlebug die with your machine you would use plates A, B and another B. This is a bad combination for the Nestabilities as they are slightly thinner dies.
For embossing it is slightly different. I find the combination of plates that works well for me is: Plate A, some old chipboard, Plate B, my die cut inside the template face down, a piece of thin foam and then finally plate B. This embosses a neat edge around your die cut.
It requires virtually no effort and the finished results are excellent with clean, crisp edges to all cuts.
Tips & Techniques:
There are a number of different things you can create with your Spellbinders Nestabilities. Here are a few suggestions:
Cut die cuts for cards or scrapbook pages.
Use two different Nestabilities together to make frames.
Create borders around the outside of your layouts.
Try the "omitting: technique by only partially cutting a shape around a stamped image.
Create an origami flower by cutting a scalloped circle and folding.
Once you have cut a shape, use the negative of this (i.e. the paper around it) as another border or frame on your creations.
Double emboss by cutting the shape you want out of some chipboard. Use plate A / Plate B / 2 pieces of chipboard / your template, cutting edge down /Plate B. This will cut one piece and leave an impression on the other. Then run the second piece of chipboard back through with a cut through it in the same place. Glue the two pieces together (like a card). Then, using plate A, an embossing folder with the card inside, the two pieces of cut chipboard/plate C, run it through your machine again. This will give you a piece of cardstock with a smooth shape in the middle and embossing around the edges.
Use the highlighting technique. Stamp an image onto white paper and cut it out using a Nestability. Leave the image in the die, and then emboss the edge as before. Leaving it in the die, dab ink or chalk over your image (so the image is still visible) and then when you take the template away you are left with a perfect shape around your image. This gives it a professional feel.
Cut material or felt and sew together to make accessories for headbands or bags.
Use different shapes to create your own paper piecing embellishments. Have you ever tried to make a bird out of circles for example?
Project Ideas & Examples:
Here is an example how I organise my Nestabilities in an old CD wallet.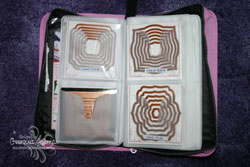 I made this banner using Labels and Eyelet Circles Nestabilities.
Create gift tags like these ones I made for the Scrapjazz "12 months before Christmas" challenge:
Fold and cut the shapes to make a corner bookmark.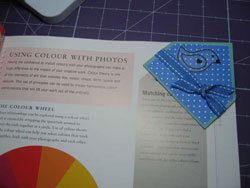 Use them to make perfect backgrounds for your cards.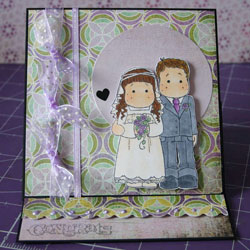 Cut felt to make your own embellishments.
Use them to frame a stamped image