---
Scrapping can go far beyond just capturing family memories. It can involve everything that's important to you, whether it is pop culture, history, travel, or world events. These elements of our lives are something that are important to capture to help tell our stories to future generations and give them a broader perspective of our world, beyond just our personal history.
I was inspired to do just that recently to honor a man who captured the attention of a nation. He's not a politician or a movie star – rather, he's an astronaut. Colonel Chris Hadfield spent 166 days in space on the International Space Station and was the first Canadian to ever command it. Beyond that, though, he rejuvenated interest in the space program and drew attention to science. Not since Neil Armstrong walked on the moon has a generation been so captivated with space.
Col. Hadfield tweeted and Facebooked from space, sending images he shot from the International Space Station down to Earth and hundreds of thousands of fans, offering them unique glimpses of our world. His version of Bowie's "Space Oddity," recorded in space, is pretty cool too.
There are plenty of space-themed papers, which make a great base for your project. Stars are a natural embellishment. If you're having trouble finding the exact one you want, check out boy-themed papers as well.
Here are some things to consider when scrapping pop culture and world events:
- Focus on journaling. How did the event affect you? How did you feel when it happened? What's likely to happen next? Why does it matter?
- Get the facts. Explain what the event is about.
- Give a broader perspective. Photocopy newspaper articles onto cardstock and incorporate it into your page, or if reporters weren't writing about it, include things like what did make headlines the day your event happened.
- Find out more about the people involved. If you're a big fan of a rock star, for example, include a bio of him on your page.
- Scrap the good, bad and the ugly. Scrapping can be therapeutic, so don't shy away from scrapping world events that are negative. In addition to the royal baby, pay tribute to 9/11 or the Boston Marathon bombing.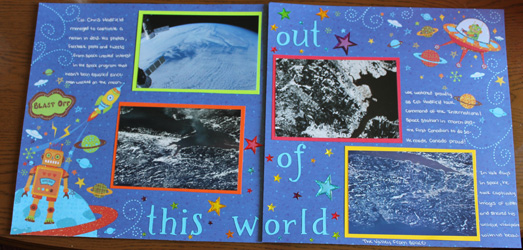 Supplies:
star stickers from stash
lettering cut from Cricut
white uni-ball pen