Project Life: Documenting Plate by Plate in Boston

My husband and I love to travel, and one of our favorite things to do while visiting a new city is to try their top restaurants. We often use the app Yelp if we are within the United States and read through the reviews so we know what the best thing to order would be. One of my struggles when returning from a trip is how to incorporate food photos into my scrapbooking. After returning this summer from an East Coast trip, I decided that documenting plate by plate using pocket pages was the perfect solution.
Here is my process:
1. Buy yourself a new little journal for every trip you take and spend a few minutes every night writing down where you went and what you ate that day. Also, pick up business cards at the restaurants if they offer them.
2. Photograph your food each meal. I have found that it is best to not use flash and choose an angle on the photo so it's not just a frame full of food. I take all food photos with my iPhone 5 and I quickly edit them with the app "Pic, Tap, Go".
3. Upon returning home I create a "Good Eats" folder on my desktop and import all the food photos from our cell phones into that folder.
4. I use "Photosheet" (a free downloadable program that will create wallet prints on a 4" x 6" canvas in seconds so you can print at the 4" x 6" price, yet have two 3" x 4" photos) to create wallets of some of my food photos.
5. I order prints (I always check to see if an online printer is having a sale compared to the price at my local Sam's Club or Costco) and when I pick them up I sort them according to date. I also sort through my ziplock full of ephemera (business cards, receipts, postcards) to see if I can use any in my spreads.
6. I fill the pocket pages with the photos and journal where we ate and what we ordered on various journaling cards (see recommendations below).
7. I place these layouts in my album behind the layouts I make documenting the trip. I also create a photobook using an online print service to document the entire trip so I am free to scrapbook whatever I want without the pressure to tell the story of the entire trip. I do not include food photos in my photo books.
Here is a look at my food photo spreads for our recent Boston trip: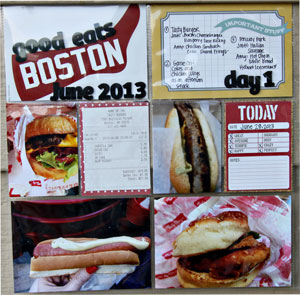 Projects I recommend for this type of layout:
-Collection Kits (you can trim down pages to 4x6 or 3x4 and they all match and most kits come with embellishments).
-Pebbles journaling pads
-Becky Higgins Project Life Kits
-Simple Stories
-BasicGrey
A full listing of all products used is found with these layouts in my gallery here.
I hope I have inspired you to scrapbook your vacation food photos! It's really fun to look back on those meals and remember your favorites.