Making the Most of Masking

The purpose of masking in cardmaking or scrapbooking is to apply a stamped image, ink, mist, paint or other kinds of art mediums to a specific area of your project. It basically prevents the art medium from applying to specific parts of a project, like a photo.
An actual mask template can be made from anything. Household items, like netting from a bag of fruit or even a piece of fine lace, can be used as a mask. Punched or die-cut shapes and backgrounds out of cardstock are also simple, inexpensive ways to make your own masks. If you don't mind spending money, pre-made plastic masks or templates are available at reasonable prices and in different sizes. These templates are easy to use and clean up with just a wet cloth. This article is going to show you two different masking techniques. The first is how to use a paper mask in stamping and the second is to use a pre-made plastic template as a simple way of making patterned paper. Both techniques will be used on one card.
The first type of masking is a simple technique used in stamping. This type of masking allows multiple images to be stamped without overlapping and creates the illusion of dimension without the bulk.
First, I stamped the fox image from on the bottom right of a piece of cardstock measuring 4 1/4" x 5 1/2". Second, I stamped the same image on a sticky note and cut it out carefully. This will be the mask. When creating a stamping mask, thin paper is best. If you use cardstock, a shadow is often left behind the stamped image and the illusion of depth is lost.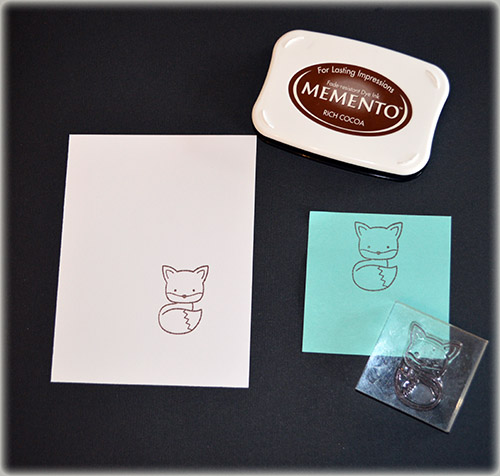 The third step was to layer the mask over the fox and then stamp the log in brown ink.
Next I stamped the leaves in green and removed the mask. It now looks like the fox is sitting on the log.
I then colored the fox image in with some Copic markers. The fox looked good but I wanted to jazz it up so I decided to add some Perfect Pearls in white on the ear and the tail to create the illusion of fur. I also added a dot of Pink Stickles for the nose and placed google eyes over the stamped eyes. I then set this aside.
For the second masking technique, I created a frame out of patterned paper which I made using a pre-made mask. I took a white paper scrap and centered the plastic template over it. Make sure you have a piece of scrap paper or a nonstick craft sheet under both because the next part can be a bit messy. I then took an ink blending tool and blended yellow ink over the mask. This helped me to create my own patterned paper.
My next step was to take this paper and die cut a frame out of it.
I adhered the frame over the stamped images using adhesive foam. I left the right edge of the frame hanging off the right edge of the card and cut it off. Next I wrapped orange twine around the top three times and tied it into a bow. The last step was to adhere two orange and one yellow rhinestones onto the frame and the card was done.
Click here to see a full list of supplies.
Masking is a simple way to jazz up your projects. For more ideas using masking in projects, please see the Scrapbook.com gallery.