Queen & Co started with an eBay account and 10,000 little round eyelets. At that time the company was called "Eyelet Queen" and the owner, Wendy, worked from her kitchen table processing orders. It's grown exponentially since that time. This company is well-known throughout the industry as a leader in unique and fun embellishments to add to all of your crafting projects.
In 2005, Queen & Co debuted with a premier line of products at CHA Winter in Atlanta. In a ten foot booth with thirty fun little products, this company launched itself into the industry full force.
With over one thousand embellishments created and produced during its time as a crafting company, this company continues to stay on the cutting edge of product production and innovation. In 2006 Queen & Co debuted a line that was packaged to resemble your favorite makeup items. In 2007 the company brought felt with adhesive on the back to the industry and it was a hit.
A new lunch box recently hit store shelves and it is filled to the brim with the best of their product offerings.
The lunchbox includes tapes, twine, edges, printed bags, rhinestone shapes, photo corners and so much more. The price point cannot be beat.
Furthermore, rhinestones and adhesive dots (Jellies) in an array of colors are also part of their current product line.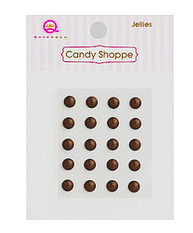 These are great to use as the center of flowers, adding a bit of whimsy to cards and layouts and also in those places on your craft projects that just need a little more something. The adhesive holds well and the product is worth checking out.
Recently, they added a huge range of decorative tape (well known in the industry as washi tape) with designs for everyone. Designs range from chevron and polka dots to denim and paw prints. In addition to these fun prints they also have assorted color combinations and designs including wood and denim.
I love using these tapes to seal cards or adhere tags to gift.
In addition you can use the tape for borders on layouts and also on cards.
Photo corners are back as popular items in the scrapbooking industry. I love using them not only on photos but also on the corners of patterned paper to ground different layers.
Queen & Co offers them in a variety of prints and in red, pink, green, blue and black.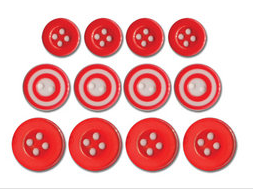 Buttons are another popular product produced by Queen & Co.
These are great basic embellishments that you can use to embellish cards, Project Life spreads, layouts and more. The large and small buttons are solid and the medium come with a cream/white circular pattern for variety. I love threading twine through the buttonholes and adding them to cards and layouts.
In addition to the rhinestones, adhesive dots and buttons, the company offers small embellishments in a variety of shapes and colors. Again, these are perfect for cards, Project Life and layouts. They are the perfect size to add just that little bit of interest in your layout that you may be missing. I also love using them on gift tags with just one embellishment at the top center of the tag.
These "edgers" are another must-have product. They are perfect for those of you that may not have a wide variety of punches or own an electronic die-cutting machine. They allow you to add borders/edges to your layout in a variety of colors. If you have not tried these, I encourage you to give them a try. They are quick and easy and add fun borders to your projects.
I hope I have provided you with a fun overview of the great products offered by Queen & Co. They are always coming out with exciting embellishments to add to all of your crafting projects. Check out all Queen & Co products offered at Scrapbook.com here.