Time Management: An Essential Element of Scrapbooking

By Jill Davis (Scrapbook.com Founder)
Finding an extra ten, twenty, or even thirty-minutes of scrapping time in your day may seem impossible.
Here are some ways to maximize limited time segments throughout your day:
Keep a small notebook and a pen in your purse or pocket to make important notes and to capture ideas before they get away.

Browse an idea book while waiting to pick up the children from school, defrosting dinner in the microwave, or waiting at the doctor's office. Make notes in your notebook as ideas come.

Flip through magazines in the grocery checkout line to study basic design concepts and colors that you can work into your layouts.

Quickly sketch out you own Floorplans™ of additional layouts you like and think you might use for future scrapbook pages. A Scrapbooker's Guide 4 - Floorplans can be purchased as a downloadable E-book in the Scrapbook com Superstore.

Practice your lettering on a scratch piece of paper as you help your children with homework or as you talk on the phone.

Practice your lettering as you write thank-you notes.

As you listen to the radio or watch TV listen for interesting phrases, poems or sayings that could be used as layout titles.

Note catchy phrases from your favorite television programs, as you interact with others at the office or in social settings.

A Play on Words and An E-book of Poems are both downloadable E-books available in the Scrapbook.com Superstore. These books help speed up the creative process.

Match your photos to your patterned paper, trim your mats, or

complete your journaling or hand lettering while you watch TV or a movie.

Take scrapbook magazines or information books and Post-it Notes™ with you on road trips. Tag pages or articles that have ideas you'd like to use for references in future scrapping.

If you don't like to save old magazines, remove pages.

Make a list of scrapbooking tasks you want to complete.

Note the approximate time needed to finish them.

When extra minutes come your way, look at your list, pick one you can complete or make substantial progress on and get to work.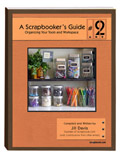 This lesson was taken from A Scrapbooker's Guide #2: Organizing Your Tools and Workspace (Instant Downloadable E-Book). To purchase a copy today, click here. Use coupon code ART151 and get 10% the already-low sale price.