Optimize Your Space: Getting the most...

By Jill Davis, Founder of Scrapbook.com

Optimize Space
For optimal efficiency, store your frequently used tools and supplies around your primary workspace. Examine all areas above, below, and to either side. You're sure to discover places where shelves, cabinets, or carts can be added.
Shelves, Storage Cabinets, and Carts
Shelving can be wall-mounted or a freestanding bookcase to store books, containers, and equipment. Store less-used and/or lightweight items on top shelves, frequently used items on eye-level shelves, and heavier items in bottom sections. Remember that you won't have room for overhead shelving above your desk or worktable if you place your table beneath a window. Consider white shelving since it's easiest to match with other equipment, is normally lower-priced and is easier to find in home-improvement stores. Additionally, it's available in pre-cut lengths or by the linear foot allowing you cut your own shelves to add extra storage space as needed.
My Shelves
I use mounted shelving (found at home-improvement stores) for storage above my drawing table. Then I use in-expensive freestanding bookcases (found at warehouse stores) on either side.
My Storage Cabinets
About ten years ago a carpenter in our area designed and made multi-drawer cabinets to hold wood-mounted stamps.I purchased one that I used for my stamps until I found a stamp storage solution that better fit my stamping needs (see chapter 8). The cabinet became the optimal tool-storage solution and sits beside my drawing table.
Additionally I purchased both styles of the CraftLocker™ storage lockers to go under wall mounted shelving in my closet. Having wall mounted shelving gives me extra space for gift wrapping and die cutting on my countertop.
Closets
Some Scrappers are fortunate enough to have a closet that can be emptied and used as a scrap space. A friend of mine, Azelene, converted a walk-in closet in her laundry room into a scrapspace using pre-fabricated shelving materials from Home Depot. She planned the space based on the measurements of her equipment, storage containers and available space. She built and mounted the shells (the sides of each shell have pre-drilled holes for shelf brackets) and then cut the shelves to fit in each shell. She was able to group organizers and supplies from several areas in her home into one location. A counter just outside the door and a computer are only a few steps away.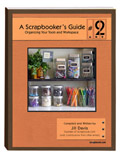 This lesson was taken from A Scrapbooker's Guide #2: Organizing Your Tools and Workspace (Instant Downloadable E-Book). To purchase a copy today, click here. Use coupon code ART151 and get 10% the already-low sale price.