"Steampunk, what's Steampunk?" I ask instructor/artist Michael Putnam when he mentions the word in his workshop. He's in Payson, Arizona at Paper and Metal Scrappers to teach how to make a plaque like the one below. He explains...
Steampunk is an artform combining two influences--17th Century Victorian and Gothic/Steam Industrial. It showcases the starkness of Goth and softness of 17th century style in a whole new look. Steampunk art might include colors and vintage form like corsets, dress forms, wings, pocket watches, monacles (think Marie Antoinette) and hardward like gears, sprokets, eyeglasses, vintage lightbulbs, goggles, ornate metals (think League of Extraordinary Gentlemen and Twenty Thousand Leaques Under the Sea) or other icons from each influence.
MY STEAMPUNK PLAQUE (completed in the workshop):

Note the contrast between the hard metals and the soft lines of the vintage bird, bottle, card and nameplate, etc. The word "Tweet" was formed with layers of chipboard letters.
Lightbulb: Base antiqued Bird: Adorned with gears
with black alchohol ink and an inked plastic heart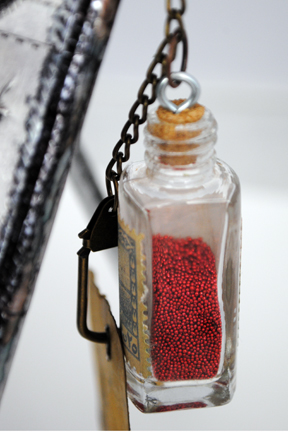 Nameplate: backed with Glass bottle: Filled
coated paper and antiqued with micro beads hangs
brass crown added from the playing card chain
MY STEAMPUNK LAYOUT IDEA

I come home from Michael's class with my finished plaque and a fire ignited deep within. I have discovered an artform I "get" and another way I can use my love of metals, grunge, ink, vintage/retro memorabilia and vintage photos. I decide to design a two-page Steampunk spread using memorabila and photos I've saved to scrapbook in a special way.
I begin with two photos of my grandfather who owned a gas station in the early 1930's. I get into his life by imagining him working at his station serving customers. I invision engine grease, Ford auto parts, his pocket knife, tires, an electric radio in the garage, pop bottles caps, chewing gum wrappers, road maps, etc. His day would include lunch from my grandmother with a sandwitch, veggies, homemade pie and milk in a glass thermos. Money exchanges could be with siver dollars, other silver or copper coins and checks sometimes filled in with pencil. The layout takes on the personality and feeling of days gone by with a grandfather I love - Steampunk style.
STEAMPUNK PROCESS FOR A LAYOUT OR PLAQUE
I try to use acid-free products throughout the project but I'm not sure about the adhesive on the aluminum repair tape I find at the hardware store. That being the case, I don't use original photos and buffer my prints with acid-free cardstock.
Build the Foundation: I begin by trimming 1/8" from the edges of my chipboard sheets so once layered they will fit into page protectors. I build the layers with cardstock, grungeboard, grungepaper (the gears) and grungeboard letters. My Steampunked layouts will face each other in my scrapbook so I place the photos in the same general position on each page so metal embellishments won't damage the photo on the opposite page. The photo mats are made once I measure the photos - I make them a little larger than the photos so inking, once done, willl show through from behind. The smaller gears are cut from grunge paper using a Tim Holtz die. The large gear is made by enlarging one of the gears on my copier, tracing it onto grungepaper and cutting it out. I stick everthing into place with Xyron or Mono Multi Adhesives. Any pieces that form a "bridge" when they overlap from one piece to another get a small piece of chipboard glued underneath for support (see gear ends and "1932"). Ball chain (the kind used for ceiling fan pulls) is glued at the base of the grungeboard borders with Diamond Glaze which dries in a few minutes. This will add some amazing texture and dimension.

The left-side layout has a pocket behind the photo mat where I'll insert a mini album filled with journaling, 1932 postcards, a map specific to the area and a check made out to my grandfatther. I add metal tape to the top-edge of the pocket (wrapping it to the inside) and I add tape inside the pocket on the background about 1 inch deep so the mini album can slide in and out easily and not get hung up on tape edges. Taping the pocket in this way now will make the taping of the rest of the layout easier later. You can see the ball chain beaded edge more clearly below.

To make the pocket more secure (other than with glue around three edges to attach it to the background) I leave some tape extended on the top edges to form tabs so I can secure them into place with staples (see above).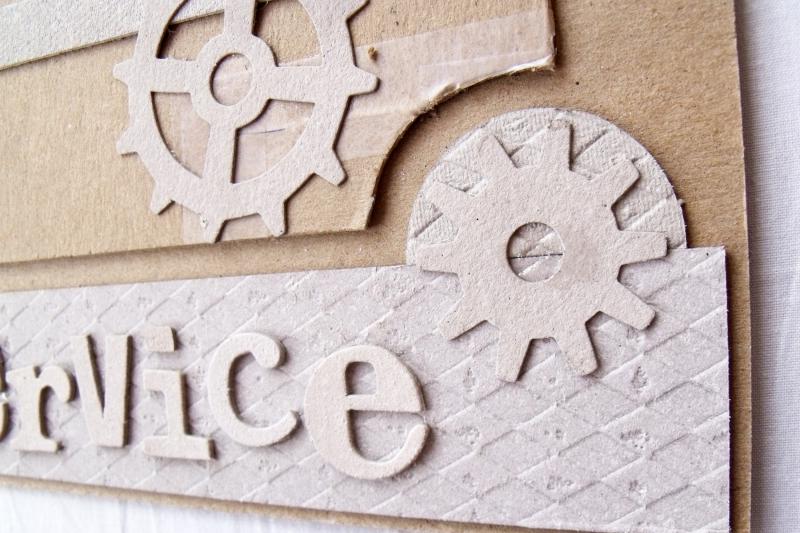 Close up show details of how some of the foundation is layered. All layers (including Scotch tape) will show through the metal tape so I'm careful about where and how I place everything.
Layering looks like what we do with patterned papers and chipboard letters on regular layouts except everything on Steampunk layout foundations is covered up with metal tape -- then textured, inked and embellished more to get the Steampunk look.
Cover Layered Surfaces with Tape: I cover the entire layouts (going in one direction) with 13.5" strips of metal (aluminum) tape, wrapping tape ends to the backside of the chipboard being careful not to pull the tape tight. The tape will be burnished into the crevices of the layers so I don't pull or force anything. I make sure the strips barely overlap each other. Then, I add another layer of tape going the other direction putting more tape over areas that might need reinforcement like letters and overlaid pieces (see the word "Tweet" on my plaque above). I make sure the tape stips go either up or down or side to side - never diagonally AND that I don't cover up the opening to my photo mat. Metal tape is VERY thin so my staples show through. No worries...they won't be distracting in the finished product.
Once the layouts are covered completely with tape, I CAREFULLY burnish or rub over the letters and layered pieces with a Ten Seconds Defining Tool or Q-tip. I work slowly to stretch the tape into the crevices to bring out detail. If the tape accidentally tears from the pressure, I cover the mistake with a piece of new tape and reburnish. If anything tears again I don't keep recovering because ink will cover mistakes later. I keep burnishing until I get the definition I desire.
I add textures and tooling to the layouts using Ten Seconds metal tools and a Tim Holz Texture Hammer. I also use a metal scrub brush, found at the hardware store, for the texture on my gears. I use my Tim Holtz Texture Hammer on the foundational cardstock layer. Now I'm ready for inking.
Ink: I protect my workspace with layers of newspaper and wear gloves for this step. I cover the ENTIRE layout(s) with black alcohol ink using an Alcohol Ink Applicator with a foam head. I let it dry completely which takes about 10 minutes.
Remove ink to reveal layers and detail: I do this step outside where I can make a mess - I wear gloves and a mask so I don't get skivers of steel in my hands or lungs. Using a piece of fine steel wool I gently rub the inked surface in circular movements. I move back and forth in some areas (between the borders and pocket top) but try to finish with circular motions. This gives the pieces a blended look. I brush all steel wool particles off and clean the surfaces with a cloth. I love this step because this is where the texturing details come forward with dimension and clarity. It's so exciting to unveil the creation. (See details below)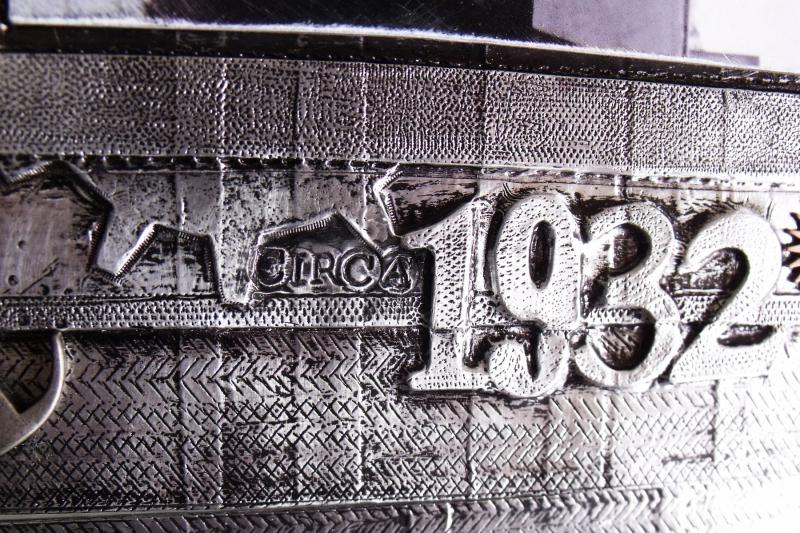 the texturing made with Ten Seconds tools is visable now. After I steel wool I decide I want to add some word details to one of the mat edges and the word "Circa" by the date using metal alphabet tool dies. Because this tape technique is so forgiving I'm able to tap the words into the metal tape easily, re-ink and steel wool. Amazing!
Time to Embellish: I arrange era specific embellishements onto each layout where space allows. I use different colors of alcohol ink to change/distress some pieces. The winged Ford radiator cap is an image from the Web mounted onto grungepaper. I turn it over and rub the backside with a Ten Seconds metal ball tip in areas that would be raised on the front if the piece were real. I fill the indentations with Spackling Compound (technique shown on the Ten Seconds DVD) so they will be solid and not cave in if someone pushes on them. A thin coat of Diamond Glaze for shine and I'm pleased that it looks realistic.
I don't want to put my actual 1932 silver dollar on the page so I photo copy it, cut it out and adhered it to a chipboard disc. Using one of the Ten Seconds nylon fine-tipped tools I trace around the head and letters on the "coin." It ends up "feeling" like the real thing too. I also do this to the pocket knife image. I use The Ultimate Glue to secure my pieces to the layout except if they're clear, then I use Diamond Gaze.
In the plaque I use some clear tiles backed with patterned paper (using Diamond Glaze as the adhesive) and the result is funky new embellishements. Most of the metal embellshiments on this layout are altered/antiqued with alcohol ink.
I am able to find an original Model "T" ignition key on eBay for a great price which I include to authenticate and help document the story.
The layout seems bare to me on the top edges so I decide to add a Ford logo and a mini vintage car license plate. I make both with Ten Seconds sheet metal, Ten Seconds tools and patterns from images found on the Web (both are filling with Spackle too to give them support). The Ten Seconds DVD shows how to do all steps. I glue both new pieces to the exisitng layouts using The Ultimate adhesive. Once dry, I re-ink, steel wool, and embellish with Tim Holtz gears. Each step completed makes me more excited to see how my finished creation will look.

As a parting shot I ask one of my sons to ink his thumbs with StazOn black ink and "fingerprint" some edges of the layouts to represent grease prints that would have been part of grandpas (and grandmas) daily life experiences.
The mini album is made by hooking mini page protectors together with an eyelet in one top corner. It's embellished with a token-adorned chain strung though the eyelet. The chain hangs out of the pocket so the album is easy to retrieve.

I hope you've enjoyed learning about Steampunk and how it can be used in layouts and home decor. Watch for more Steampunk techniques and metal-work videos coming soon to Scrapbook.com.
FYI:Do a Google search for Cat and Jack Curio or Michael Putnam to find out more information or where he is teaching.