What a fun contest!
The friend I got hooked on scrapping was a childhood friend when we were 11 and whom I had lost touch with since, (it has been 39 years). In January my mom called me and told me she had been in touch with this friend's mother and gave my phone number to her. Before I knew it Audrey and I were in touch and in April 09, I was on a plane to Florida to renew my friendship with her.
Once we got started chatting it was as if we had never been apart! I told her about my love of scrapbooking, logged on to
sb.com
to show her my gallery, and that was about all it took to peak her interest! I had a few days left with her and told her I would teach her and her daughter Tabby some things to get them started so what we did next was SHOP! We got all sorts of items for them to start with. Audrey and Tabby were like kids in a candy store while selecting all their goodies!
We came home and went to town! I tried squeezing in as many "how-to's" as I possibly could. Audrey started with cards and Tabby made a mini book for a baby shower she will be attending. It was so exhilarating to watch their excitement with each new technique I showed them and I know they are hooked for life! Since I have rarely scrap booked with anyone, it was really nice to see their thought process while putting their projects together. During this entire process I realized that I love teaching scrap booking!
The past few times I have spoken to Audrey on the phone she has told me she and Tabby went out to get more supplies! lol! And she has been asking me for how to's over the phone which is quite difficult!
Thank goodness there are plenty tutorials here at
sb.com
to link her to!
Below is the picture of Tabby working on her mini album while mom Audrey observes the techniques!
*~* Teaching my friends to scrap *~*
By
Gg Loves Matthew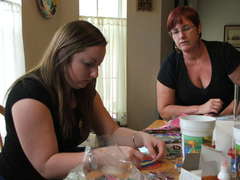 *~* Teaching my friends to scrap *~*
By
Gg Loves Matthew