~*~DAILY CHALLENGES~*~
BONUS POINTS: YOU MAY TAKE +10 pts for completing the daily challenge by 11:59 pm (PST) on the same day/date that it was posted for! (SO the 9/2 challenge needs to be completed by 11:59 pm on 9/2 to take the +10 bonus points.)
7/1:
Set up your signature line and 2 blogs (daily challenges blog AND monthly goals blog) for +150 pts!
7/2:
Use this as your colour palette today! +150pts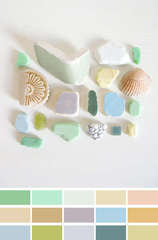 June *One Month At A Time* Challenge Week 3 Inspiration
By
Laurink
You don't have to use all the colours, but you should really have the "feeling" of this beachy feeling palette as the primary colours of your LO.
7/3:
Use a photo older than 1 year on your LO today. For a photo from 2009-2011 take 100pts, for a photo than from 2009 take 150pts. (You can only do one or the other, you can't include two different photos and collect both points).
7/4:
Describe yourself in one sentence and scrap it. This could be a quote, or it could be a sentence you write. Share with us the sentence for 50 pts, then scrap it for another 100 pts for a total max of 150 pts.
7/5:
Tell us what you did yesterday for 4th of July for 50pts! Include some red white and blue on your LO or card and take an additional 100pts for a total of 150pts today!
7/6:
Use a 3 word title today! Just three little words! +150pts
7/7:
Go to
http://efferdares.com/
- it's a group creating funky and fun challenges - scroll down until you find Challenge #188 - A Photo Essay. Do Dare # 188 for 200pts! Take a bonus of 100pts if you include the title Photo Essay on your LO! Total max 300pts.
*Special Note: This photo essay doesn't HAVE to be about your day like the examples by the Efferdares team did - you can make it about anything - the different rooms in our house, the different days of the week, your son's different happy faces, anything! Just use the idea of a "photo essay" and also check out the layout style with the blocks. Ask Laurin if you have any questions!*
7/8:
Lift any LO today - from a magazine, from your faves, from another site - share the original if you can please! +150pts
7/9:
I am going through a mustache phase so use a mustache on your LO in anyway! for 150 pts
7/10:
- use this sketch on a LO for 150 pts
THIS SKETCH
7/11:
go to this website
here
and go through some of the upcoming collections coming out this summer at cha and talk what your fav and what collection/co are you most excited about. Take 100 pts for doing this
7/12:
hand stitch on your LO. 0-50 stitches 75 pts. 51-100 stitches 100 pts. 101+ stitches 150 pts! Happy sewing
7/13:
friday the 13th is suppose to be an unlucky day. I don't believe in superstitions, so do something fun today. Whatever you want. Take some YOU time (Megan) and do something you like to do. It has been a long week for me and I see has has been a long week for others as well. So take some time to do something fun! 150 pts
7/14:
I am going to a pretty pretty princess b-day party today which I am sure there will be an explosion of pink. So todays challenge is to use mostly pink on your LO. You can use other colors but the LO should be 75% pink. This is going to be a challenge for me lol. total of 300 pts.
7/15:
scrap about someone or something you love for 150 pts
7/16:
Today's challenge is: take +2 points for every comment you leave on a person's LO, card, and / or project. If you go through the gallery and leaving random comments of love take +5 points for each comment.
So to recap: if you leave a comment of love on a LO, card, or project for someone in this challenge, you can take +2 points per comment.
If you leave a comment for someone not in this challenge, you can take +5 points per comment.
The goal is to go through the gallery and look at what other people are creating and leave some love...random acts of kindness are awesome!!
You can take a total of +150 points today!!
7/17:
Tell me / us how you prepare for a crop - what do you take, what do you work on, that kind of thing. What's in your bag(s) when you leave? +100 points
7/18:
It's hump-day (Wednesday, mid-week)! Choose a project that is not finished yet, and finish it. Take a before and after picture. +150 points.
7/19:
Use any or all of the following in a card, LO or other project today: birthday +75, family +75, decade +75. You can earn a total of +150 points IF you use all three in one card, LO, or other project...and earn yourself a bonus of +75 points.
7/20:
Describe your dream job for us +100 points - scrap it for an additional +50 points.
7/21:
If you spent time in your scrap space today, give yourself +100 points. Post a picture of something you did today for +50 points.
7/22:
Please make a list of mystery supplies for each round - card, 2 page LO, altered project. Mystery supplies are an odd or unusual assortment of items that can be put together in a variety of creative ways. For each round please label "card", "LO", or "altered project". For each round you submit a list of 5 items, take +50 points for a total of +150 if you make 3 lists.
7/23 daily
: Do some fussy cutting on a layout or card for 150 points
7/24 daily:
Today is Cousins Day. Make a cousins layout for 150 points
7/25 daily
: Share a tutorial with us today, it can be for a flower, a new card fold, how to use gesso or new inking or painting techniques-anything! 150 points for sharing the tutorial. Make a card or layout using the technique for an additional 150 points
7/26 daily:
The US Postal system was established on this day. For today's daily use a postage stamp (real stamp, diecut, stamped image of a stamp or post date) on your card or layout for 150 points
7/27 daily:
I was staring at my ribbon shelf and amazed at how much I have and seldom use. Today's challenge is to use ribbon or lace. Use 3 different ribbon, twill or lace for 50 points for 4-6 ribbons or laces for 100 points use more than 7+ ribbons or laces for 150 points
7/28 daily:
Today is National Milk Chocolate Day, use any tone of brown on a layout or card for 150 points
7/29 daily:
Doodle on a project for 100 points
7/30:
300 points for posting a before and after photo of your scrap area. Lets clean up so we can start fresh for August.
If your scrap area is already clean then post a before and after photo of some other area of your horse (HOUSE) that really needs cleaning.
7/31:
Today is the last day of the month. Lets do some Buttons. +25 points per button up to 150 points on your layout or card today.