RUN!
By
Gayle3131
This lo belongs with another, but I didn't upload it.
It's one of my 1st and very plain, but I like it.
Maybe 'cause it was the favorite place for the kids for about 4 years.
1. where are you from? Whitecourt, Alberta
2. how long you been scrappin'? Only since last Oct.
3. scrap in a group or at home alone? All by myself
4. favorite subject to scrap? My kids. I started scrapping our vacation pics, now I'm on to completing books for my 2 kids. They're 20 and 18, I've got my work cut out for me!
5. current projects? Just completed a book/Princess for my niece's b day. I won't start scrapping till the fall, but I'm starting on renovating the basement into a scrap room. Yah, I won't have to move my stuff all the time!!
6. feel free to add whatever you want.....
I need to find some other people as addicted to scrapping as I am!!!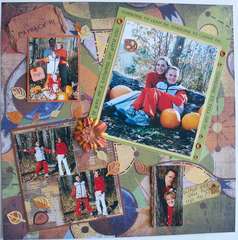 Falling Leaves
By
Gayle3131
The Process pics
By
Gayle3131
Here's a couple more. They also have a lo to go with, just didn't take the pic together.