Hiya? Just came back from teaching dance a little while ago...Well, I only really technically teach two classes (a mid to intermediate level ballet class and the pointe class both with the same instructor acting as the "main teacher" but he really only coreographs their dances) and assist the rest. It's a good break from the science stuff even though I'm usually found in corners studying between classes.
Stephanie- They don't call us patients for a reason! I understand that doctors are busy (and labs are busy too) but the waiting is killer!
Kelly- Hope the classes you're teaching went well!
Here's the rest of my mom's birthday gift...the box in the owl one does open but I'm not sure what (if anything) I should put in it...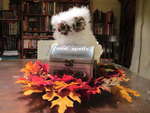 Owl Halloween Decoration
By
DNA301
Bottles Halloween Decoration
By
DNA301