uploading a picture of my secret santa gifts before I crash for the night. The picture doesn't do the gifts justice! I loved everything, and loved hearing about the other gifts you all received.
Cheryl, it sounds like you had a much deserved fun filled day!
Betsey tomorrow you will feel better!
Josie I am sorry you didn't have internet connection!
Night all.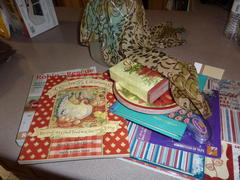 Gifts from my Secret Santa
By
Tishd