Ok, girls. Mine is finally ready to meet the public.
Here's my Milestone. I scrapped a picture of my sister and me from this past October when we went to Italy. I've wanted to go to Italy for as long as I can remember. This trip was a major milestone for me. My first "real" trip out of the country (we went to Mexico on a day drive a long time ago, but we only were there for the afternoon). If a trip to Europe for a small town country girl from Oklahoma isn't a milestone, I'm not sure what is.
Some Memories ~*~Swirlydoos Ultimate Design Challenge~*~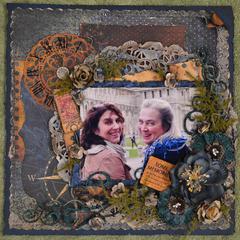 Pat this page is STUNNING!!! I think that challenge really did something as this is an amazing page- love all the layers & details- I just stared at is for awhile when it came up. Love that about your photo pose- how fun. Would love to see when you do the then & now page.