Here is my lift of Stacy's lo.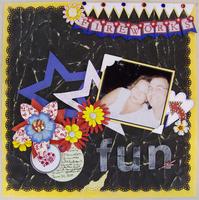 Fireworks Fun
By
Justowen
1. Scraplift -
http://www.scrapbook.com/galleries/187619/view /2854575/...
2. Background - crumple, wad, and then unfold and straighten
3. Photos - Use store bought decorative corner
4. Handmade Banner
5. Die cut (stars)
6. Title - Free Space
7. journal on a tag
I'm going to try to lift this one of Stacy's.
(I Think I'm) Stuck
By
Ms.Schwiet