We are now OPEN to new members. Please see the requirements below if you are interested in joining our group.
This is a thread for grans of all ages to share their love of scrapbooking and/or other crafting projects. You MUST be a grandparent to join this thread and actively involved with scrapbooking or crafting projects. We love to chat about all kinds of things but it is PRIMARILY a scrapping thread. If you would like further information, please contact me.
When you put up your first post, please answer the following questions so we know a little bit about you.
1. Your first name
2. Your date of birth (Nope, year isn't necessary)
3. How many, if any, children? Tell us about them.
4. How many, if any, grandchildren? Of course you'll tell us about them!!
5. How long have you been scrapping? Paper, digi, hybrid?
6. Where do you live?
7. Any other hobbies?
8. And anything else you'd like to tell us!!
MEMBERS:
Jan 13 Cheryl
March 3 Diana
March 7 Lyn
March 17 Josie (Eva Jolyne)
March 18 Cathe
April 8 Betsey
August 9 Tish
August 25 JoJo
Oct. 3 Char
Dec. 27 Ann
Dec. 28 Donna
LIST OF HOSTESSES FOR MONTHLY CHALLENGES:

Jan. Tish
Feb. Betsey
Mar. Teia
Apr. Ann
May Char
June JoJo
July Cheryl
Aug. Char
Sept. Josie
Oct. Di
Nov. Tish
Dec. Cathe




JULY CHALLENGE SKETCH:



You have until

JULY 25

to complete your entry. Guess what??

I will draw a name for a PRIZE!!!




July Sketch Challenge By Cdjohnson


The Barn By Scrappin 2


Smiles By Memex9


HAPPY By Tishd


Cupid's Chase 5K By Cdjohnson








JUNE CHALLENGE:




Aidan's First Steps By Jojo Noons


This is also just for inspiration for an idea or may be used in the LO

Seeing some of us have been busy making pages about our grandchildren or great-grandchildren, I thought it would be nice to focus on them... but in a way in which makes them their own individual... Some small children love their feet, some their hands, others ...they twirl their hair... This is to figure out THAT unique quirk, we all have that makes us our own self... It's open to all colors, lace, doilies...boyish, girlish... young or older children...and yes I'll be making one too!'>
"Grandchild's Hand"

The promise of tomorrow
And the hope of dreams come true...
A reminder of the childhood
That's still a part of you...

The wonder of a miracle
From which this love began...
There is so much found in the touch
Of holding a grandchild's hand.

Author: unknown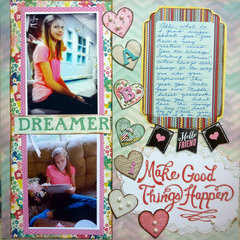 Make Good Things Happen
By
Tishd
Special Toy
By
Bonprof
Quirks
By
Scrappin 2
Then and Now
By
Cdjohnson