The holidays are on our doorstep and we welcome them in, warmly! As the season of giving approaches, we find ourselves inspired by the cooler weather and the creative yuletide projects that you are sharing in our Scrapbook.com Gallery! We've been watching the holiday anticipation and festivity grow over the weeks and have selected 10 stand-out cards to share with you. We are SNOW totally inspired by these twinkling projects and know that you will be too!
1. Snowman Christmas Cut-Out: "Winter Tent Card"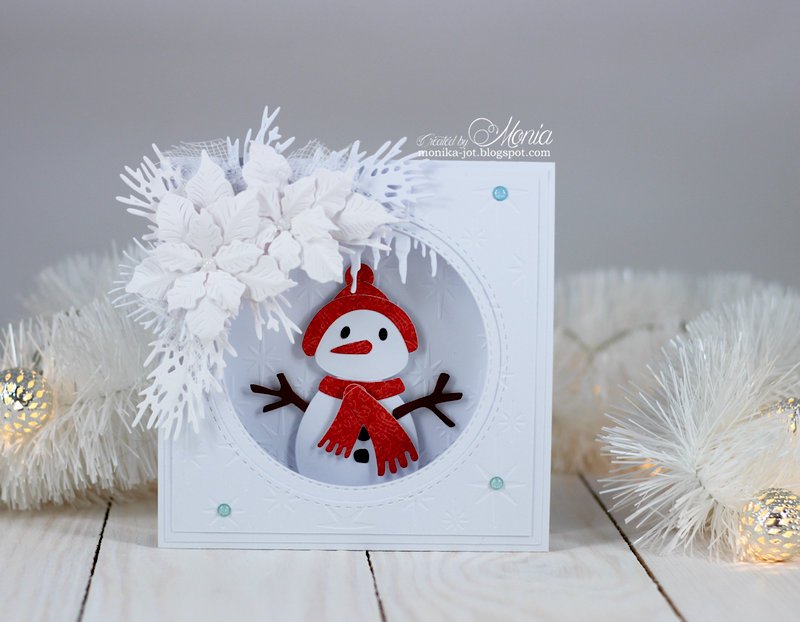 Monia Jot created this wintry card and it's an absolute breath of fresh, chilly, Christmastime air! We love the embossed pattern on the cold, fresh white cardstock- it makes the dashing snowman in red stand-out like a Christmas light in the night! The die cut pieces on the front are so fun and frosty; we just want to send it to everyone on our list! If you are planning on making winter cards sans traditional Christmas themes, this handmade treasure is the perfect Christmas card for friends and family!
---
2. Holiday Card with Metallic Elements: "Vintage Merry & Bright"
Inspired by a Tim Holtz class, Dictionary created this class-act Christmas card using Tim Holtz, American Crafts, and Ranger Ink supplies. We have fallen in love with the rich, traditional colors decorating this decadent card- ruby reds and candlelit golds. With its patterned borders and seasonal embellishments, this is one handmade Christmas card to make that will even outshine the star atop the tree!
---
3. Rustic-Inspired Die Cut: "Merry Christmas Card"
Using the Take a Bough Die and O Christmas Tree Stamps, Concord & 9th has constructed the epitome of sophistication with this evergreen holiday card. This card is perfect for your stylish friend who is always on-trend and it's safe to say that it would make any shelf or mantle in your home glow with Christmas cheer.
---
4. Stamped Christmas Card: "We Wish You a Merry Christmas"
Hero Arts worked some Christmas magic with this stamped card! Using woodblock stamps ordained with holly, poinsettias, and jolly sentiments, plus their Infinity nesting dies, they've created a holiday card that's fit for every December jubilee! If you're looking for card ideas for friends, this lovely number would do the trick! Look no further for holiday card inspiration!
---
5. Cute Sequins and Watercolor Card: "Cute Christmas"
It says it in the title: Cute Christmas! And that's exactly what this card is- an absolutely adorable holiday card! Debby has created the sweetest card, with little bunnies "playing" Christmas. The colors are more candied than sugarplums and the pastel sequins and watercolor splatters are playful effects. We think this is a cute Christmas card idea to give to your kids, friends, or anyone!
---
6. Trendy South-West Inspired Card: "Season's Greetings From Arizona"
Ok, ok, so we're a little partial- being in Arizona, but we just LOVE this desert take on a Christmas card- and the Santa hat atop the cactus? So cute! ShannaVineyard used Carta Bella and Cuttlebug for this card. We love the use of different patterns and textures, like the embossed dots and the classic plaid motif. This card is perfect for your friend who can't seem to get enough sunshine!
---
7. Beautifully Layered Collage: "Christmas Card"
Marta.piekarczyk's card is a feast for the eyes with its stunning layers and minty fresh color palette that makes us dream of candy canes and snow! I spy a clothespin, a pink hat, and sheet music in this antique-inspired work of art. What can you find? She created this Christmas masterpiece with a variety of Prima products and the outcome glistens with whimsy! If you love collages, mixed media, and walking the line between traditional imagery and contemporary crafting, allow this card to be inspirational in glacial proportions to you!
---
8. Ombre Watercolor Handmade Card: "O Christmas Tree"
In beautiful shades of snowy aqua, Provinca's card, "O Christmas Tree" stands out among the seasonal rouge! More minimalist than the previous, but just as effective, this card is one we'd love to see in our mailboxes. Check out the brush stroke aesthetic- it takes this card to another artistic level! And did we mention the gold sparkling ornaments on the tree? "O Christmas Tree" has it all. This is such a beautiful way to say Merry Christmas to a friend!
---
9. Layered Botanical: "New Year Card"
Sometimes in the excitement of Christmas, we forget about cards for the New Year (we don't blame you, we get caught up in the Holiday cheer too)! But we can't forget that the New Year isn't only such an exciting time- it's also another opportunity to make and give stunning cards- and Miyuchi has done just that with this card, prettier than tinsel, made with Kaisercraft products. This is the perfect idea for a handmade New Years card... this card is our new year's resolution!
---
10. Colorful Hand Painted Card: "Merry and Bright"
With a gorgeous, chilly sunset of pinks and purples, Rudolph and friends prancing in the snow, a precious sentiment, and fun white splatters, Jinny Newlin has outdone herself with "Merry & Bright!" Looking at this work of art is a gift in itself this holiday season, with so many colors and textures to enjoy. We'll be sure to remember this yuletide palette when making holiday cards for our friends and family!
---
Share Your Holiday Cards With Us!
We have so much fun browsing through our community gallery and know that you will too. Are you making holiday cards this season? We'd love to see them! Just create a FREE account and you'll gain access to the gallery, forums, and even free classes! You can post your creations in our gallery for others to see, "favorite," and comment on! It's a lot of fun and a great way to get inspired and stay motivated by other creative people like yourself! When you post your festive creations on social media, don't forget to check us out on Facebook and Instagram and use the hashtags #LifeHandmade and #ScrapbookCom to connect with all of the members of our amazing community.
Don't forget to spread the cheer! Comment below and share this article with your friends so they can feel the holiday inspiration too! Thanks for stopping by, and happy holidays!
---