Whether your memories with Dad consist of tossing a football back and forth in the yard, that first bicycle ride without training wheels, or those sunset fishing trips on the lake, our fathers have been there through all of the ups and downs, and we love them for it!
Father's Day is around the corner and we've compiled a variety of thoughtful gifts - some that you can even make! Whether he is the creative type, the organizational one, or the businessman - there's something for Dad that's sure to make him smile.
1. Desktop Globe
Get Dad a desktop globe this Father's Day! These are great because they are small enough to fit on any desk, at only 8" tall, but make a visual impact. For the guy who has everything, a little piece of decor on his desk might be the ticket.
2. Industrial Style Storage Cart
This industrial style storage cart is going to help your father keep his space tidy, and look awesome at the same time. Whether he has fishing accessories or tools, papers or baseball cards - this cart has seven wire mesh drawers that slide in and out, and four wheels, making mobility easy.
3. Detachable Drink Holder
If your dad is the guy who always has a beverage in his hand, be it of the soda-variety, the coffee, or anything else, this detachable drink holder is going to be as thoughtful as it is useful. With an adjustable table clamp, this handy tool can fit on any table top, sturdily, and it can fit up to a 32 oz size cup! WOAH! There's also a bag alongside, for trash or other items. Help your dad keep his desktop clear and his drink close by. What more could he ask for?
4. Masculine Planner
For the dad with the busy schedule, a planner is a must. Sometimes it's hard to find a planner that isn't catered to a more feminine style, but Kaiserstyle by Kaisercraft has you covered. This grey leather planner is an undated, year long planner, so he can start it any time of the year! With monthly spreads, weekly spreads, even a ruler bookmark and a note pad, if your dad is on the go, he's going to thank you... and have a place to calendar a reminder!
5. Retro Black Typewriter
Whether your dad is an avid writer or has a soft-spot for nostalgia, this retro typewriter is sure to wow. This fully functioning, new black typewriter holds paper up to 12" wide. It has adjustible margins, a return bell indicator, four line spacing options, and includes a red and black ink ribbon, so all he needs is the paper to get started! This is sure to be the gift that dad won't be able to stop talking about!
6. "New Set of Keys" Funny D.I.Y. Father's Day Gift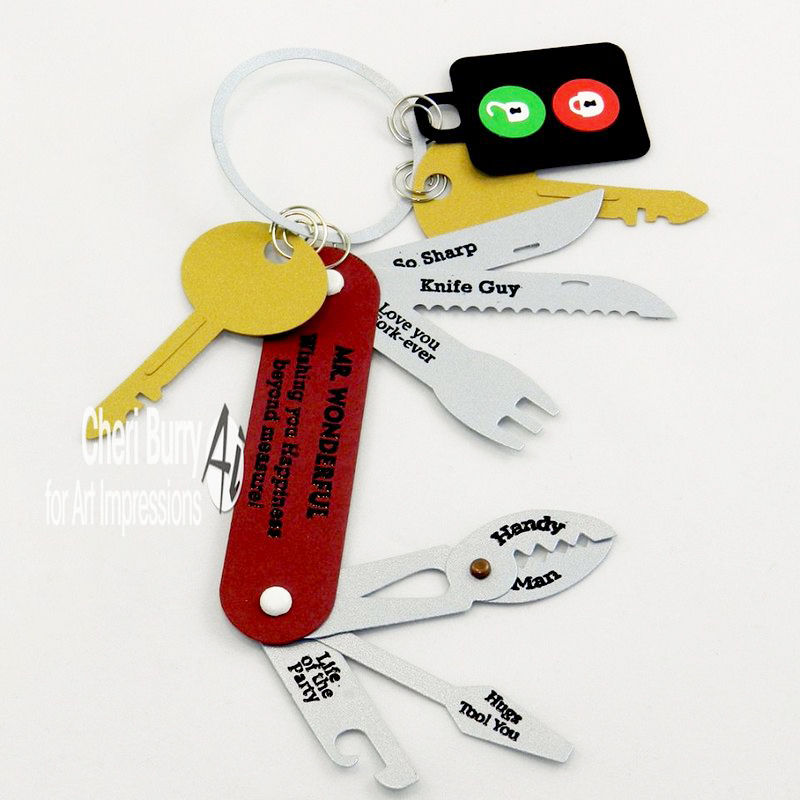 This one is truly for the dad who has everything, but perhaps has been wanting a new set of keys. Get him all that and a Swiss army knife. For the jokester dad who appreciates a handmade gift, this is a must! You can create this funny new set of keys with a key die and the Art Impressions Utility set.
New to die cutting? Read all about it here, because it could be your new favorite hobby!
7. D.I.Y. Cellphone Holder
If your dad is always misplacing his phone, loves watching YouTube videos, or uses it to read recipes in the kitchen, this cellphone holder is the item he never knew he needed. Be the one to help him out with this really fun cellphone holder. Why is it fun, might you ask? It's a DIY one! This acrylic phone holder is (easily) self assembled and can be decorated to the nines in a style your father will love.
8. Watercolor Paint Set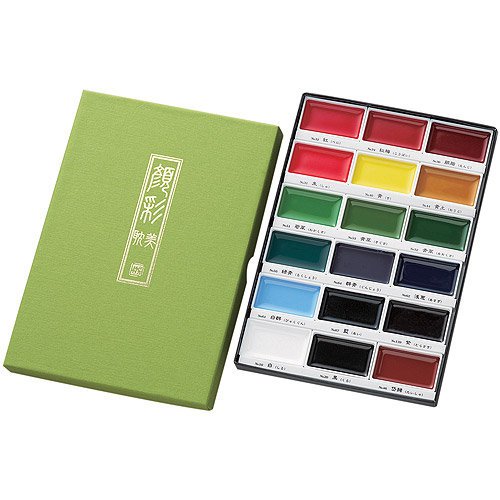 Whether your dad has always been a painter or he's new to the hobby, this paint set will tickle his artistic heart with its green case and variety of go-to colors. He can take it on the go or paint indoors. If you really want to leave a mark, throw in some artist brushes and watercolor paper and he'll be ready to put on his painting smock and get creative!
9. Wide Margin Bible
For the fathers with faith, this extra-wide margin journaling bible is the perfect gift. The bible itself measures 8" x 6.5" inches, even with its extra space intended for note-taking alongside your favorite verses. Whether your dad is a pastor or a devote disciple, this bible will be a gift he cherishes.
10. Dinosaur Land Scrapbooking Kit
Remind your dad of his childhood with this Dinosaur Land Kit! If he's a scrapbooker, he can use it to create his favorite layouts yet. If he isn't - you can use it to create a custom layout, card, or full on scrapbook for him! Either way, he's sure to chuckle and love the thought.
11. DIY Clock Art
This tabletop sized clock is ready to be turned into your father's new favorite piece of decor. Ready to be altered, this clock acts as a shadow box for you to insert anything from your favorite photo together, souvenirs, pieces of memorabilia, or more. It measures 5'' x 7.5" and also comes with a glass window to protect what you place inside.
12. Personalized Word Art
Whether your dad has a man cave or loves to host BBQ's, or just has a little room in his life for some light, get him some custom word art that shines! The Heidi Swapp Marquee Love collection has every letter of the alphabet available, numbers, a sprinkling of shapes, and in a varying sizes to fit your dad's space. Spell his name or his favorite thing (BBQ? Gone Fishing?) and set it up to surprise him!
13. Colored Pen Set that doesn't Bleed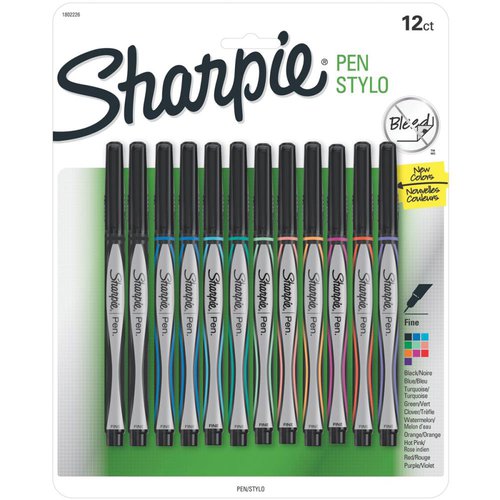 Fit for any father who works in an office setting, as a teacher, or has notes to jot down (who doesn't!?), this set of Sharpie pens makes the mundane task of note-taking fun. These 12 pens come in 10 colors and have a fine tip for clean writing. Like regular Sharpies, they are also waterproof and smear-resistant! No more inky hands and a whole lot more color!
14. Trendy Wall Art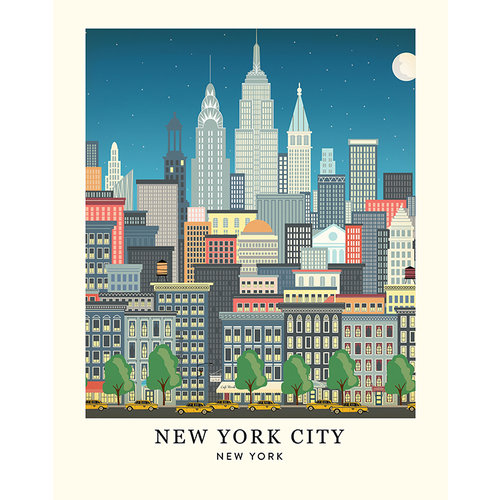 Whether your dad is from the city or is a city-dweller at heart, if he appreciates art, he'll appreciate this trendy New York Skyline art print. This print is 11" x 14" and ready to be admired! Plus, every time your father looks at it, he'll think of you!
15. Handmade Father's Day Card
When all else fails, a handmade card is a sentiment that won't go unnoticed. We love this card kit because it gives you options for every guy in your life, anytime of the year. Whether your dad loves cycling, fishing, boating, or classic cars, this kit has the supplies you need to make him the card that will touch his heart... and leave you with supplies to make more cards the remainder of the year! Win-win!
16. Electronic Cutting System
If your dad is crafty, this might not only make his Father's Day, but his entire year! This is an electronic die cutting machine. It hooks up to your dad's computer (MAC or PC) like a printer would. Instead of printing, it contains a small blade inside that will cut paper, cardstock, vinyl, fabric, and more. You can learn all about it here, but if your dad likes projects, making decals, personalizing mugs or making t-shirts, he will have a ton of fun with the Cameo.
17. Father's Day Scrapbook
Create a meaningful scrapbook for your father with this nautical navy scrapbook album and Father's Day themed scrapbook items. Not only will it look beautiful sitting on the shelf, alongside your father's prized books, but it will also hold a special place in his heart. Whether the subject is ancestry or family memories, it's sure to be a home run.
---
Like this article? You might also like...
Handmade Creativity Makes You Healthier and Happier
The History of Bible Journaling
---