We just finished creating hundreds of handmade holiday cards here at Scrapbook.com! As we were creating, we kept going back to the same few tried-and-true products. We realized that what allowed us to use our creativity and make each one a (quick and easy) work-of-art, was having some great tools nearby! Our passion here at Scrapbook.com is to inspire beautiful, meaningful, handmade self expression. We do that in a variety of ways including free classes, informative articles, and the project gallery bursting with adorable cards and scrapbook layouts. Another way we inspire, is by offering a wide variety of high quality crafting products. This 2016 Gift Guide is a collection of some of the very best crafting products on the market. We hope this is of great value as you shop for the crafter on your holiday list--or for yourself!
We hope you have a happy holiday season. Please save-the-date to join us soon for our Annual 12 Days of Christmas-SALEbration: December 1st - 12th, 2016. Sign up for the emails by clicking here so you'll get all of the scoop!
-The Scrapbook.com Team
The most popular die-cutting machine to date, the Sizzix Big Shot is as tough as it is stylish. Its solid core steel rollers and gears cuts and embosses a variety of materials including paper, vellum, fabric, chipboard, cork and more! Make your creative dreams a reality with the Big Shot.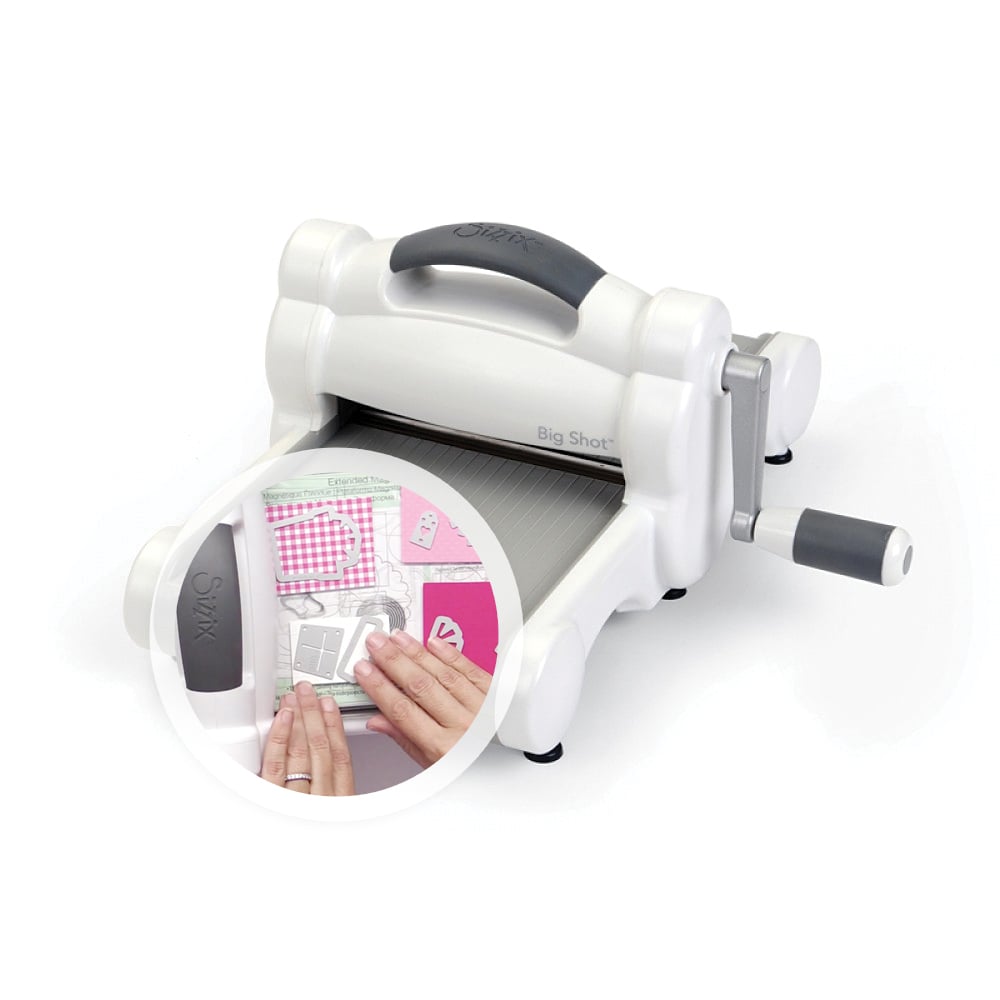 Customer Reviews
"Easy, effective and worth every penny! I was using it within minutes and couldn't be happier."- Reviewed by Scrappycat
"I researched die cut machines & pretty much had my mind made up to get one that needed to be hooked to a PC. After much thought I realized that I did not want to be on the PC while doing my scrapbooking. I would end up checking email! I decided on the BIG SHOT. I am so happy I did." - Reviewed by Foamy
"Honestly, this big shot machine is perfect for both long time card makers and those new to card making and scrapbooking." - Reviewed by Gelseysfairygodmom
---
Get the perfect cut with our exclusive Nested Dies. Made with high quality metal, these dies will easily cut through paper, foil, and vellum so you can have all of your cardinal shapes how you need them!
Customer Reviews
"It's amazing what one can do with all these shapes ov ovals, squares, hearts, oblongs, circles, of dies, it sure enhances the cards. I love them and it was a good investment." - Reviewed by Mjbasket
"Being new to die cutting, I did not own any of these shape dies. When I saw them on this great deal, I stretched my budget to purchase them. They have made possible all kinds of new ideas."- Reviewed by Kathy88
"This is undoubtedly one of the most "value for money" items I have purchased thus far. I have priced similar sets here in Australia and they would have cost me considerably more..."- Reviewed by Nannydel
---
Carpe Diem boxed sets give you everything you need to stay organized in style. This option includes: 1 split leather interior planner, 1 silver metal charm, elastic pen loop, metal rings, a foiled acetate dashboard, 12 monthly calendar pages (undated), 12 tabbed dividers (undated), 72 weekly inserts (undated), and 4 inserts.
Customer Reviews
"This is a very lovely and organized planner, I must say. It's the perfect size for planning and documenting every day life, which is what I will be using it for. I am very happy with this purchase."- Reviewed by Kiky
"Love love love this planner!"- Reviewed by Ncardenas55
"Very pretty planner and can't wait to post pictures of it. Going to be purchasing some extra Carpe Diem and Simple Stories' goodies soon."- Reviewed by December_west
---
Create your own albums, journals, sketchbooks and more in a cinch with the Cinch Bindery! With customizable punching so you can punch holes easily to fit your needs, punch through chipboard or up to 20 sheets of paper in one easy go.
Customer Reviews
"The Cinch is here! I've used it many times and I am sold on this amazing product. It reminds me of my old Ibeco but it's better!"- Reviewed by Jill D.
"I bought the cinch after reviewing dozens of binding tools and machines. I have never used any of them but wanted to be able to take my craftyness to a new level of fun. I love this tool. IT is now on my crafter's "must have" list."- Reviewed by Annibelle
"So much faster and more accurate than my previous method. The binding wires give a very professional look to any mini album or book I make."- Reviewed by Cindyroo
"It is easy to use and you can engage or disengage the number of punches you would like to use. You can use all 12 or just two punches."- Reviewed by His GEM
---
Make your own photo pockets and sleeved with the Fuse! This kit includes the Fuse tool, fusing tip, cutting tip, ruler, stencil, tool stand, and detailed instructions so you can start creating the perfect pockets for your every need!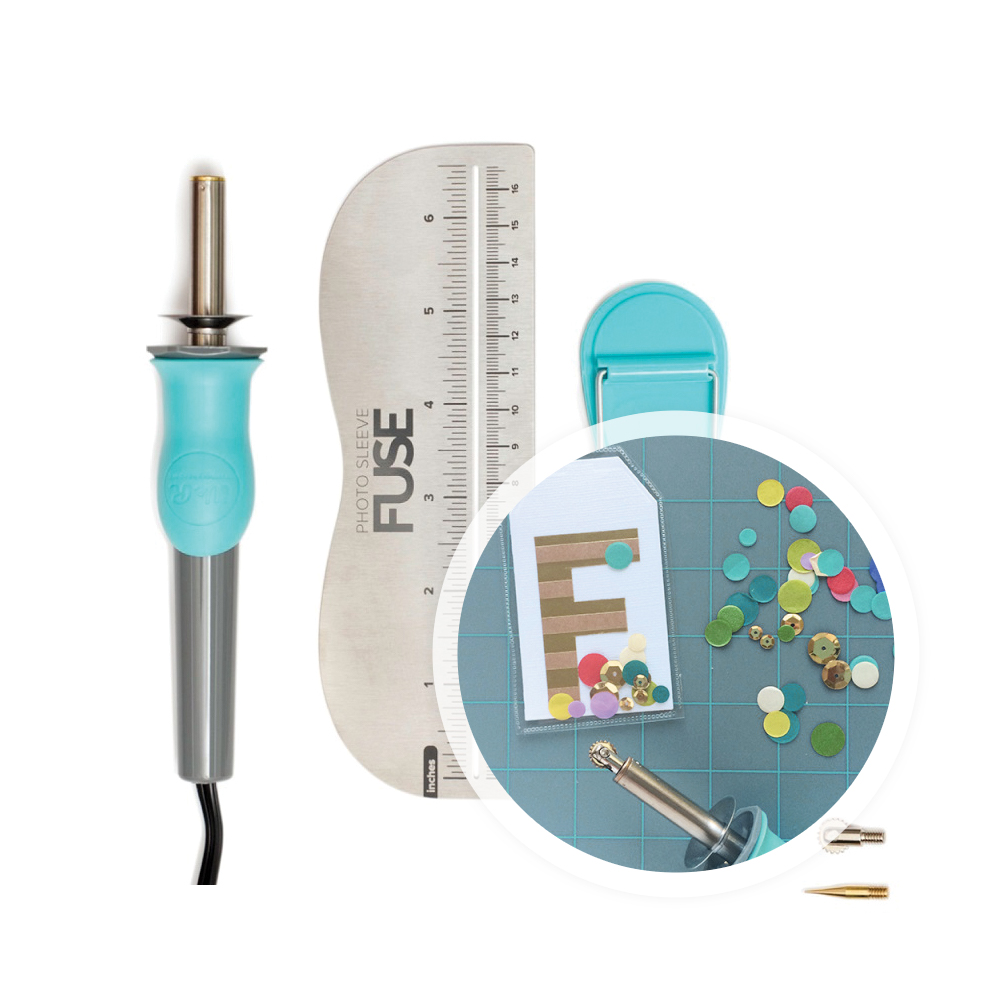 Customer Reviews
"I created a planner shaker page with ease and it was super quick. This is my new favorite tool and would recommend to any and everyone!"- Reviewed by Dedra L.
"Very cool! It even seals cello bags so it's going to come in handy when I make little treat bags for my niece for school parties."- Reviewed by Olleharr
"It is so nice to be able to attach mementos to both cards and layouts (a sports medal, baby's first tooth, tuft of hair from first haircut, pressed flowers, the list is endless)." -Reviewed by Kloxley
---
Add beautiful foil details to your projects with the Mini Minc. With the 6" Mini Minc, you receive one 6"x 6" sheet of gold foil, two 4"x 6" test project cards, and a detailed instruction manual so you can start embellishing your crafts with foil right away!
Customer Reviews
"Now that I have it, i need to control myself to not foil everything I print. It's loads of fun!"- Reviewed by Jana B
"Since I use foil mostly for sentiments and borders, I am very pleased with the results. Minc is easy to use and the small footprint makes it easy to carry to crops and to store in my studio."- Reviewed by Chana M
"Have used this machine twice now and it is always fun to peel the foil off and see the magic that has happened. It is very quick to hear up, only taking about a minute before it is ready to use for a heat setting of 3."- Reviewed by MidnightBlue
"I discovered my love of crafting just a couple years ago and when I came across the Minc, I had to add it to my crafting tools."- Reviewed by Umminblack
---
Die cut, emboss, and letterpress with the Evolution! The Evolution adjusts to the height you need, so you no longer have to pick the perfect mat combination (sandwiches). There's also an optional attachable motor (sold separately) so you don't have to crank it if you don't want to either.
Customer Reviews
"I have a Silhouette, but I wanted a die cutting machine too... I love this one - it suctions onto the table when you open it up, it folds closed and takes up very little room, has built in storage on both sides, and has a wide variety of settings for different thicknesses... It feels very sturdy, but isn't too heavy!"- Reviewed by Thelightupnorth
"Emboss, die cut AND letterpress in ONE machine with one sandwich. All you have to change is the setting on a dial! No more layers of different pads to cut depending on thickness of dies either -- just adjust the dial!"- Reviewed by Rebecca K.
---
From stackable and border dies to characters, tags, shapes, and sentiments- you're sure to find what you're looking for. These dies work with all of the most popular die-cutting machines too. These are the perfect stocking stuffers for your crafty friends- or yourself!
Customer Reviews
"Love these dies. Fabulous layering capability and unique design."- Reviewed by Cathylee
"Awesome as usual ....so easy to use...one of the best brands."- Reviewed by Jcordell
"Lawn Fawn always thinks through their die cuts. I use watercolors to make a great backgrounds and then cut the dies. I have purchased Lawn Fawn stamps and dies and they are always quality products. I also really like Scrapbook.com."- Reviewed by Janinegearhart
"These are great dies and cut beautifully. I love the variety of shapes and sizes. I have made 15 cards already. So glad I bought them."- Reviewed by Nylene
---
Trendy and utilitarian, Becky Higgins' 12"x 12" albums are our go-to. With snag-free interlocking binding, reinforced metal corners, and a metal label holder, these acid free, high quality archival albums not only look beautiful, but they'll keep your memories beautiful too!
Customer Reviews
"I ordered several styles of the Becky Higgins 12 x 12 D Ring photo albums and am very pleased with them. They are sturdy and can hold a lot of photo pages (I may have overloaded one and it handled it like a champ)."- Reviewed by Dmwalker70
"Purchased some of these 3-ring albums (qty 4) to replace the post bound albums I had. In my opinion it's so much better than the post bound albums to keep treasured memories."- Reviewed by Wweinstein
"Ordered this for my ancestry papers and pictures, etc. Couldn't have worked any better. Nice and heavy, great workmanship, just what I was looking for. I like it so much I ordered another one."- Reviewed by Ciemci
---
You're no longer confined to the corner of your page for staples - staple anywhere with the Staple Board. This includes three sizes of 250 staples (3 different sizes, 4 different colors), a built in storage compartment, and a detailed instruction guide. The Staple Board will revolutionize your crafts.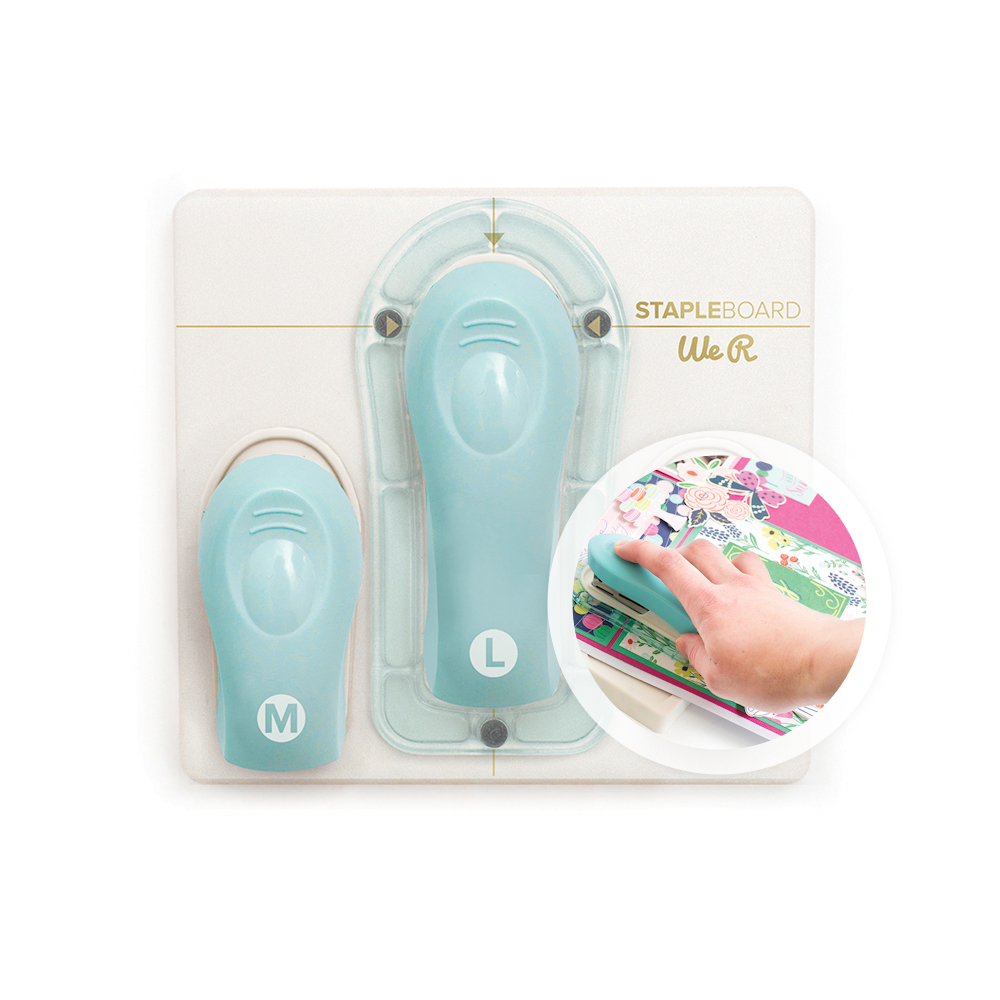 Customer Reviews
"You can staple anywhere on your page with 3 different sizes of staples. So you can cluster larger things or just add small details. The magnetic board makes it so easy and the price you can't beat."- Reviewed by Bellarose123
"I have been wanting a stapler that could be used in the middle of a page for a long time!."- Reviewed by Smgonyo
"These are the next best things to happen since homemade bread. At first I was a little puzzled as to how they work, I am tickled that this type of instrument has finally been invented. Now you staple ANYWHERE on a page."- Reviewed by CraftyMaam
---
Let your imagination run wild while you hold those memories close in custom frames! The Frame Punch allows you to create your own frames from 2"-12". This board comes with a detailed instruction manual so you can begin crafting right away.
Customer Reviews
"I love the convenience of the size and weight of this product which makes it wasy to grab and go."- Reviewed by Rrogers3263
"I watched the short video on this product and decided to purchase it. It is very easy to use!"- Reviewed by Horizonhill
"I like ALL of the products by this company (We R Memory Keepers)."- Reviewed by Valhsam25
---
The Vagabond 2 Die Cutting and Embossing machine is to die for! Not only does it look gorgeous (it folds up to look like a vintage suitcase), but it works like a charm as well. Also included is a pair of a standard cutting pads & an extended platform. Unleash your imagination with the Vagabond.
Customer Reviews
"I started out making cards by basically cutting out shapes with an exact-o knife. I then upgraded to a Sizzix BigKick and now I have the Vagabond 2 and wish I had started out here. I love not having to crank the machine, the cuts come out nice and smooth."- Reviewed by Csspange8263
"I waited a long time, and did a lot of research. It paid off. I love the Vagabond 2. The machine is much quiter than I thought it would be. I'm loving diecutting again!" - Reviewed by Lwedwards
---
Function meets design with this stunning card. At 33" tall and nearly 16" wide/deep, this cart fits into nooks and crannies and is easily moved around with its handy wheels. Hold your supplies in these easy-to-clean mesh drawers. Storage has never been easier- or more good-looking!
Customer Reviews
"I'm very happy with these. They're strong - and thus far, have not required any re-tightening of the screws that hold them together."- Reviewed by Tristanrobinblakemen
"Super nice industrial looking storage cart by Tim Holtz -Idealolgy. It was very easy to put together and once built, I found it can hold lots of scrapbooking and card making stuff."- Reviewed by Bogleha52
"This is Awesome! I have mine stocked full of ink pds, stamps, stickers, mixed media (paint, watercolor papers, and color pencils and ribbon). I think I am going to order one more soon!"- Reviewed by Nicole M
"Cart was easy to put together, rolls easily, has brakes on two wheels, is a nice size and well made. If I needed more storage I would purchase another."- Reviewed by Ikstamps
---
With etched grid lines, scalloped edges for easy-gripping, crystal clear acrylic to see what you're stamping, these blocks are perfect for all of your stamping needs! They work with all clear and cling mounted stamps too. Did someone say stocking stuffer?
Customer Reviews
"I now get NO ink on my fingers when stamping, and my small hands can hold them comfortably."- Reviewed by Sistermadly1
"They are so easy to hold because of the curved edges and they are solid without being heavy. Plus, I really like having the grid lines etched into the block, makes stamping so much easier to get it all nice and straight."- Reviewed by Bogleha52
"I was suspicious of this item because of the low price, but I decided to give it a try. I was very pleased with the quality! You get 3 blocks that could take care of all your stamping needs!"- Reviewed by Hukeyluv
---
Make your projects rain cats and dogs with these funny correlating dies and stamps! With more than 45 dies and stamps, you have tons of options to give your crafts a fun and adorable pop!
Customer Reviews
"These dies fit the stamps perfectly with no white space around them. Love the extra tails and eyes."- Reviewed by Themis54
"I have wanted these dies for a long time but was concerned they would not be compatible with my Spellbinders Grand Caliber die cut machine. I am happy to say they work fantastic and my creativity can up its game! These are awesome!."- Reviewed by TStern63
"I think they are so cute. Especially when the dies come with smaller pieces that can be cut out to make them dimensional. I like them a lot...a bit pricy but I don't get thins like this very often."- Reviewed by Moonshadows
---
With 40 daubers and a case to store them, this is a holiday-must-have! Keep your fingers clean and your projects colorful with these daubers that fit cozily on your fingertips. These can be used with inks, stains, dyes, paints, and more!
Customer Reviews
"This box puts an end to the waste and gives me the storage solution that I've been looking for. I've already purchased four of these and will buy more in the future as my ink pad and chalk palette collections continue to expand."- Reviewed by Big Anne
"I started with an Altoid box as a tray and quickly ran out of space. I looked at container stores and other hobby stores. No products out there were the right fit. I remember seeing this box at a rubber stamp convention and was so glad to find it again and at a great sale price."- Reviewed by Kluv
"This case exceeded my expectations in quality for the price I paid for it!"- Reviewed by Ccstamper1
---
This should be every stamper's secret weapon! The smooth, self-healing side of the mat ensures the perfect impression for your stamps. The coarse side is for piercing and creating to leave your table top protected. Get multiple uses in one with the Stamp Mat & Piercer.
Customer Reviews
"Wow. I had no idea acrylic stamps needed a surface that has "give". This stamp mat has now improved my stamping by leaps and bounds. I now get clean crisp images."- Reviewed by Jaxxan
"I bought this and wondered if it would really make that much difference in my stamping. Well, yes, yes it did. I still try stamping without it, then using the mat, and it is always better with the Secret Weapon!"- Reviewed by Sberrygoddess
"My fuzzy stamped images and uneven ink are no longer a problem, thanks to this mat. Now I come out with clear, sharp images that are even better when embossed."- Reviewed by Shanel693
"LOVE this mat! Don't know how I did without it..."- Reviewed by Millie F.
---
Never guess wrong again- get your friends and family members a Scrapbook.com gift certificate! Details here.
Customer Reviews
"The perfect gift for your favorite Scrapbooker! I love that the gift certificate is electronic and that the recipient receives it instantly. I've purchased the gift certificates for my mother who loves to browse Scrapbook.com, but is leery of using her credit card online. The gift certificate gives her ease and security of making her purchases. She always says this is her favorite present! I will and HAVE been giving this again and again! :O)"- Reviewed by MrsChf
"These are perfect gifts..I usually like to give wrapped presents but I think these are perfect for scrappers...our tastes and wants change as quickly as new products are revealed..so with a gift certificate you know your scrappy friend is gonna get exactly what she/he wants. My sis and I exchange them for birthdays and Christmas. Yep.. SB gift certificates are wonderful. And I love to receive them too..especially the $400 ones...haven't gotten one yet though..I'll have to speak to Santa about that."- Reviewed by dollscrap
"For Christmas I sent my sister (dollscrap) a gift certificate for sb.com. It was the most convenient and easy gift to purchase and give. All I did was select the amount of the certificate... and Sb.com sent it to her shortly after I ordered it. I did my shopping for my sister in the comfort of my own home..didn't have to brave the crowds and traffic to get this gift for her ..and she absolutely LOVED receiving it...thank you sb.com."- Reviewed by Scrapkaty
---