Are you ready for cozy sweaters, warm mugs of homemade cocoa, delicate snowflakes fluttering to the ground, and spreading holiday cheer to everyone far and near?
In all of the cheery holiday anticipation, we've been checking the Gallery (and checking it twice), and all of the holiday projects we found are oh so nice! Enjoy these festive holiday projects and let them inspire your creativity this Christmas crafting season!
Resin Snowflake Charms
Here a flake, there a flake, everywhere a snowflake! Add fabulously festive flakes to your mixed media projects and holiday decor with this Snowflake Decor Mould from Re-Design. Use it again and again to create snowflakes that glitter with gold or icy blue sparkles. You can even make custom ornaments for your tree!
💗 Tip: Resin and clay are just a couple of the many materials you can use in this versatile silicone mould. The food-safe properties make it a fun kitchen tool for using with chocolate, fondant, candy, gelatin, and water.
Christmas Memorydex Project
The holidays can be a total whirlwind of shopping, wrapping, and decking the halls. Why not deck your Memorydex Spinner with some festive features and memories too! This fun set of cards designed by Jamie Pate capture the true magic and merriment of the holiday season. You'll have a fun spinning Rolodex of memories and events to flip through year-round!
💗 Tip: Create a fabulously festive winter-themed Memorydex, or a daily December one with a page for each fun day of the month. You can even make just one fun holiday card to mark the moment in your everyday Memorydex. The choice is yours!
Tim Holtz Colorize Gift Tags
Make Santa Claus come alive with layers of colorful cardstock and Tim Holtz's Santa's Wish Colorize die for Sizzix. With 12 dies that each cut pieces of Santa's jolly, smiling face, you'll have an assembly line of Santas for greeting cards, gift tags, ornaments & home decor pieces.
💗 Tip: Did you know that you can get that signature Tim Holtz Colorize look on projects year-round? Check out coordinating Christmas ones to pair with Santa along with other popular holiday versions here.
Mold Press Soap Gifts
Be the DIY master your Pinterest board thinks you are when you create adorable handmade gifts for everyone on your list! Let We R Memory Keepers' Mold Press* help you make festive molds out of Christmas cookie cutters. You'll be pouring and hardening teeny tiny soaps of stockings, Christmas trees, Santas, and reindeer before packaging them up for stocking stuffers.
💗 Tip: The Mold Press can be used in all manner of ways for gift-giving year-round. You might be making soaps this Christmas, but next time around you might try your hand at scented wax melts, shaped chocolates, bath bombs, gummies, and more in shapes for every holiday & celebration.
*Please note this item has been discontinued.
Train Shaped Advent Calendar
Why make a simple advent calendar when you can make one shaped like a holiday train?! This unbelievable creation is so cute and imaginative, and we would be thrilled to see this waiting for us in the month of December. With Christmas Doodlebug accents and teeny tiny boxes in each of the railcars, this is one project that you're definitely going to want to make for your household!
💗 Tip: Advent calendars are exciting little treats for kids, adults, coworkers - anyone on your list! The contents can be cute little notes, small treats, silly presents, or anything else that can fit in the boxes or envelopes!
Farmhouse Christmas Mini Album
Is that a Farmhouse Christmas mini album in the shape of an actual farmhouse? It sure is! This holiday season, give the gift of a handmade album or document those memorable moments for yourself to look back on fondly. You can find fancy ephemera and stickers for each fabulous page or leave spots open for photos and journaling!
💗 Tip: Making a mini album or gift tags? Be sure to start your project with a craft staple - chipboard. Available in a variety of sizes, colors, and thicknesses, chipboard is an absolute essential item!
Crate Paper Treat Bags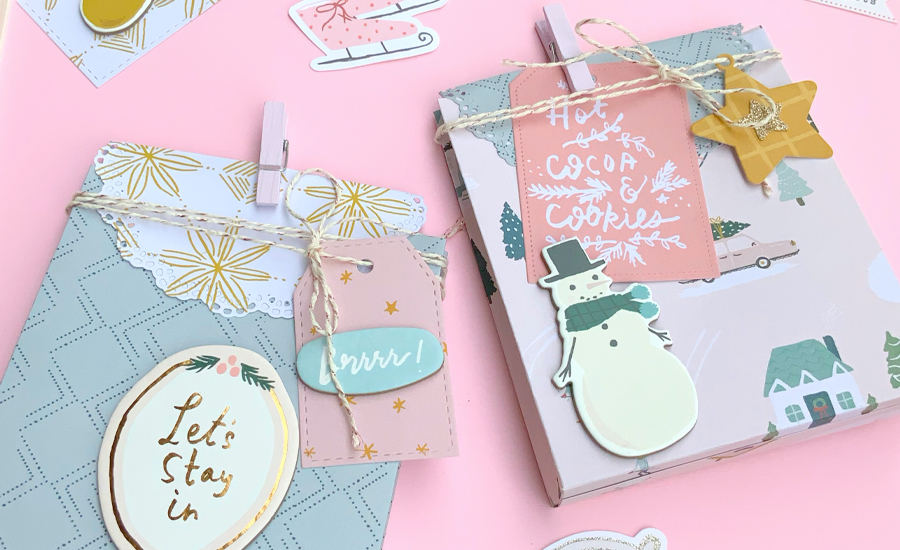 A few pieces of folded patterned paper, a couple bits of ephemera, and one or two carefully chosen embellishments created these adorable thin treat bags. Crate Paper's winter-themed supplies are filled with soft snowy hues and whimsical accents for absolutely adorable holiday projects. These little bags are perfect for holding a greeting card, gift certificate, or other small treats!
💗 Tip: This is a 1-piece paper project. Pick out your favorite paper and get out your scoreboard for these simple and easy treat bags. See the tutorial here!
Stamped Paper Ornaments
Will you put these fabulous little ornaments on the tree or repurpose them as gift tags for this year's Christmas presents? Either way, they will look amazing and make everyone smile! The base of these cute little ornaments is made from a Honey Bee Stamps die that makes both ornaments and snowglobes - we love supplies that can be used in more than one way!
💗 Tip: Scan your stash for non-holiday items that can be used to create Christmas magic! A leafy floral stamp or die can be used to create a festive holiday wreath in no time at all!
Airbrush Marker Greeting Cards
Is that a light dusting of fresh snow flurries on the holly berries? No, it's just an amazing spritz of marker ink from the We R Airbrush Kit! These colorful cards started as just white card fronts, and white die cut Christmas foliage - but with a little airbrushing, they've turned into something absolutely amazing. What will you airbrush this Christmas season?
💗 Tip: You can use your entire stencil collection with fun marker airbrush effects. Just think of all the cool patterns you can make on your next project!
Daily Winter Memories Album
Make sure you're documenting the year's wonderful winter moments in your daily December album. Remember every Christmas cookie mishap in the kitchen and each afternoon spent sledding down snow-covered hills. Simple Stories has a variety of festive fan-favorite winter & Christmas collections to really make this year's album the best!
💗 Tip: Is this the year you start documenting your daily December adventures? Check out Scrapbook.com's Album System filled with a fabulous array of albums & page protectors.
Prima Mixed Media Tag Album
Frank Garcia may have designed the sweetest, most delicious looking Christmas collection around with Sugar Cookie Christmas. You can feel the magic of Christmas just looking at these whimsically romantic tags filled with delectable pink roses and candied snowflakes against elegant sheet music and lace.
Paper Christmas House
Houses with gingerbread walls and gumdrop roof tiles held together with frosting go stale in no time, but paper houses stay fresh all season long! Make yourself a happy little holiday village for your sideboard or mantle with the Scrapbook.com Little Houses Digital Cut File Bundle. Laura Volpes used a combination of stamping, coloring, and ink blending to create a super fun little house with bakers in the windows! What kind of house will you create?
💗 Tip: Want to learn more about using digital cut files with your Cricut or Silhouette Cameo machine? Find out all the info you need to know right here.
Pink Christmas Cards
We're dreaming of a pink Christmas! And it's not just because these pretty cards are made from Pinkfresh Studio supplies. Ivana took some creative risks in her Christmas card color choices and really hit the mark with these beautiful creations!
💗 Tip: When it comes to holiday cards, no color is off-limits. Some of the most gorgeous, memorable greeting cards pull out all the stops and incorporate non-traditional patterns or colors. Have fun with it!
Poinsettia Embroidery Hoop
For home decor and so much more, Tim Holtz Christmas items are the way to go this season! Have fun with fabric and felt, and create fun poinsettias, ornaments, and wreaths to deck your halls for Christmastime. This embroidery hoop is a fabulous gift-giving item for your crafty friends and family members!
💗 Tip: If felt, fabric, and chipboard are your materials of choice for holiday crafting, Bigz Dies are your new best friend. Their solid steel construction makes them cut through thicker materials like a knife cutting into fresh Christmas fruitcake!
Handmade Poinsettia Flowers
Poinsettias are truly the Christmas flower of the season. Their beauty and versatility lets you place them in your scrapbook layouts, daily albums, greeting cards, handmade gifts, and home decor on them. Spend some time before the cookie baking and present wrapping, making enough handmade paper & vellum poinsettia flowers for every project.
💗 Tip: To get some lifelike shape in your petals and flowers, use an embossing tool or paper sculpting kit that rounds the edges and makes them look alive!
---
We hope you enjoyed these beautiful holiday projects and that they inspired you to create something for this year's Christmas season!
Don't forget to sign up for our Newsletter to see all of our upcoming Holiday festivities here at Scrapbook.com!
If you liked this article, you may also like our Holiday Gift Guide.
---