If you're a stamper or you're ready to learn more about the satisfyingly addictive craft, acrylic stamps are a must within the industry! As they continue to rise in popularity, more and more companies are releasing incredible designs for stampers of all tastes. This article will fill you in on the five things you must know about clear acrylic stamps - whether you're a seasoned stamper or new to the practice!
1. Acrylic Stamps Need to Be Stored in a Cool Place
Acrylic stamps are made with plastic. This is fantastic for a variety of reasons, such as cost, size, weight, and stamping visibility. However, it's vitally important to know and remember that acrylic stamps must be stored in cool places. Because they are made with plastic, they are susceptible to distorting under extreme heat, such as in Arizona summers - where Scrapbook.com is located!
Make sure you store your acrylic stamps in a cool place, out of direct sunlight and high heats in order to ensure that no warping, melting, or distortion takes place!
2. Acrylic Stamps Stain Easily - and That's OK
Because of plastic's transparent nature, the slightest alteration in color or opacity can stand out more than it does on red rubber stamps. However, do not fear. Staining is OK and expected with acrylic stamps. As long as you are regularly cleaning your acrylic stamps, you should not worry about some ink left behind - this is perfectly normal and will not alter your stamped images.
3. The Best Way to Clean Acrylic Stamps is With the Stamp Shammy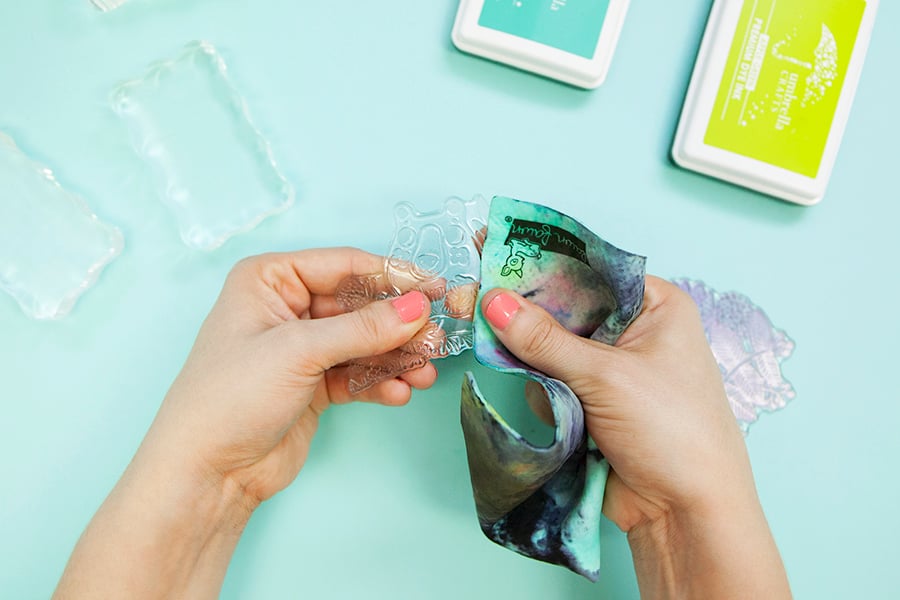 Cleaning acrylic stamps is a common cause for concern in the stamping community. How do you clean acrylic stamps? Which method works better? Though there are various methods that work best for various people, there is a tried and true method that nearly all stampers agree on - and that's the stamp shammy.
You can read more about this top tool for stampers here, but essentially, it's a tool that not only cleans your stamps, but is also reusable - meaning one time purchase! No more wasting baby wipes and no more wasting your dollars!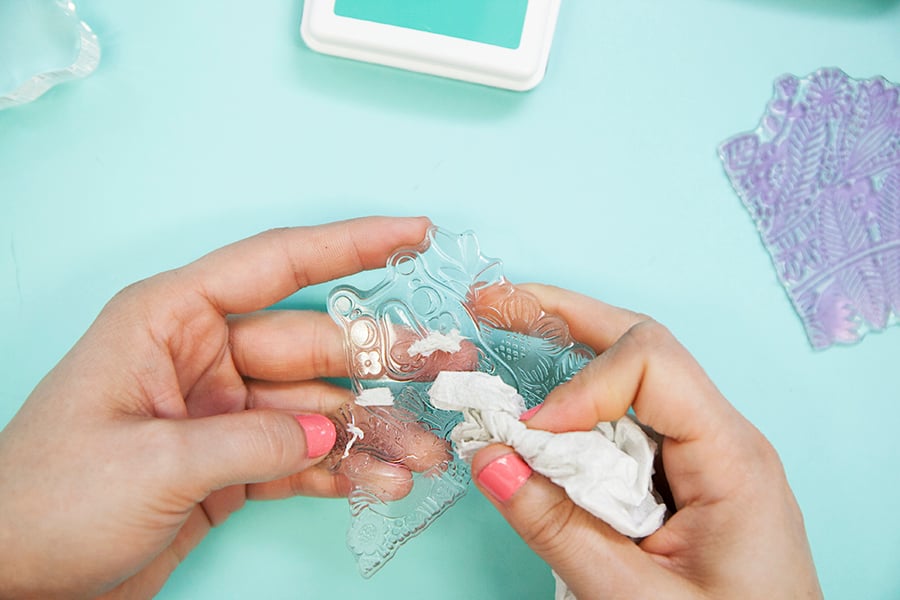 Because acrylic stamps are typically on the sticky-side (they need to be in order to cling to their acrylic blocks), baby wipes and paper towels often leave residue on them, causing your stamped images to either not be clean and consistent, or the ink to bead up on the stamp - something none of us want to see in our impressions! Save yourself the heartache now and impress your friends with not only a beautiful stamp impression, but squeaky-clean acrylic stamps.
4. Acrylic Blocks are Needed for Acrylic Stamping
This is the most important part of owning acrylic stamps. Acrylic stamps are unmounted - meaning no wooden block for your hands to hold as you press the image onto your paper. Their un-mounted constitution is desirable - it makes it possible to not only see exactly where you are stamping on your paper, but it also makes them more inexpensive to manufacture and ship, making them more affordable to you - the stamper! SCORE!
The best way to use acrylic stamps is with an acrylic block. We recommend the 5-star Perfect Clear Acrylic Stamp Blocks. They come in three sizes, meaning hands of all shapes and sizes can stamp images of all shapes and sizes. Their edges are rippled, creating a block that is comfortable and easy to hold. You'll find this important if you stamp frequently, as the grip will be easy and comfortable to hold time and time again.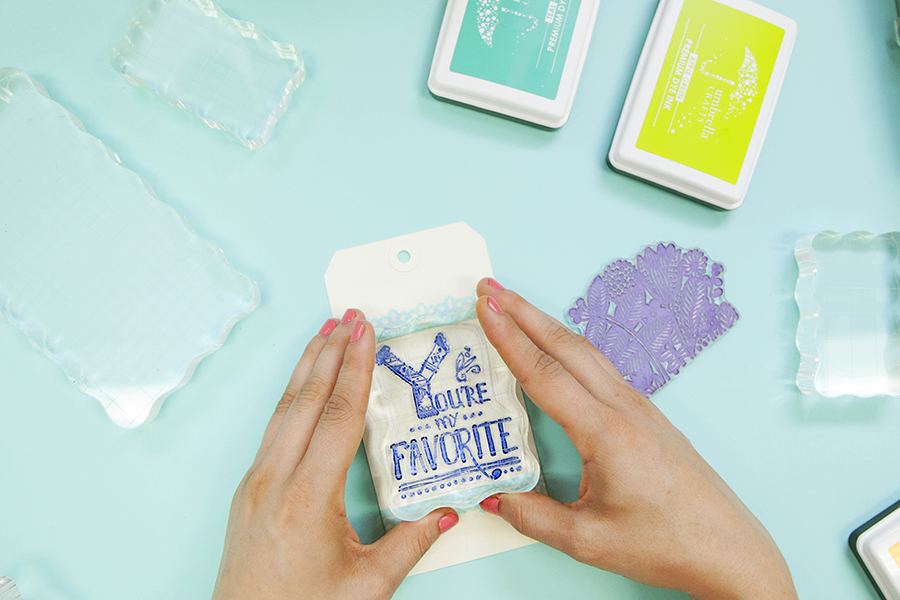 Clear acrylic blocks, in general, are revolutionary to stamping, as you can literally see the paper through the acrylic block - meaning perfect placement every time. To use them, just peel your acrylic stamp off the acetate sheet is came on, wash it with your stamp shammy to remove any potential leftover chemicals or coatings from the manufacturing process, then dry and press onto your acrylic block. Any acrylic block will work, but we love the Perfect Clear Stamping Blocks because they have etched grid lines - meaning you can get your stamp (or multiple stamps) lined up exactly where you want it. Perfectionists rejoice! It's the stamping block we've been waiting for!
5. Some Inks Can Harm Your Acrylic Stamps
Lastly, It's important to note that some acrylic stamps do not react well over extended periods of time with StazOn inks. Because they are made of plastic, they are not as durable as red rubber stamps or other kinds of plastic-based stamps like photopolymer.
Though there are so many other plus sides to using acrylic stamps - they are less expensive, easier to store, and easier to be precise with, it is important to remember that they need to be treated a little differently than traditional red rubber stamps. Avoid using StazOn inks for extended periods of time or letting it sit on your acrylic cling too long - and save the StazOn long-use for your rubber stamping and photopolymer escapades if you're worried!
---
At the end of the day, the most important take-home about acrylic stamps is the usage of acrylic blocks. Read more about them here to find out what works best for you and your stamping fun! Happy crafting!
If you likes this article, you might like these other articles from Scrapbook.com...
Top Stamping Questions and Answers
5 Secrets to Blending Distress Inks
---