When it comes to die cutting, there are a ton of different types of dies that have varying functions. From smaller dies that correlate with stamps and innovative dies that help you create interactive cards, to large dies for D.I.Y. home decor and embossing folders that pass on the perfect texture, the possibilities are endless.
It's true - sometimes so many choices can surprisingly stifle creativity. That's why we've rounded up seven ways to use your dies!
1. Make Custom Sticker Labels
Most of us crafters agree - we could use a little more organization in our lives. Jessica from The Organized Mama created these wonderful sticker labels to help with her studio sorting goals.
Supplies Needed to Make a Custom Sticker Label
No matter the type of shelving system, bins, or drawers you have, labeling is a fun way to personalize them and make your supplies easier to find than ever before - plus, why not hand make them? Now that your crafting room is orderly, you may as well get some more craft supplies to play with and fill your organized space!
See Jessica's tutorial for instructions on how to create the custom sticker labels pictured above.
2. Create Shaker Gift Tags
From decorating card fronts and embellishing layouts, to labeling gifts, tags are multi-purpose commodities that aren't only useful - they're also fun to make! Nicole of "20 Something" On a Budget shows how easy it is to create an interactive shaker tag that will add glitz and glam no matter how you choose to use them.
Supplies Needed to Make a Shaker Tag
Nicole's tutorial is specifically for a Valentine's Day card, but by switching up the color of your paper, filler, and time of the year, this cheerful tag will work for any function - be it a celebratory or archival purpose!
For step-by-step instructions, check out Nicole's post, where she shares how to create the shaker tag above!
3. Handmade Going Away Card with a Camper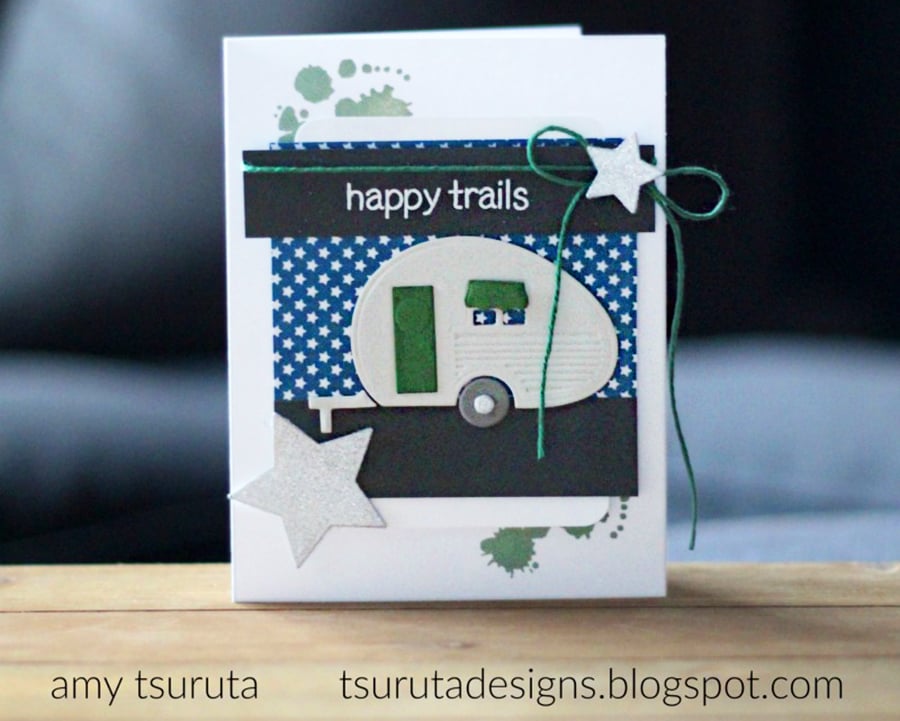 For your globe-trotting friends and the camping inclined comes this card created by Amy of Tsuruta Designs. If you have a friend who is going away or your child is flying from the nest, an adorable Airstream-inspired card will put a smile on his or her face.
Supplies Needed for This Handmade Going Away Card
Check out Amy's blog for what inspired her to create this cute card!
4. Make a Paper Flower Wreath
Card front or seasonal home decor, a paper wreath can be used in a myriad of ways - and what's cuter than this tiny little paper wreath?! Whether you're looking for fun and easy projects to do with the children or you want to create something unique, these two wreath element sets can provide! Juliana of 17 Turtles made this stunning embossed and die cut wreath card that has us wishing for a ceaseless spring.
Supplies Needed to Make a Handmade Paper Wreath
Spellbinders Four Seasons Etched Die - Wreath and Wreath Elements
Die cutting machine
Paper of your Choice
Ink of your choice to color your wreath elements (Craft daubers are also convenient to have on hand when it comes to blending your ink)
Adhesive
Use autumnal colors and Halloween characters to create spooky-fun wreaths, holiday motifs for Christmas ones, or add fun oceanic elements to create a beach-inspired summer wreath... the alternative uses extend as far as your creative magnitude!
See Juliana's article to see how she created the card pictured above.
5. Create an Altered Box
Who knew you could use a variety of dies to create an extravagant mixed media project like Keren's altered box? Mixed Media Guru, Keren Tamir, hand decorated a paper mache box and created a one of a kind statement piece that would be perfect as a gift for a dear friend or as a personal box to hold your trinkets!
Supplies Needed to Make a Mixed Media Altered Box
If you aren't a mixed media savant, worry not! You can create your altered box with die cut pieces, paper, and other embellishments that speak to your creative style.
Head on over to Keren's post where she shares more photos and her complete supply list - as well as a video detailing how she put the whole piece together.
6. Decorate a Gift Bag
For your next upcoming dinner party, your child's birthday party, or even as a sincere gesture, goodie bags just come in handy. Quickly and easily personalize a bag to fit any theme, like crafting maven Jen Gallacher did! Just grab your favorite style of blank or plain goodie bags and decorate your heart out.
Supplies Needed to Decorate and Personalize a Goodie Bag
Fit for any season and useful year-round, upgrading your goodie bags from ordinary to legendary with the use of a few dies and elements is a great way to get creative - constructively.
Follow along with Jen in her post, where she shows how she created this darling bag.
7. Make a Mini-Book or Gift Card Holder
Need a quick, unique gift for a loved one? Chrissie from Harvest Moon Papiere created an adorable mini-book full of love notes, perfect for a cheery pick me up! However, this design could have a medley of uses including mini-note books, mini-albums, gift card holders, and more!
Supplies Needed to Create a Mini-Book/Gift Card Holder
Die Cutting Machine
Stamps of your choice
Inks of your choice
Daubers for ink blending
Whatever you want to place inside your mini-book!
Mini-books are convenient, meaningful gifts that your recipients will love and cherish - plus they're easy to mail!
Check out Chrissie's post on how she created this sweet mini-book (scroll down, it's the second project in the post!)
---
---