Scrapbooking after losing a loved one can be an emotional and challenging experience. It can also be therapeutic, helping us to grieve and heal after the loss, while keeping the memory of our loved one alive for us and helping us focus on happy memories.
However, the immense burden of processing and memorializing the entire life – and loss – of a loved one onto the pages of an album can seem overwhelming, especially in the depths of grief. How do you manage it? There are a few points to consider.
Make A Memorial Album
Many families these days assemble memorial albums for funerals that are full of pictures from throughout the life of their loved ones. In the immediate aftermath of losing a loved one, and with the need to do it quickly before the funeral, assembling an album like this can be a challenging task – and an emotional one.
Before beginning, decide on an organizational structure for your memorial album, and then let that guide you as you assemble the album's contents. Whether it is a year-per-page or a map of milestones in a person's life, having this outline established can make difficult decisions about what to include in the album easier. It also allows for group-creation of an album, with different pages being worked on by different people.
The first step to creating a memorial album is to assemble the photos that you want to use. If you don't have everything you need in your own photo collection, you may need to crowdsource from family and friends. Thanks to digital technology, sharing photos – even old film ones – is easier than ever. Social media or email can be used to solicit photos from family and friends. Digital photo files can be easily shared via email or through sharing platforms like Dropbox or Google Drive. You may be surprised at the response you get from family and friends for photos and memorabilia.
Crowdsourcing of physical photos is also easy thanks to the digital era. Most drugstores have photo kiosks that can easily duplicate photos placed on their scanners. Many home printers and copiers have this ability as well. You can even use your smartphone's camera as a scanner by taking a picture of an old photo, and then printing it the same way that you'd print any other photo from your phone. This feature is especially useful for retrieving copies of physical photos from far-away loved ones, since the resulting camera phone photographs can be sent via email, text or Facebook. Just have your distant relative snap a photo of that old family photo, and then send it on the way to you with a few taps on the screen!
The key to creating a quick memorial album is to not overthink the design. Let the focus be on photos and other memorabilia that you've assembled. Just a touch of embellishment, with maybe a few labels for dates and places, will let your loved one's personality shine through.
One fast and easy way to make a memorial album is to use a coordinating paper collection or pad paired with pre-designed layout patterns. Combining tools like this, even beginning scrapbookers can easily create a memorial album in an afternoon with minimal stress.
For an even easier way to create a memorial album, try using a pocket album such as Project Life or Simple Stories. A pocket album is an especially good method to use if you are crowdsourcing photos and don't have time to scan them or create copies. Since the photos don't have to be glued down, they can be copied after the funeral and the originals returned to the owner.
Don't worry about being comprehensive of every moment of the person's life in a public memorial album. An album like this is really a tribute, not a documentary biography. Show the most important moments of your loved one's life, and how special they were to those who loved them. Family and friends viewing the book as you mourn together will fill in the rest of what was important to them by sharing their thoughts and remembered stories with each other.
Later, when there is no time pressure, you can work on scrapbooking more comprehensive storytelling about your loved one – including perhaps new things you learned from others during the remembrance events.
Use an Art Journal as a Grief Journal
Grief journaling is a long-proven way to help those who are grieving process our feelings and begin to move forward. Typically, grief journaling is done by writing down thoughts in a notebook of some sort. But for those of us more comfortable with art than words, an art journal can be a powerful emotional outlet. The freedom to fill the blank space with poignant color and images as well as words can help get feelings out when words alone seem to fail us.
Art journaling is a much more intensely private medium in which to process memories and grief than traditional scrapbooking, which is typically intended for a more public audience. This can make an art/grief journal a very therapeutic outlet in the early stages of grief – especially anger – when we may need to let out things we don't want to share publicly.
In addition to helping process your feelings of grief, an art journal is also a great option to begin recording memories of your loved one if you don't feel ready to deal with photos yet. Creating pages of written memories that are paired with emotional journal backgrounds helps us both preserve and process memories.
In your art journal, you can create expressive abstract pieces that illustrate how you're feeling. There are no rules or guidelines to creating this way - it's whatever brushstroke, pen pattern, or color you're feeling. However, some of us respond more easily to creativity when there is structure, and here is no different. Art journals for grief can have structure.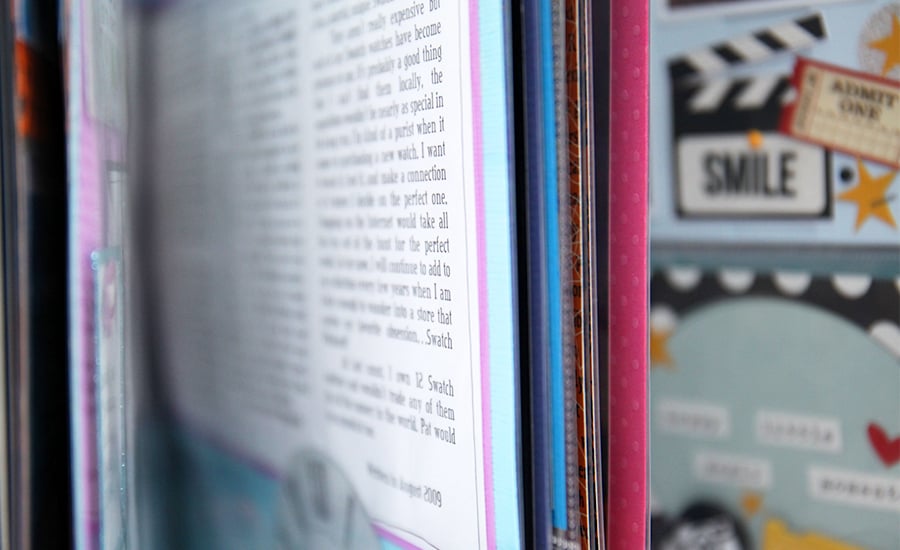 There are a variety of ways to express and honor your loved one's life in your art journal, from documenting the subjects and past times they enjoyed, to sharing quirks and characteristics unique to them. Recording memories related to the person's favorite sports team? Reach for paints in the team colors and make a background. For a page about your loved one's favorite movies, hit up Google and print out some images to make a collage page. A picture really can be worth a thousand words when it comes to sharing what we know about our loved ones.
If you are unsure what to write about in your art/grief journal, try starting with some suggested prompts.
What is your first memory of your loved one?
Describe your loved one's best quality.
What is your favorite memory?
Name your loved one's favorite things.
What was your loved one's favorite holiday?
The above is just a sampling of ideas. You can find many more lists of grief journaling prompts via Pinterest or Google to fuel your grief journal. Ultimately, whether it's a prompt from a list or a randomly triggered memory doesn't matter. What matters is the flow of emotion onto the page and processing it.
Later, the memories recorded in your art journal can be paired with photos and transferred to a traditional scrapbook if you wish. Your art journal will safely hold those memories until you are ready to take that step.
Scrapbooking Old Memories (And New Ones)
Since scrapbookers that are "caught up" are as rare as unicorns, inevitably after a loss we find ourselves faced with unscrapped pictures of the person who has passed away. How to create scrapbook pages with these photos can feel like a dilemma without an answer. On the one hand, we're driven to scrap these photos in memory of the person, to help preserve their memory. But on the other hand, seeing them may be painful, especially at first.
One way of dealing with this particular challenge is to begin to scrapbook these pictures as part of a group. Whether it is with a formal grief support group or just your local church crop, having others around for support as you revisit old memories of your loved one can be a great resource. Research actually shows that scrapbooking about your loved one with group support is not only easier, but can be very therapeutic for the grieving process.
In addition to scrapbooking photos, there are other things that you might want to include in your scrapbooks to capture your memories of your loved one. Recording items like social media posts, news clippings, letters, cards, photos of things they've made, and lists of their favorite music or movies help paint a complete picture of who they were.
It can be hard to find a style that seriously honors your loved one, but also reflects the jubilance of their life. How do you know what journaling "voice" to use when scrapbooking old pictures of your loved one? Do you journal how you felt at the time of the event, or how you feel now looking back at the event after the person's loss?
The answer to that is simply: do what feels right to you. What feels right may depend on how fresh your loss is, and who you are making the scrapbook for. One option is to create pages with blank areas for journaling that can be filled in at a later date when the loss isn't as fresh. Or you can create hidden journaling (such as in tag pockets) for more emotional journaling. Or finally, there's the option of just sticking to the journaling the basic facts without emotional narration.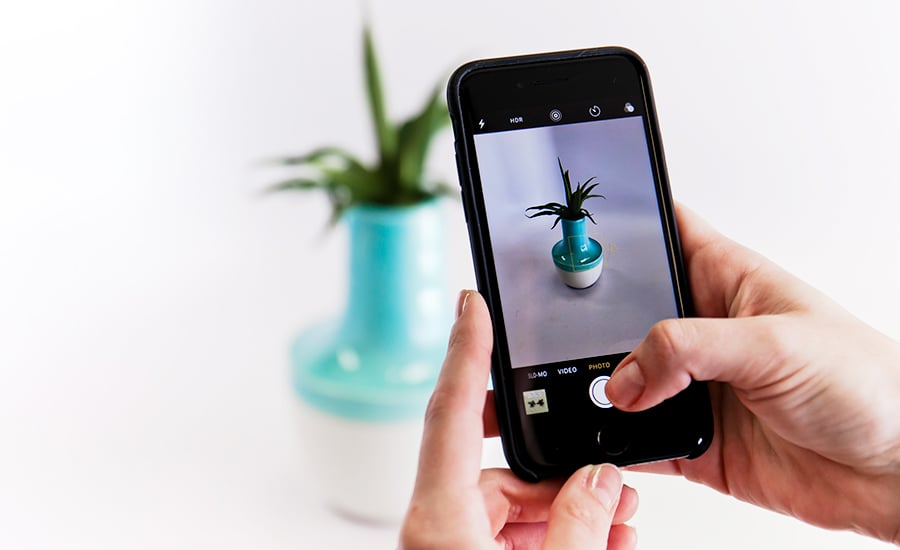 Also, don't forget to scrapbook new memories you are making about your loved one after their death. Even though your loved one is gone, their memory is still an ongoing presence in your life and that is something that should be recorded as part of preserving their memory. Whether it is taking part in a fundraiser in their honor, or making their special recipe, recording how your deceased loved one ties to present events honors their memory and keeps them close to your heart.
How to Make a Memorial Scrapbook Album
Gather photographs of your loved one's life. Make sure to create duplicates and prints if necessary. Ask friends and family for photographs.
Collect memorabilia that belonged to your loved one. Some examples of this are wedding invitations, announcements, ticket stubs, newspaper clippings, old postcards, favorite recipes, their memorial pamphlet from the funeral, etc.
Buy a scrapbook album in the size you would like (12" x 12" and 8.5" x 11" are among the most popular). Make sure to choose one that is archival and either a timeless color or your loved one's favorite color.
Make sure you have the supplies you need. If you are new to scrapbooking, this resource will tell you everything you need to know. If you have scrapped around the block a few times, you probably have a sense of what you'll need and can choose "In Memory Of" styles that work for you here.
Begin with your loved one's life-story or biography. Some questions to consider and potentially answer on your scrapbook pages are: Where was your loved one born? What was his or her childhood like? What was their first job? What did they study or practice? What's their love-story? What's a funny anecdote they loved to tell and re-tell? These stories can be Q&A style, written as a question with a short answer, or you can elaborate and tell these stories in detail. It's up to you. These can be handwritten or typed.
Ask friends and family to contribute stories as well, or have all of your friends and family answer the same series of prompts and see how the answers differ and the stories that come out of it!
When putting your pages together, mat your photos with correlating cardstock to create a style cohesive throughout. You can do this by cutting cardstock pieces slightly larger than the size of your photograph, then adhering them with acid-free, archival adhesive.
Make pages that are about your loved one's favorites and interests. Include pictures of things they loved.
Document the funeral, including photos of the flowers, the invitation, memorial booklet, condolences cards received, and anything notable.
Use quotes, poems, and lyrics
Quotes for Loved Ones Who Have Passed Away
"Silently, one by one, in the infinite meadows of heaven, Blossomed the lovely stars, the forget-me-nots of the angels." - Henry Wadsworth Longfellow
"To live in the hearts we leave behind is not to die." - Thomas Campbell
"At the blueness of the skies and in the warmth of summer, we remember them." - Sylvan Kamens & Rabbi Jack Reimer
"God gave us memory so that we might have roses in December." - J.M. Barrie
"I'll be seeing you in all the old familiar places that this heart of mine embraces, all day through." - Billie Holiday
"What is lovely never dies, but passes into another loveliness, star-dust or sea-foam, flower or winged air." - Thomas Bailey Aldrich
"All the darkness in the world cannot extinguish the light of a single candle." - Saint Francis of Assisi
"Goodbye? Oh no, please. Can't we go back to page one and do it all over again?" - Winnie the Pooh
See more quotes about grief, loss, and remembrance. Get inspired by more poetry here.
---
However you do it, scrapbooking your memories of a loved one who has passed away will likely be a challenging and emotional experience. But it is also a rewarding experience that can be therapeutic and help you process grief. And most of all, memory keeping about a loved one who has passed on creates a record of their life that preserves their memory for generations.
Shop Memorial Scrapbook Supplies
Resources for Grief
During the difficult days, weeks, and months that follow the passing of a loved one, don't forget to take care of yourself. Here are some additional resources to help.
Art Therapy Benefits and History
Coping with Loss from Mental Health America
Art Journaling for Mental Health (Free Instructional Video Series)
Love Lives On - Funeral Ideas, Grief Relief, Creative Remembrance
KidsGrief.ca - Talking with children about dying and death
---