Lady Bird Johnson once famously said that "art is the window to the soul." What if that window could be used to not just express, but to also heal the soul? That's the goal of art therapy, practiced around the world for more than 80 years by professionals specially trained in the art of using art to heal.
From Art Therapy's definition and Art Therapy activities, to the unforgettable history, learn all about how Art Therapy continues to help individuals of diverse backgrounds and raise in popularity among Creative-Types, Psychologists, and Academia.
What is Art Therapy?
If you look up Art Therapy in the dictionary, you'll find a definition along the lines of: "Art Therapy is a method of healing, particularly for mental health, that encourages patients to express and understand emotions through the creative process."
Art Therapy is a unique kind of mental health therapy that uses art as a pathway to gaining psychotherapeutic benefit for patients. In a nut shell, Psychotherapy is a type of mental health treatment that utilizes scientifically validated procedures to help patients work through their thoughts, feelings, and problems, as well as learn new tactics for better approaching problems in the future. Art Therapy combines the proven methodologies of Psychotherapy with the creative and emotionally expressive nature of art. Do you have to be good at art to venture into the world of Art Therapy? No!
Therapists that conduct Art Therapy must be skilled in two very different arenas, art and therapy, and then meld them together for their patients' benefit. Art Therapy can be found in almost any venue where psychological assistance is provided, such as hospitals, substance abuse centers, mental health clinics, therapy centers, and in private practices. Art Therapy sessions can take place in group and/or one-on-one sessions, depending on what the patient is looking for. Drawing, painting, sculpting, felt work, needle work, collage, mixed media, and many other art forms are used in Art Therapy.
Art Therapy is individually tailored to both the patient and to the setting. The art is usually not entirely self-conceived by the patient-artist, but rather is directed by some kind of prompt or exercise provided by the art therapist. The artwork's creation takes place under the supervision of the therapist, as the creation process is considered an integral part of the therapy. In a group therapy setting, both the process of creation and the resulting art work may be shared with the group.
Some of the art completed in your Art Therapy session will also be used as an assessment tool - to uncover hidden thoughts, feelings, and emotions.
Who Can Benefit from Art Therapy?
Art therapy is used today as part of Psychotherapy to benefit patients with a wide range of medical and mental health conditions at nearly any age, from toddler up! It can be used to assist in treatment of the trauma from combat, natural disasters, and domestic or sexual abuse. Art therapy can also reduce stress, anxiety, and pain perception in patients with serious medical conditions such as cancer or with chronic illnesses or disabilities. For patients in the early to middle stages of dementia, art therapy can help improve quality of life and self-esteem. Art therapy can help people with autism express themselves non-verbally, develop imagination, and improve their visual/spatial skills (among other benefits). In treatment for mental health disorders such as depression and bipolar disorder, art therapy can help patients relax, express themselves, and can enhance self-esteem. Art therapy is also a common part of addiction therapy.
List of Conditions Treated and Helped with Art Therapy
PTSD - Post Traumatic Stress Disorder
Post-Combat Trauma
Natural Disaster Trauma
Medical Trauma
Sexual Abuse and Trauma
Domestic Abuse and Trauma
Chronic Pain and Fatigue
Anxiety
Manic Depression/Bi-Polar Disorder
Depression
Post-Partum Depression
Cancer
Auto-Immune Deficiencies
Disability
Dementia
Autism
Grief
Down Syndrome
Eating Disorders
Family or Relationship Issues
Substance Dependency
ADHD and ADD
If you are interested in seeking out Art Therapy services for any of the above conditions or even a condition that is not listed, don't hesitate to search for a resource in your local community and reach out. Arttherapy.org has a page dedicated to finding an Art Therapist, in addition to atcb.org (Art Therapy Credentials Board).
Art Therapy Benefits
Like other Psychotherapy treatments, Art Therapy has a numerous list of benefits for the patient. It's important to keep in mind that, like any activity, the more effort you put in, the more you will take out of it. Below are some of the skills, opportunities, and takeaways you may experience from Art Therapy sessions.
Increased Creative Skills
Safe Space to Discuss Your Concerns
Safe Space for Self Expression
Inclusive Space - Every Age, Race, and Ethnicity is Welcome
Find Your Strengths
Learn to Identify Unhealthy Patterns
Learn Coping Mechanisms
Heightened Self Esteem and Confidence
Heightened Self-Awareness
Un-Biased, Educated Advice
Communication Skills and Techniques
Positive Feelings and Enjoyment
Feelings of Empowerment
Practice of Mindfulness
Natural Relief from Pain, Anxiety, and Depression
More!
You can learn more about the health and emotional benefits of handmade creation here.
History of Art Therapy
The genesis of what we recognize as modern Art Therapy occurred in the late 1930s and 1940s. It was developed somewhat simultaneously in Europe and the United States.
Probably the true origin of what we would now recognize as modern Art Therapy was created by female Bauhaus artist Friedl Dicker-Brandeis during World War II. Bauhaus was a modernist art movement that focused on combining Fine Art with Applied Crafts.
A photograph of Friedl Dicker-Brandeis, Public Domain
Dicker-Brandeis, an Austrian Jew, was living as a refugee in Czechoslovakia during the time it was also occupied by the Nazis. In December of 1942 she was imprisoned by the Nazis in the Theresienstadt concentration camp, which the Nazis were presenting as a "model ghetto" in an attempt to deceive Red Cross inspectors about the true conditions in the camps. Deportees to Theresienstadt were allowed to bring 50 kilos (about 110 lbs) of belongings with them, and Dicker-Brandeis filled her bags mostly with art supplies. She believed that art could help children cope with their imprisonment, and set about using the supplies she brought to teach art classes (in secret) to about 600 of the children in the camp.
Unfortunately, in September 1944, Dicker-Brandeis was transported to Birkenau, where she died. Before she was transported, however, Dicker-Brandeis hid away thousands of the children's art works in the two suitcases that she had arrived at Theresienstadt with. Most of Dicker-Brandeis's students also died in the Nazi camps, but their signed and dated artworks, discovered in their hiding place after the war, have been exhibited around the world in their memory. Some became part of a book of art and poetry by the children of Theresienstadt called I Never Saw Another Butterfly.
A poem from I Never Saw Another Butterfly

On a Sunny Evening

On a purple, sun-shot evening

Under wide-flowering chestnut trees

Upon the threshold full of dust

Yesterday, today, the days are all like these.

Trees flower forth in beauty,

Lovely too their very wood all gnarled and old

That I am half afraid to peer

Into their crowns of green and gold.

The sun has made a veil of gold

So lovely that my body aches.

Above, the heavens shriek with blue

Convinced I've smiled by some mistake.

The world's abloom and seems to smile.

I want to fly but where, how high?

If in barbed wire, things can bloom

Why couldn't I? I will not die!

1944, written by the children in Barracks L 318 and L 417
In England, Art Therapy began in the late 1930s through an artist named Adrian Hill who found his art to be an engaging way of passing time while in a sanitarium recovering from Tuberculosis. Soon, he began teaching art to other patients in an occupational therapy program. At first, Hill worked primarily with soldiers returning from World War II and then later with other patients.
In 1942, Hill first applied the term "Art Therapy" to his activities. His book Art Versus Illness, the first guide to art therapy, was published in 1945. Hill eventually became president of the British Association of Art Therapists after it was founded in 1964.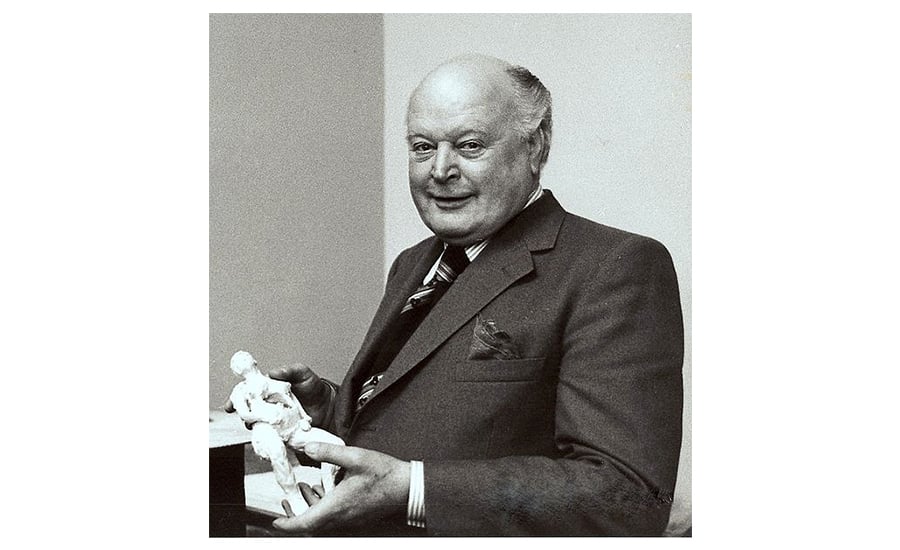 A photograph of Edward Adamson holding a small sculptural art piece
After World War II, an artist named Edward Adamson worked with Hill on a Red Cross program that brought art reproductions into hospitals. Adamson took what he had learned from Hill and began working on an Art Therapy program at Netherne Hospital, a facility for long term mental health care in the United Kingdom. Under the supervision of several psychiatrists, Adamson pioneered at Netherne the work that transformed Art Therapy from Occupational Therapy (in this context, art to distract the patient from their problems) into Psychotherapy (versus Art combined with proven Psychotherapy, not to distract, but to aid in treatment and developing coping skills and reinforcing healthy response) in England.
At the same time in the United States, leading educator and therapist Margaret Naumburg was also working on developing Art Therapy. Although she was not a psychologist, she created a model of Art Therapy in the 1940s at the New York Psychiatric Institute that was based on Freudian (relating to the unconscious, dreams, repression, etc.) and Jungian (analytical, relating to the unconscious, archetypes, etc.) techniques.
Naumburg published five books starting in 1947 on using art in therapy for psychological conditions. Scribble drawing, in which patients draw a random scribble with their "wrong" hand and then search to find an image in it, was Naumburg's preferred Art Therapy technique. The scribble drawing method was pioneered by Naumburg's sister, Florence Cane, who was also an Art Therapist, and is still used by art therapists today as a way to get patients to express their unconscious thoughts.
Another early U.S. pioneer of Art Therapy was Edith Kramer. Austrian by birth, Kramer had studied art under Friedl Dicker-Brandeis in Vienna in the early 1930s. She later actually assisted Dicker-Brandeis in teaching art to children in a refugee camp in Prague, before leaving for the United States in 1938.
Work in a war factory derailed the artistic path of her career, but in 1950 she got a job doing Art Therapy at the Wiltwyck School for Boys, a school for troubled boys in New York. Kramer drew on her experiences with Dicker-Brandeis to develop a Freudian theory of Art Therapy. Kramer is credited for developing the now widely-accepted Art Therapy concept that the creative process itself is therapeutic, not just the analysis of the finished product. She was also a strong proponent of the psychological benefits of allowing patients to complete their art works, rather than abandoning them incomplete when their perceived therapeutic value was exhausted. Kramer published two books, in 1958 and 1971, that were considered for years to be the definitive books in the field of art therapy for children.
By the 1960s, the practice of Art Therapy had become commonplace enough that professional organizations began to form. In 1964, the British Association of Art Therapists was founded, followed by the American Art Therapy Association in 1969. The Art Therapy Credentials Board was created in 1993 to establish standards and credentials for therapists in the United States.
In recent years, the concept of art as therapy has entered the public consciousness as beneficial and is frequently mentioned by non-professionals to validate the value of participation in artistic activities. In particular, the recent craze for adult coloring books was largely marketed based on claims that the activity is a form of Art Therapy. Professional groups representing Art Therapists have pushed back hard against these claims. These groups stress that, while it is good for our mental health to take time for enjoyable activities, true Art Therapy can only be conducted with a certified therapist.
Therapeutic Art Activities
Though true Art Therapy should only be orchestrated with a certified therapist, ask any creative-type and he or she will tell you that "art is cheaper than therapy."
Many individuals all over the world claim that creating art is therapeutic - and this is backed up heavily with scientific research.
An example of Zentangling
Many people find stress-relief through adult coloring books and Zentangling (shown in the photo above), a doodling technique that allows you to freely draw along with the wandering mind. With a sketchbook and a variety of pens, pencils, or markers, you can relax and doodle whatever comes to mind, free of judgment or criticism, allowing you to not only express yourself, but to give yourself a break from whatever is troubling you.
Many people also find comfort and peace by creating art for others. Art, in this sense, does not have to be pen on paper or paint on canvas. Sewing blankets for newborns, crocheting hats and scarves for the homeless, and creating cards for charities and organizations are all meaningful ways you can make art where many see the positive results.
Apart from adult coloring books, Zentangling, and creating for others lies a fathomless aggregate of art activities. The Positive Psychology Program has a list of fun activities if you'd like to explore your creative side, but aren't sure where to get started.
Art Journaling for Therapy

In the same realm as adult coloring books and Zentangling, the calming practice of Art Journaling has gained popularity among not only creative types, but those seeking therapeutic benefits. With the endless amount of creative supplies available and the promise of "no rules," Art Journaling is a way to get creative for your own sake and just relax - without worrying about the criticisms, judgments, and opinions of others.
Art Journaling is about you, and is for you.
Many huge names in the Creative Industry can't say enough about the perks of the practice and some even have devoted their lives to it, like Dyan Reaveley of Ranger Ink. Dyan, a successful designer and avid Art Journaler and supporter of Art Journaling for mental benefit, has given many lessons, tutorials, and more about the positive results possible. As she suffers from mental illness, Dyan openly shares her life experiences and what art has done to revolutionize and revitalize her life.
We had the honor of hosting Dyan in our in-house studio, where she shared invaluable tips and how-to's for all interested in the art. You can see the filmed videos here (they're free!).
All you really need to get started with Art Journaling is a Blank Journal, pens, and some sort of COLOR! You can see Dyan's line of supplies created with Art Journalers in mind here.
Art Therapy Session: What to Expect
Length of Art Therapy Session: Typically anywhere from 45 - 85 minutes depending on the Practice and patient's needs
Art Therapy Session Frequency: Most people choose to start with weekly sessions, visiting with their Art Therapist once a week. Bi-weekly sessions are also a popular option.
How Many Art Therapy Sessions Will You Need?: This depends, but most individuals entering into Art Therapy have anywhere from 5 - 12 or more sessions.
Cost of Art Therapy: Cost varies greatly from state-to-state and practice-to-practice. Some practices may have payment plans and most should accept a list of Insurance plans.
If you've made the decision to not only look into Art Therapy as a treatment option for yourself or a loved one, but have also booked an appointment already and are feeling a little nervous, you're not alone! It can be downright scary to go into a space where you feel unsure and vulnerable.
Art Therapists (and therapists in general) understand this fear and are prepared to help you feel comfortable. Like any psychology or counseling appointment, the first meeting will probably consist of some simple paperwork and a sheet of questions about why you're seeking out therapy. After the initial paperwork, you will most likely meet with your Art Therapist and have a conversation about what you're looking to get out of Art Therapy, your experiences with art, and anything else that the therapist needs to know to give you the most beneficial program possible.
At this point, you may want to let your Art Therapist know if you prefer a group setting for treatment or one-on-one. He or she may also suggest at some point during your treatment if he or she thinks one way or the other may benefit you more.
Art Therapy Activities
What kinds of art will you do in an Art Therapy session? Highly dependent on your Art Therapist, your age, and your own experiences and enjoyments, the type of art you will create in Art Therapy is far-reaching. Some activities will be for fun and learning, while others are scientifically proven deductive methods that will be entirely guided and prompted by your Art Therapist. After creating, your therapist will oftentimes talk you through the interpretation of your art piece.
Go into your Art Therapy appointment with an open mind, as you may encounter anything from paper and glue to paint and pastels... to clay, fiber, and more! If you do have a preference, feel free to speak up! Your Art Therapy space is your space to be open and get everything you need to out of!
Types of Activities You May Do in Art Therapy
Watercolor Painting
Needlework
Felt Sculpting
Polymer Clay
Scribbling & Doodling
Finger Painting
Pottery, Sculpting, and Carving
Collage and Mixed Media
More!
How To Become An Art Therapist
There's an old quote from American painter Helen Frankenthaler that "There are no rules in art." That may be the case, but there definitely are rules for becoming a certified Art Therapist – and a lot of them.
The Art Therapy Credentials Board certifies Art Therapists. (In some states, art therapists may need certification from the state they reside and choose to practice in as well.) There are three levels of full certification available from the Board for Art Therapists. The first certification is Registered Art Therapist (ATR), the base level of certification. (Some art therapists start their careers as a Registered Art Therapist-Provisional, a provisional version of ATR certification.) There is also an Art Therapy Certified Supervisor (ATCS) certification available for experienced clinicians who supervise students and newly practicing Art Therapists. The final certification available is Board Certified Art Therapist (ATR-BC), the highest level of certification for Art Therapists.
The first step to becoming a certified art therapist is to get a Master's Degree (or higher) with relevant coursework in Studio Art and Counseling. Currently, there are just over thirty Master's programs in the United States whose Graduates are approved by the American Art Therapy Association to apply for certification. Graduates of other colleges' graduate programs may apply for certification, but they must show that their Graduate Program included elements that comply with a long list of requirements. The elements include at least 18 semester credits of Studio Art, 18 semester credits spread over six areas of mental health, and 24 semester credits of Art Therapy core curriculum. The program must also include a practicum or internship element.
The second step to becoming a certified Art Therapist is to get the required hours of experience of direct client contact under supervision. The number of hours required varies from 1,000 (for holders of an AATA approved Master's degree) to up to 2,000 hours for holders of non-Art Therapy degrees.
Once steps one and two are complete, application can be made to the Art Therapy Credentials Board for certification. Applicants for the Board Certified Art Therapist level of certification must take a national certification test as part of their application. The test is given only one day per year, in a handful of cities around the U.S.
In addition to the educational and examination requirements, all Art Therapists receiving ATCB credentials must agree to adhere to a professional code of ethics.
How to Find an Art Therapist
Do you think that you or someone you love might benefit from Art Therapy? If so, you can find a credentialed Art Therapist near you by visiting the website of the Art Therapy Credentials Board. Depending on the state where you reside, your state government might also maintain a list of art therapists that are licensed to practice in your state.
More Information
Want to learn more? Consider reading this in-depth piece on the health and emotional benefits of handmade creativity.
---