While you're at home, Scrapbook.com has endless inspiration all over the site to keep you busy. Keep reading for a bunch of fabulous FREE ideas to occupy your time while at home. All of them you can begin doing right now.
Free Online Classes
Scrapbook.com has always believed in the power of learning. That's why we offer over 50 classes on our website that have always been, and continue to be, free of charge. We're talking full-length, multiple-lesson, uninterrupted classes - all available to take virtually on Scrapbook.com's site.
We have classes in a variety of subjects, including scrapbooking, card making, die cutting, watercolor painting, Bible journaling, stamping, mixed media, mini albums, and a whole lot more. Now is an opportune time to pull out some of your favorite supplies and learn new techniques while creating something that makes you happy.
Not only are these classes in-depth and helpful, but they're also taught by some of your favorite designers. Who wouldn't want to spend some screen time at home learning from the oh-so-talented Tim Holtz, the vibrant Vicki Boutin, or the delightful Dyan Reaveley?
These classes were designed to put a smile on your face and grow your creativity. Now is a great time to learn. You can even watch them simultaneously with your crafty friends and discuss over the phone when you're done.
We are also adding more full length and mini-classes for your viewing pleasure all the time so check back often for fresh, new learning opportunities - all free of charge.
Project and Inspiration Gallery
The Scrapbook.com Gallery is an uplifting community of crafters sharing photos of their completed projects for others to see. We recently surpassed the remarkable amount of 3,000,000 projects in our Gallery.
The Gallery has featured projects on the front page and several specific sections of projects, including scrapbook layouts, handmade cards, digital designs, craft rooms, sketches, and other - for everything else.
Interact with your creative community by voting and commenting on the projects, seeing the supplies they used, and learning about their artistic process. You can also start following some of your favorite Scrapbook.com gallery members, so you're always up-to-date on what they've been creating.
Blog Posts, Articles, and News
If you're a big reader but want to put down your paperback or e-reader for a moment, you can head on over to the Scrapbook Blog. This section of our site is filled with how-to tutorials, inspiration, news, guides, and more for you to read at your leisure. With over 300 articles and more being posted all the time, you're sure to find something that inspires you and sparks creativity.
Many of our original articles are written by Scrapbook.com founder Jill Davis herself. These have some of the best advice on scrapbooking, organization, and her experiences from decades of crafting.
You can even find some enlightening research articles like the History of Scrapbooking and Famous Scrapbookers in History.
One article that we highly recommend reading is our Art Therapy Benefits and History piece. It's a beautiful, necessary reminder that art and being creative helps us heal. We express emotions, alleviate stress, and promote good mental health when we allow ourselves to engage in the artistic process.
We express emotions, alleviate stress, and promote good mental health when we allow ourselves to engage in the artistic process.
We can all benefit from a creative outlet while we're at home, and we hope to have as many people as possible embracing crafting to get them through this time.
In-Depth Podcast Interviews
Did you know that Scrapbook.com launched our very own Podcast? Life Handmade is a podcast all about creativity, papercrafting, and living a life handmade.
Either at Scrapbook.com or wherever you enjoy downloading and listening to podcasts, you'll hear some heartwarming interviews. Not only do we cover new products and collections, but we talk about ways to stay inspired, overcoming obstacles and some real in-depth topics.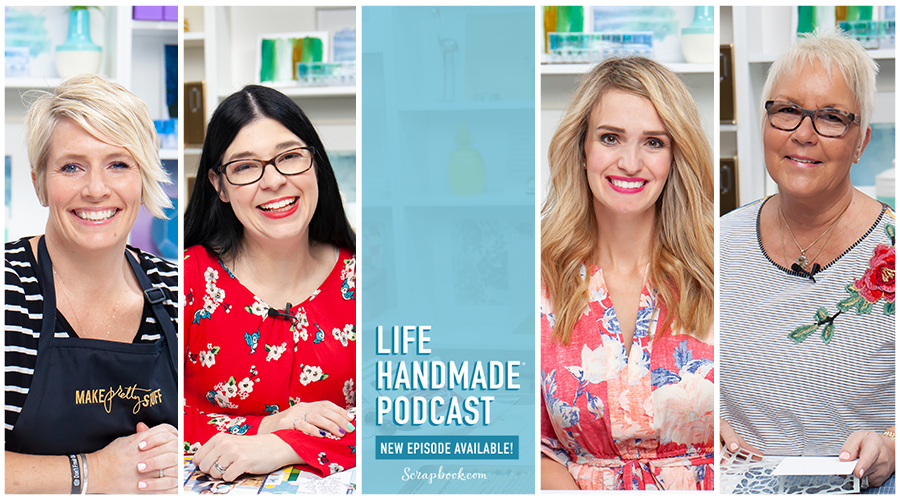 We've spoken with some of your favorite designers like Heidi Swapp, Vicki Boutin, Wendy Vecchi, Paige Evans, Dyan Reaveley, and more. These are real, personal, in-depth conversations about life, crafting, depression, inspiration, and challenges in day to day life - some of which may bring a tear to your eye.
We are continuing to record some can't miss interviews with creators, crafters, and more. We release episodes every other Wednesday.
Chat and Connect in Forums
In the early days of scrapbooking and Scrapbook.com, for that matter, community engagement centered around message boards and forums. It was a place for people to discuss projects, get ideas, figure out creative conundrums, start project challenges, and share stories. Our Forums are a great place to stay connected.
Find comfort and community when you interact with fellow crafters all over the world. Using your home computer, tablet, or smartphone, you can start new posts, comment on others' ideas, share photos, give product advice, or just make someone smile.
There's so much positivity and camaraderie found in this communication channel. The Scrapbook.com family posts in the forums as well. You can keep an eye on user-inspired challenges, news, updates, and so much more. Check them out - the posts are sure to make you smile, and you may even make some new friends along the way.
YouTube Channel and Videos
If you navigate a little ways away from Scrapbook.com over to our YouTube channel, you'll find hours of video content to pass the time. We've uploaded thousands of unique videos since our channel started in 2007, and you all have watched them over 23,000,000 times.
Here, we share and post tutorials, overviews, collection releases, testimonials, and exclusive content that you can only find at Scrapbook.com.
You can spend hours in your home office, bedroom, or living room being amazed by designers, fellow crafters, and Scrapbook.com employees. This is a great way to learn, get inspired, finish projects that you've been meaning to get to, and even laugh a little.
YouTube also lets you vote and comment on the videos, save them to playlists, add them as favorites, and even share them with your crafty friends around the world.
For even more video content, you can head over to the Videos section of the Scrapbook.com website. Here you can find some of our YouTube videos, but also videos made by some of your favorite brands like Sizzix, Ranger, Catherine Pooler Designs, Lawn Fawn, American Crafts, Art Impressions, and tons more. This section also lets you search through the videos for topics you're particularly interested in seeing.
We know that our nearly endless supply of crafty videos will be an excellent way to pass the hours at home!
Cards For Kindness Initiative
For almost a year now, Scrapbook.com has been leading an initiative to spread much-needed kindness to as many people as possible - people who could use an emotional boost, a smile, or a helping hand.
The Cards For Kindness project takes handmade cards made by YOU, the people all over the world, and delivers them to cancer foundations, hospitals, shelters, retirement homes, children's homes, and other organizations in need. Right now, there are a lot of people who could use a little bit of handmade kindness, and we cannot do it alone.
While you're at home, you can make handmade cards and send them to Scrapbook.com. When we receive them, we'll make sure they get in the hands of nurses, doctors, staff members, counselors, parents, and volunteers for patients, children, and other people in need.
You can find more information on how you can help right here. Check with your local post office to see if you can arrange a free package pick-up when you're done with your bundle of handmade cards, so you don't have to leave your home.
---
We want you all to remember that we're in this together. Scrapbook.com will continue to be here with articles to read, videos to watch, podcasts to listen to, and beautiful inspiration, all for you.
Stay safe, stay creative, and stay home. We're in this together.
---