Hello crafty friends! Mona Tóth here with another helpful guest post about card making for Scrapbook.com!
Today I am sharing three easy and useful background stamping techniques, which are also great for bulk card making projects. We'll be using the Altenew Rose Blossom Stamp Set* and a variety of Scrapbook.com brand products.
Thanks for joining me for some crafty fun - let's start our first project!
*Please note this product has been discontinued.
Background Stamping Patterns for Cards
I absolutely love to play with solid stamps and use multiple colors on one card.
For this first card, I cut a piece of Neenah Solar White Cardstock to 3.75" x 5" and placed a piece of Therm O Web Purple Tape right through the center of the cardstock. This ensures I have a nice, clear space in the middle for the sentiment.
For my background stamping, I chose two solid stamps from the Altenew set and Scrapbook.com Hybrid Inks in Pink Lemonade, Pink Flamingo, Candy Shop Pink, and Rubber Ducky shades.
Using one ink color at a time, I randomly stamped the large solid flower all over the cardstock. I then filled in the empty spaces with the tiny solid flower stamp in the same colors.
Stamping Tip: There are no rules when it comes to creating a background pattern when stamping, so just have fun with it! Try random placement and stamping off the edge of your paper to create a unique look you're happy with.
Once I was done with the background stamping, I carefully removed the Purple Tape to reveal the clean white space for the sentiment.
I chose a lovely friendship sentiment from the You and Me Quotes and Sayings Stamp Set* and stamped it in bright Rubber Ducky yellow in the center. To draw attention to the sentiment, I added a top and bottom border of thin golden washi tape and then mounted the card on a coordinating pink card base.
*Please note this product has been discontinued.
If you're familiar with me and my card making style, you know that embellishments are a must! So I added some finishing touches of Nuvo Glitter Drops and Jewel Drops to the centers of the stamped flowers and a little bit of the remaining white space before this card was ready.
Embossing With Stencils
My next card has a tricky background, but I know you will absolutely love this technique. We're going to use a stencil, ink, and a die cutting machine to get a colorful textured background for our card!
To start, I grabbed a deco pattern stencil from Altenew and added Scrapbook.com hybrid ink directly onto the stencil.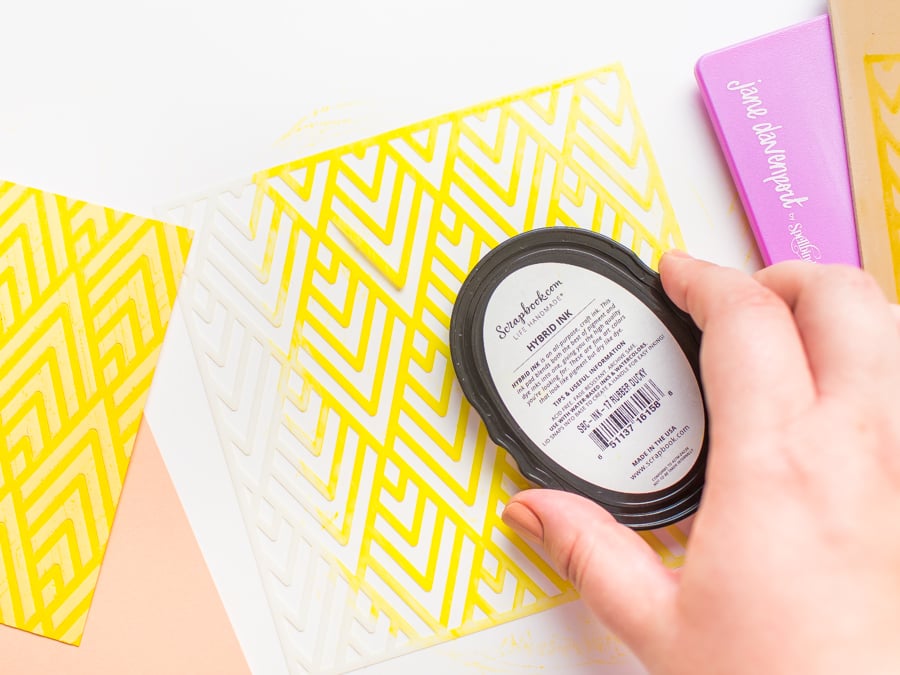 Now it's time to emboss! Here is the exact way I built my die cutting sandwich for embossing with the inked stencil.
I inserted the base platform, then added one piece of scrap cardstock on top to keep my Deep Sea Die Cutting Machine clean. Next, I added the inked stencil (ink side up) and then a piece of Lawn Fawn Sticky Note cardstock for our background cut to 3.75" x 5". On top of that, I gently placed the embossing mat, then the embossing plate, and ran it through my machine backward and forwards to get a really good impression.
The finished background has bright yellow inked impressions in the pattern of the stencil! How cool is that?
Next, I created some absolutely gorgeous images with the main flower in the Rose Blossom Stamp set.
For the stamp layering effects in the roses, I used the Pink Flamingo, Pink Lemonade, and Candy Shop Pink. For the leaves, I chose to use the Gray Group of hybrid Inks.
After fussy cutting the roses and leaves, I adhered them to our embossed background. I then heat embossed a wonderful sentiment from The Happy Couple Stamp Set and popped it up with some foam squares in front of the flowers.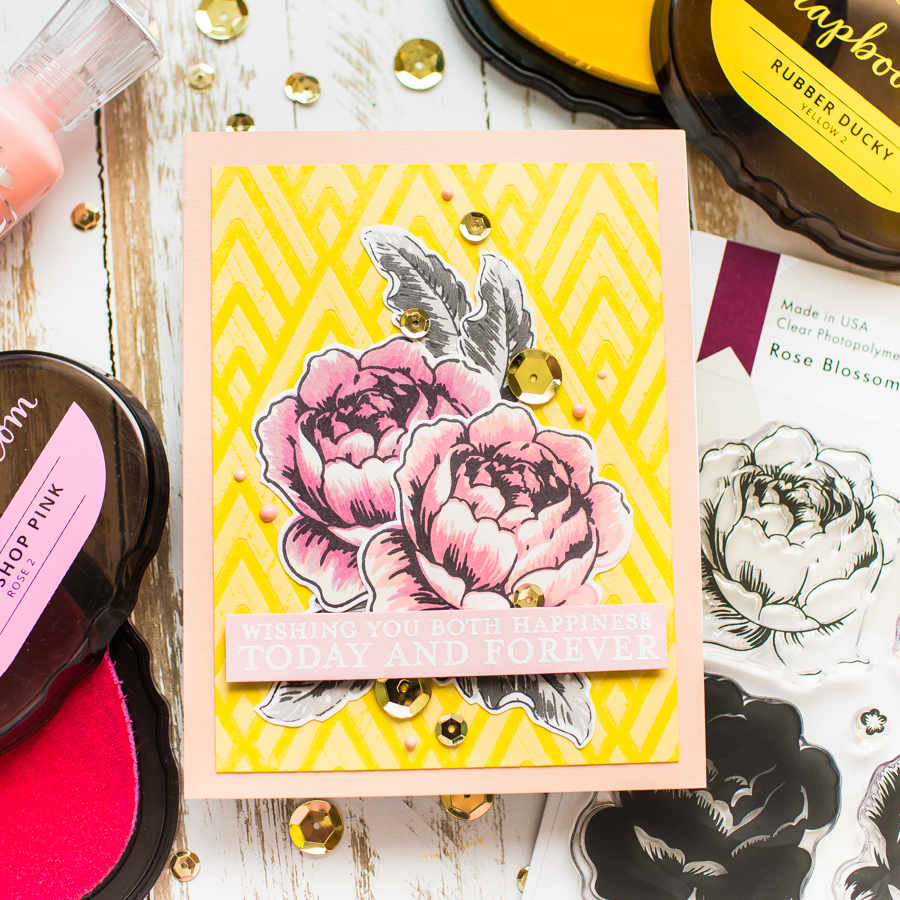 I couldn't call this card complete without some simple embellishments. This time I chose a couple sizes of shiny gold sequins and some Bubblegum Blush Nuvo Drops to match the flowers.
I adhered the gorgeous card front to an apricot-colored card base to complete the final look!
Heat Embossing on Card Backgrounds
I really love working with embossing powders, especially the classic ones like white, gold, and silver. So for this last background, I want to show you a fun way to play with embossing powders in different colors.
I started by preparing my 4" x 5.25" piece of cardstock with a powder tool. Then I picked out one of the detailed vine pieces from the Rose Blossom Stamp Set because I wanted to create a wreath effect around the card.
Heat Embossing Tip: It can be so easy to forget the preparation step before using watermark ink and embossing powders. This step is an absolute must for getting clean, crisp impressions and avoiding embossing powder stuck in places you don't want it!
I started stamping with VersaMark ink around the card edges, creating a border. For each stamp press, I made sure that part of the vine design was off the paper, which gave it a really natural, organic look.
Once I finished the whole border, I added in a couple of tiny solid flowers to fill in a little bit of the negative space in the middle of the design. Then it was time for heat embossing with white embossing powder.
Heat Embossing Tip: What's the best technique for getting excess powder off your watermark ink? You decide! Some crafters give the back of the paper a few light flicks to dislodge powder granules, and others use a tiny paint brush to clean up the powder before heating it. The choice is yours!
Next, I stamped the sentiment with the Best Friends Forever Stamp Set and heat embossed with clear embossing powder. Because the cardstock was a bright color, the clear embossing powder gave it a dark, shiny look.
To fill the space around the sentiment, I used the same vine stamp with more clear embossing powder to add more florals. For a finishing touch, I added just a few white specks around the flowers.
Because I think this technique is so much fun, I decided to make one more variation - this time using Buttercup yellow and white embossing powder in layers. I used the VersaMark ink to add vines growing from the top and just a little bit at the bottom.
After heat embossing the yellow, I stamped again and added in the white florals. This card was finished with another beautiful sentiment from The Happy Couple Stamp Set.
Both of these finished card fronts were adhered to Neenah Solar White Vertical Cards to get them ready for some very special people to receive!
And these are the final cards! I hope you enjoyed these background stamping techniques and you got inspired to create some wonderful stamped backgrounds for all your handmade cards.
Which technique is your favorite? Leave a comment below! Thanks so much for joining me today - Sending you all big crafty hugs until next time!
Do you want to see more from the oh-so-talented Mona? Here are a few of her fabulous guest blog posts for Scrapbook.com:
A Simple Technique For Unique Christmas Cards
Funny Birthday Cards You Have to Make!
How to Make an Easy Card Background With Ink
---