Making individual handmade cards for the special people in your life is a wonderful, unique experience that results in a beautiful one-of-a-kind card. But sometimes you need to
make cards
in bulk, like Christmas time, which can be very stressful.
Learning how to make a bunch of similar cards all at the same time can be really helpful for things like wedding invitations, shower invites, thank you notes, and holiday greeting cards.
Today, I'm going to show you some fairly simple steps so that you are able to pump out beautiful bunches of cards like it's nobody's business!
See the complete list of products and supplies at the bottom of this post.
three tips for creating bulk cards:
Create an assembly line for easy production
Use a stamping tool, press, or platform like the MISTI
Keep your designs and techniques simple
For my cards today, I chose to create Christmas cards using the brand new stamps from Scrapbook.com. I chose two big and bold sentiments for my cards - Happy Holidays and Merry Christmas. I love these sentiment stamps because they are large enough to be the only focal point you need for simple, beautiful cards.
Set Up Your Assembly Line
The most important part of a card making assembly line is remembering to do one step at a time from start to finish. If you are making 50 cards then start by cutting all 50 card bases and work your way to completion from there. Don't move on to the next step unless you're going to do the next step for each and every card you're making.
Use a stamping tool
I prefer using the MISTI but any stamp press or platform will work. For bulk card making, this tool helps you stamp perfectly and quickly without having to rearrange the stamps. Just remember the assembly line rule and stamp each stamp as many times as you need before moving to the next one.
Keep Your Designs Simple
The term 'simple' means different things to different people due to skill levels, talents, and supplies on hand. So choose something that is an easy, cost-effective technique for you.
Create Your Handmade Cards in Bulk
Start by folding all your card bases. Use your favorite trimmer to cut the cardstock into 8.5" by 5.5" rectangles, then score down the middle at the 4.25" mark. You can also make this process even easier by starting out with the Scrapbook.com prescored A2 size cards.
Next, take your patterned paper and cut card fronts in 4" x 5.25" size.
Get your cardstock ready for embossing with a powder tool to avoid embossing powder sticking where you don't want it.
Using some smooth cardstock and your stamp platform, stamp your sentiments in clear embossing ink and quickly sprinkle with embossing powder. Remove the excess powder from the stamped sentiment and set each aside. Be careful not to stack these on top of each other or the embossing powder will shift before you heat set it.
While protecting your work surface (and your hands!) use a heat tool to melt all the embossing powder into a beautiful, shiny sentiment.
Once your sentiments are set and cooled, trim down the embossed sentiments to the edge of the embossing.
Using a permanent adhesive roller, first glue down all of the patterned paper card fronts to the card bases. After that's done, adhere all the embossed sentiments to the top center of the patterned paper.
Sit back and admire your handiwork before delivering handmade holiday cards to everyone on your list!
A Couple Helpful Reminders
I can't stress enough how beneficial a stamping tool is for this process. Using my MISTI, I was able to stamp two sentiments at a time with every impression. This cut my stamping time in half. Not only did this save time, but I didn't have to worry about crooked sentiments, readjusting, not stamping with enough ink, etc. So practical!
For a little extra WOW factor, try matching your patterned paper to the color or tone of the embossing powder you use. In my cards, I used gold embossing powder to match the fun gold patterns in the paper. It really added an extra layer of shine for beautiful Christmas cards.
Be sure to also check out this helpful step-by-step video that shows each part of the bulk card making process:
---
I hope you enjoyed today's tutorial and you learned some helpful, inspiring tips about bulk stamping and card making.
Remember to share your holiday cards in the Scrapbook.com gallery to inspire others and show us all some beautiful, simple designs that will make amazing bulk Christmas cards!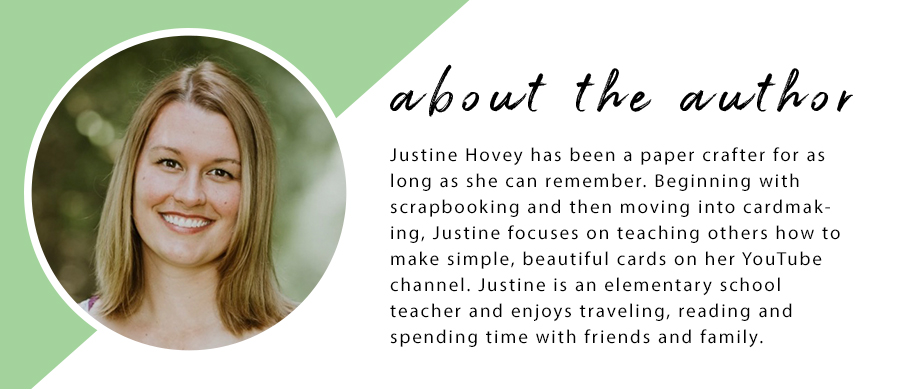 For more helpful tips and tricks on creating handmade cards in bulk, be sure to check out this
card making class
from Carissa Wiley.
---