Do you need a craft sheet or a cutting mat? Do you need a glass media mat or a silicone one? Should you use a self-healing cutting mat or a glass one? Are you using the right surface for the right technique?
If you ever feel like there are too many choices when choosing the right tool or surface for your crafting, we're here to answer all your top questions!
In this article, we will break down each type and what its best use is so that you can know which surface is best for you and your crafting!
Magnetic Work Surfaces
The Wendy Vecchi Make Art STAY-tion
It's not often the phrase "game-changer" gets tossed out in the world of crafting, but we can't help but assign that determination to the Wendy Vecchi Make Art STAY-tion. Her magnetic metal work surface for Ranger Ink hit the craft community to a whirlwind of praise and 5-star reviews. Its light, metallic surface, and super strong magnets made this the ideal space for many a crafter at home or on the go.
Used for heat embossing, stenciling, stamping, and all sorts of creating, this became an instant must-have. There's even a whole range of accessories and tools to go along with your STAY-tion. And did we mention the cute little mini STAY-tion?
A miniaturized 7" version for maximum portability and fun was released, and it's the cutest, most functional little board around. It has all the same functionality of its predecessor but in a smaller size. However, the magnets are still the same big, strong size, so whatever you're working on doesn't slip or slide as you're creating something amazing.
Who the STAY-tion is best for:

Couch crafters
Passenger seat creatives
Frequent fliers
Stencil-lovers
Crafters with limited mobility in their hands
The Foil Quill Magnetic Mat
Now here's a work surface that's hard to resist. The Foil Quill Magnetic Mat comes in a glimmering gold color scheme that makes it immediately attractive, but we promise this mat does more than just look pretty.
This mat was designed to be used with a few of the Foil Quill products, like the Foil Quill Freestyle Pens* and the Foil Quill* for digital die cutting machines. The magnetic, gridded surface and included thin bar magnets are meant to hold your material and your heat-activated foil taught and in place while you transfer shimmering foil to your project.
Not only can you use this on your desktop or table while holding a Freestyle Pen, but it also can be inserted into your Cricut or Cameo to help with digital foiling. You'll never have to mess with washi tape again when you have this in your crafting toolbox!
Who the Foil Quill Magnetic Mat is best for:

Heat activated foil users
Cricut, Cameo, or Brother machine foilers with the Foil Quill adapters
Freehand foilers with the Freestyle Pens
Customer Favorite Magnetic Work Surfaces
*Please note this product has been discontinued
Craft Sheets
The standard thin brown craft sheet is probably one of the most easily-recognized crafting surfaces. The Ranger Ink Reusable Non Stick Craft Sheet is a fan-favorite, 5-star rated product because of its affordability and versatility. This kraft-colored sheet is made of a slick, non-porous material that nothing is getting through. Think of your favorite Teflon-coated frying pan and how every delicious thing you cook in it just slides right off - that's what makes this Craft Sheet so popular.
The original size is a nice 15" x 18", which means your desk or craft table will have a nice big area covered from spills, stains, and any other accidental oopsies. Since it's such a thin material, the Craft Sheet can be cut or trimmed to size however you please. If you want a pre-cut 9" x 9" square version for small projects or working with your Wendy Vecchi Make Art STAY-tion, pick up this perfect little version instead.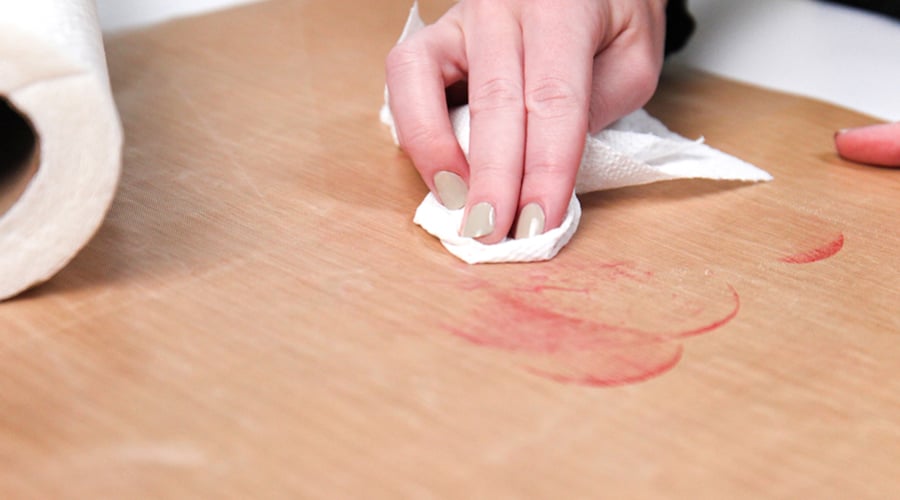 If you're just not a fan of brown, Nuvo makes a bright white version with their Easy Clean Mat. With so many gorgeous, drool-worthy craft rooms being done in an all-white color scheme, this big 17" x 24" mat will look right at home in your space!
Craft sheets are easy to roll up and stash in your drawer or closet, or you can leave it down on your work surface for mess protection at a moment's notice. Like old school maps, you should avoid folding your sheet when you store it to lessen dings and creases.
Who the Craft Sheet best for:

Ink blenders
Distress Oxide lovers
Glitter gel and mousse mixed media artists
Thrifty crafters
General mess makers
Customer Favorite Craft Sheets
*Please note this product has been discontinued
Glass Media Mats
If you want a work surface that's full of class, then welcome to the glorious, gorgeous world of glass! There's just something appealing about the sheen of a super glossy finish and the heft and durability of a solid piece of tempered glass.
Tim Holtz Tonic Glass Media Mat
For years now, the beautiful black Glass Media Mat from Tim Holtz and Tonic Studios has been a staple in crafting rooms across the globe. Measuring in at 23" x 14" of glossy black and white surface area, this workspace ensures you have a place for almost anything you want to create.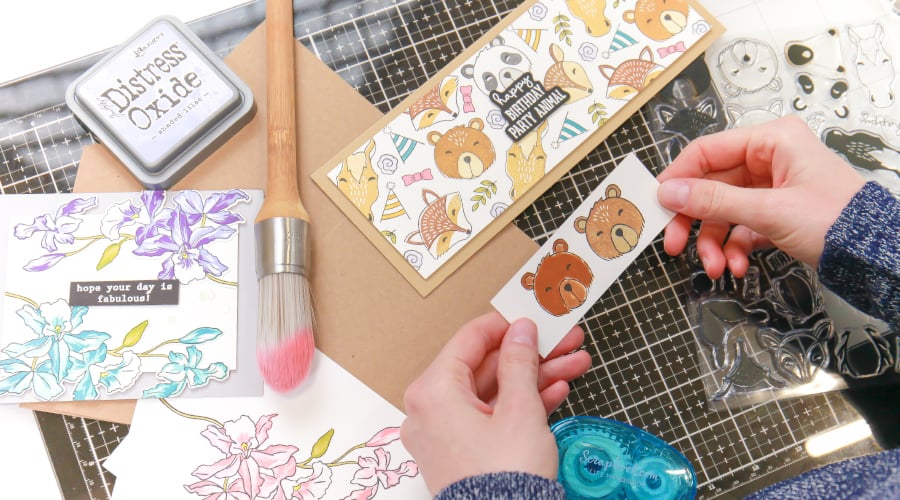 Water-based mediums will never dry on the slick surface, and the helpful ruled grid is beneath the tempered glass, meaning it won't ever fade on you.
It's also super easy to clean up and get ready for next time. Most mediums will wipe up with a simple spritz of water and a few swipes with a soft cloth. The mixing palette on the right-hand side is set against a bright white background to ensure you get a true-tone look at the colors you're mixing, blending, and creating.
Are you left-handed? Don't flip your mat upside down, get the left-handed version right here.
Who the Glass Media Mat is best for:

Wet medium crafters
Watercolor artists
Acrylic paint lovers
Those who need a slightly raised, dedicated space on their craft table
Tim Holtz Tonic Travel Glass Media Mats
The original-sized version may be a glorious creative workspace, but it's a little big and heavy for grab-and-go activities. That's why we're currently obsessed with the Travel Glass Media Mats that come in both right and left-handed versions.
Everything that crafters loved about the original version is shrunk down to a portable size of 10.25" x 15.75" with this little crafting sidekick that weighs just a little over 3 pounds.
It still has the palette mixing area, center gridlines, and removable silicone craft sheet, but they are all shrunk down to size. Plus, when you purchase a back-up removable silicone mat for your travel-sized version, you actually just cut it in half, and you have TWO!
And with the smaller size and weight, you can sit on the couch, in the passenger seat of a car, or even an airplane with this fun-sized workspace. It even comes with a heavy-duty neoprene sleeve to protect it when not in use.
Who the Travel Glass Media Mat is best for:

Crop and class attendees
Traveling crafters
Wet medium and paint lovers
Card makers
Customer Favorite Glass Media Mats
Self-Healing Cutting Mats
So what exactly is a self-healing mat? As opposed to a mat made of one solid piece of glass, foam, plastic, or metal, a self-healing mat is comprised of tons of tiny pieces of material fused together. When you use a rotary blade or cutting knife, it's not actually cutting into the material but separating the individual pieces. You're not injuring your mat, so it rebounds and "self-heals," ready as ever for your next slice.
The advantage of having a self-healing cutting mat in your supply stash is that you won't end up with big grooves or channels in your work surface that could impact your perfectly straight project or dull your blade.
How Do You Clean a Self-Healing Cutting Mat?

An important thing to remember about your cutting mat is that it's not an all-in-one work surface. Use it for slicing and cutting but find an more appropriate surface for inks, paints, and mixed media products.

To keep your cutting mat free of debris, you can use a baby wipe, alcohol wipe, or a simple spritz of water with a clean microfiber cloth.
Altenew has a beautiful, trendy black and grey version that measures 16" x 22". It has standard measurements on one side and metric on the other, with pre-measured outlines for card fronts (4.25" x 5.5") and scrapbook layouts (12" x 12").
A few of your favorite brands have multi-purpose self-healing cutting mats that you will love having in your space. We R makes a 14" x 18" double-sided magnetic version with measurements. You heard that right. It's big, dual-sided, magnetic, self-healing, gridlined, and comes with a magnetic ruler. Heidi Swapp offers a similar MINC version that measures in a tiny bit bigger at 18" x 22".
Who the self-healing cutting mat is best for:

Craft knife users
Rotary blade slicers
Photo croppers
Precision measurers
Customer Favorite Cutting Mats
*Please note this product has been discontinued
Silicone Mats
Silicone is a versatile material that withstands multiple techniques and mediums. Silicone is practically an artist's best friend. The rubbery, non-stick surface allows you to use all sorts of fun things on it without getting absorbed or drying up while you're creating something amazing.
With the Non Stick Silicone Mat from Scrapbook.com, you can find yourself blending inks, using watercolors, mixing acrylic paints, manipulating mousse or paste, creating custom enamel dots, or safely using hot glue. It measures a big, beautiful 15.5" x 19.5" for covering a huge area of your workspace so you can get extra creative or work on multiple items at once.
For crafters with big social media followings on YouTube, Instagram, Facebook, or blogs, the Scrapbook.com Silicone Mat's bright white surface make it a breeze to photograph and broadcast on!
For smaller projects or creating with wet mediums on the go, Waffle Flower has a Mini Water Media Mat. The only difference with the baby version is the size - it still packs the same punch as the full size for using all your favorite wet mediums that clean up with a simple wipe down!
One thing to keep in mind about your silicone work surface is how easily it attracts things like dust, fibers, and pet hairs. A good baby wipe or sink rinse will help you avoid too much debris from building up on the rubbery surface.
Who the silicone mat is best for:

Watercolor artists
Ink blenders
Acrylic paint lovers
Custom color makers
YouTubers, bloggers, and photographers
Fans of easy clean-up
Customer Favorite Silicone Mats
We hope you've found the right surface for your style of crafting. Be sure to check out our craft mat section for dozens of surfaces that help you create something amazing. Which one do you like best and why?
For detailed information on how to clean popular craft surfaces and tools, don't miss our guide to cleaning here.
---