Having all of your craft supplies organized is an important part of the creative process. It helps you know what supplies you have to create with at any given moment and know exactly where to go to find each of them. This results in less time searching & more time crafting!
Form, function, fashion, and affordability are truly the quinella when it comes to craft storage - and oftentimes, at least one of these is compromised along the way to conquering craft room organization. Not anymore!
The Scrapbook.com Craft Room Basics are storage essentials that check all the boxes. Affordable - check! Versatile - check! Stylish - check! So if craft room organization is on your to-do list, make sure you check it off with these must-have solutions.
In this article, we'll cover:
Your top questions & answers about the Craft Room Basics Collection
All the ways to use the Craft Room Basics
What makes the Craft Room Basics different from similar storage devices
Why this is the storage solution for YOU
What Are The Craft Room Basics?
The Craft Room Basics Collection from Scrapbook.com is a stylish, affordable, versatile series of storage solutions for a variety of your craft supplies. After important research, which included beneficial feedback from our wonderful customers & community, we developed these much-needed storage solutions.
These essential storage solutions include a growing variety of stylish options for all of your craft supplies. We have 6 x 6 and 6 x 8 paper holders, 6 x 12 sticker storage, 4-tiered drawer system, tiered stadium, and a pocket card tray. Each item can be used in a multitude of ways to hold a variety of materials, including paper pads, stamps, ink pads, pocket page cards, small tools, and so much more.
But we're just getting started! These few must-have storage devices are just the first in this series, so make sure you stay tuned for future additions to this collection. *wink wink*
Take a look at this must-have Pocket Cards Organizer, which combines trendy pocket page scrapbooking with storage & organization. Similar to our tiered organizer but without the tiers, this quadrant organizer comes with or without handy dandy dividers for a solution you will fall in love with.
If you're a fan of cube storage or your rolling craft cart, then you'll love the Tall Sticker Organizer. It was designed to fit like a dream in both of these craft room must-haves and fit all your favorite 6 x 12 sticker sheets. It's divided into three separate compartments and makes flipping through your sticker collection easier than ever!
Here's something you're going to love if your 6 x 8 paper pads are stacking up! It's our 6 x 8 Paper Pad Holder. Perfect for full pads or individual sheets, you'll love having this within arm's reach in your craft room. It's also the perfect size for your 6 x 8 stamps as well!
What Are The Craft Room Basics Made Out Of?
These are not your ordinary cardboard budget storage solutions! Our Craft Room Basics have a 4mm thick greyboard inner structure that is then wrapped in a shiny & sturdy white paper material. Greyboard is a thick, recycled material that is commonly used in product packaging or hardcover book bindings.
The result is a fabulously thick and sturdy material that is affordable, versatile, & reliable. Not to mention fashionable in your craft space.
A Helpful Reminder

As sturdy as the Craft Room Basics are, they are still made of paper products. As such, it is recommended to keep your storage solutions away from potential spills from your watercolor cup or other liquid products (including any beverage you're enjoying while crafting!).
Do I Have To Assemble Anything?
There is NO assembly required for our shelves, drawers, or stadium organizer! These beautiful, functional solutions come to you 100% assembled, which makes them easier to use right away.
There aren't any tabs to notch into place, flaps to maneuver, shelves to slide in grooves, or anything like that. We've taken care of all the assembly for you to ensure these devices are as sturdy as can be.
For our 4-drawer organizer, you can decide which position you'd like the divided drawer to be in. Do you want it in the top position or maybe the bottom? You choose! If you've decided to pick up more than one set of drawers, you can mix and match by removing the drawers and reassembling them however you like.
Can I Stack The Craft Room Basics?
Absolutely! Because these storage products are so affordable, you can pick up more than one of each to really improve your overall organization. They're also sturdy and light enough to securely stack two 6 x 6 paper shelves or the 4-shelf drawers. They're not modular or locking but sturdy enough to have two on top of each other on your desk, shelf, or table.
If you're looking at mixing, matching, and making stacks of Craft Room Basics, just know that the 6 x 6 paper shelf is a tiny bit deeper than the 4-drawer system.
Popular Craft Furniture Tips

Cube Storage Systems
For fans of popular cube storage furniture like the IKEA Kallax/Expedit system, we have great news - you can fit two stacked sets of storage drawers in each cube! This would be a wonderful way to organize drawers full of stickers, ephemera, ink pads, and so much more.

Rolling Craft Carts
Many crafters also love the popular rolling craft carts due to their versatility and portability. If you have the RÅSKOG cart from IKEA or similar rolling craft carts, you can fit 2 of the tiered Stadium Organizers side by side on the top rack of the cart. Organize your card fronts, pocket cards, sticker books, and small tools in each of the helpful compartments and make your rolling cart your new best friend.
What Can Be Stored in The Craft Room Basics?
Each storage device has endless opportunities for creative, functional usage. Let's explore a couple of scenarios so you can envision these helpful solutions in your own crafty space.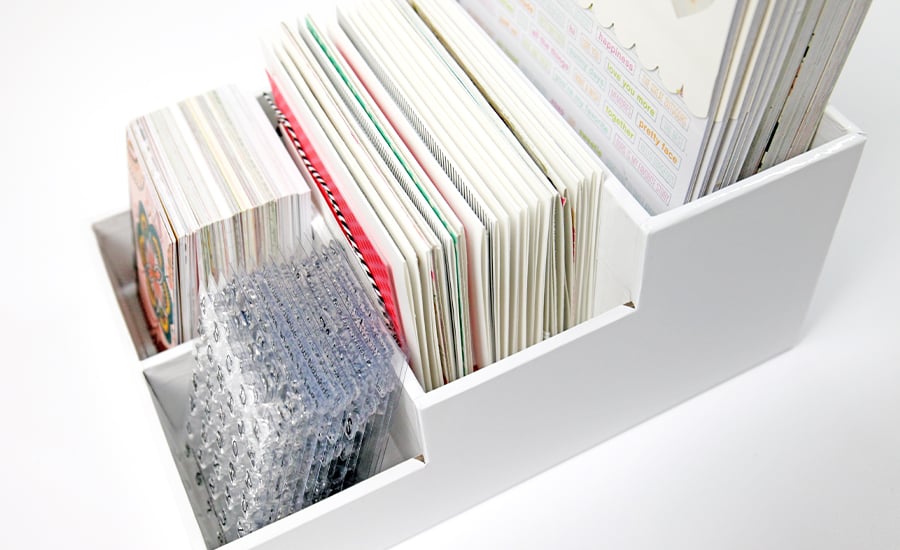 Craft Room Basics - Stadium Organizer
Each of the tiers on our stadium organizer holds a different size product. The front two compartments were designed for holding two columns of 3" x 4" pocket page cards or mini stamp sets.
The center tier is perfect for 4" x 6" pocket cards, card fronts, or standard-sized stamp sets. Or our fabulous Scrapbook.com Paper Pads! The back top tier is great for big, beautiful 6" x 8" stamp sets, sticker tablets, pre-made cards, and more.
Craft Room Basics - 4 Drawer Organizer
The shallow drawers on this organizer are 1" in depth but hold a surprising amount of contents. The 4 drawers are fully removable, and the glossy white paper wrap ensures they glide smoothly for everyday use with a handy finger tab on the end.
One of the drawers has four small compartments, and the other three are full undivided drawers. These are the perfect depth for standard or mini inks pads, ephemera packs, stickers, acrylic blocks, pens or markers, tiny jars of sequins or accents, and more.
You can even use one of these for storing your pre-made cards before they're given to someone special.
Craft Room Basics - 6 Shelf Box
Our 6 x 6 paper pad storage is a versatile little must-have if you have 6 x 6 or 6 x 8 paper pads in your stash. And it can be used THREE different ways.
The standard placement will have the shelves facing out where you can place your paper pads or sheets on each little shelf. You can turn it on its side and use it as a file system or even have the shelves facing up for storing 6 x 8 paper pads with ease. Depending on the pieces of paper in each pad, you can fit 3 - 4 paper pads in every slot.
This storage system is also another amazing way to store sticker tablets, cards & envelopes - even your collection of alcohol markers! You're limited only by your imagination.
Craft Room Basics - Pocket Cards Organizer
Our Pocket Cards Organizer is a multi-use compartmentalized organizer that we designed for pocket page scrapbooking but can truly be used for so much more.
It has four front organizers for 3 x 4 cards or stamps, with two back organizers for 4 x 6 contents. But creative thinkers will surely look beyond the measurements and use this versatile storage system in any number of ways for getting organized.
Craft Room Basics - 6x8 paper pad holder
The 6 x 8 Paper Pad Holder is designed to perfectly house your sheets and pads of 6 x 8 paper. But that's not all. It's also an ideal storage spot for those big, beautiful, oversized 6 x 8 or 6 x 8 stamp sets and your reusable crafting stencils.
Craft Room Basics - Tall Sticker Organizer
Our Tall Sticker Organizer is a multi-use compartmentalized organizer designed for your sticker, Thickers, and oversized packs of ephemera. Organize your sticker sets in the three different sections of this tall organizer that fits in popular cube storage and rolling craft carts.
How will YOU use the Craft Room Basics? Any way you want! The Craft Room Basics are already flying off our shelves, racking up 5-star reviews and becoming fast favorites of our customers. We can't wait to see how you transform your crafty space with these must-have storage solutions!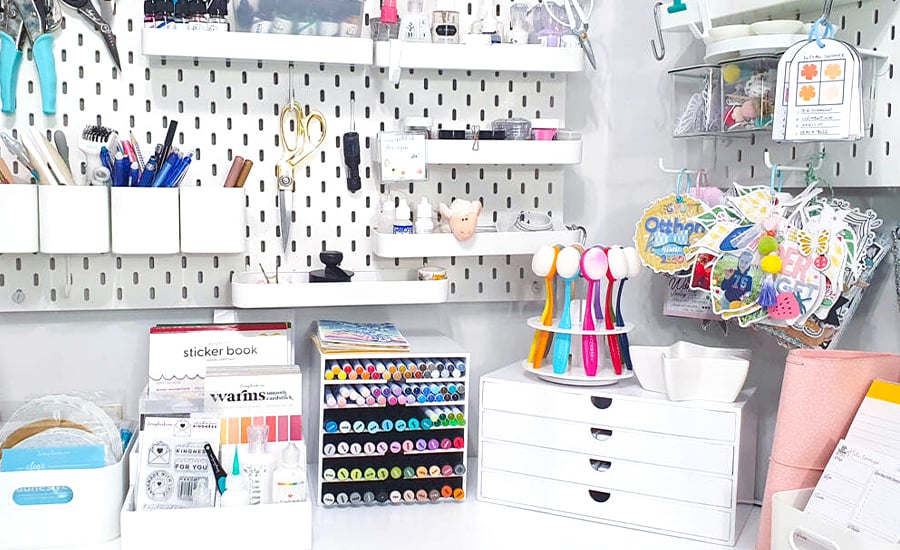 ---