Hi there! Dedra Long here and today I wanted to share one of the layouts I created using the November Kit, Thankful for Family, as well as some behind the scenes photos of the process. The Scrapbook.com November Kit is packed full of elegant products, has a touch of Thanksgiving and Fall elements, but can be used for documenting other stories as well. When I was creating with this kit, I didn't create one single Thanksgiving layout. This kit doesn't pressure you to do that because it is not so theme-driven that you have to create Fall or holiday layouts.
When I spread the kit contents on my table I was immediately drawn to the Teresa Collins woodgrain patterned paper and the brown cardstock. I knew I wanted to use our oldest daughter's Prom photos and I wanted to create a soft, elegant layout with a doily die cut piece to match the feeling of the photos.
I used a doily cut file from my Silhouette Cameo library. I re-sized it so it would fit a 12" x 12" background sheet of paper side to side and then cut it out of the ivory cardstock.
Once it was cut, I grabbed the woodgrain patterned paper as well as the brown cardstock and went to work.
I wanted to create a multi layered doily die cut piece as the focal point of the layout. So I started by backing it with the woodgrain paper and then put it on top of the brown cardstock sheet I used as my background.
Next, I decided to use three photos and I wanted to create some sort of collage which would require another layer within the doily center. Looking through my Silhouette library I came across a pie chart cut file and knew this was what I needed.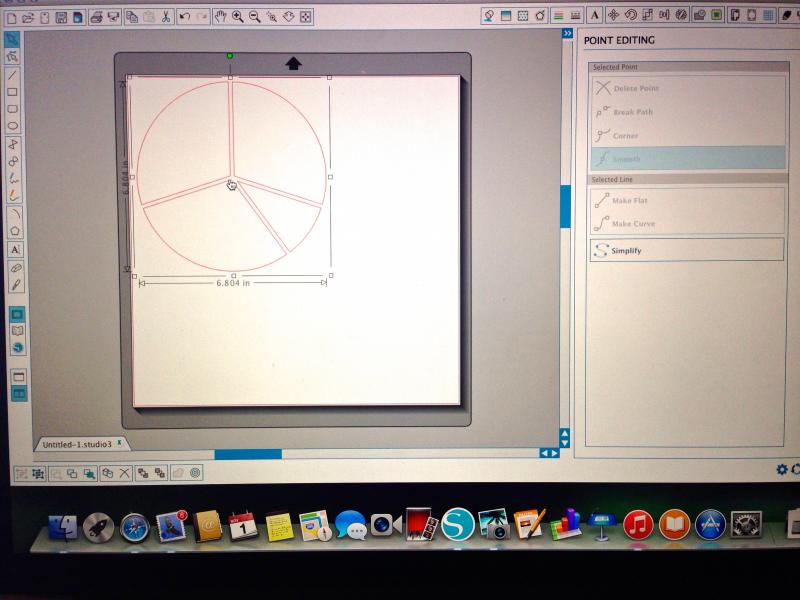 I took the inside measurement of the doily and sized the pie chart accordingly (making it slightly larger).
Looking at the file, I realized I needed to add a circle around the outside of the pie chart to create a "home" or frame for the photos, so I used the Arc tool to draw the outer circle and cut it out.
I played around with the arrangement of the pie chart in the center of the doily, figuring out the placement and how it would affect the photos.
I had three photos and looking at the pie chart I wanted those photos to be placed in the biggest sections of the chart.
After the photos were cut down, sized and placed, it left me with one small section for embellishments. I started with backing that section with patterned paper to give the layout some color.
I grabbed the chipboard stickers and chose one I liked, then cut it down at an angle so it would fit perfectly inside the pie chart.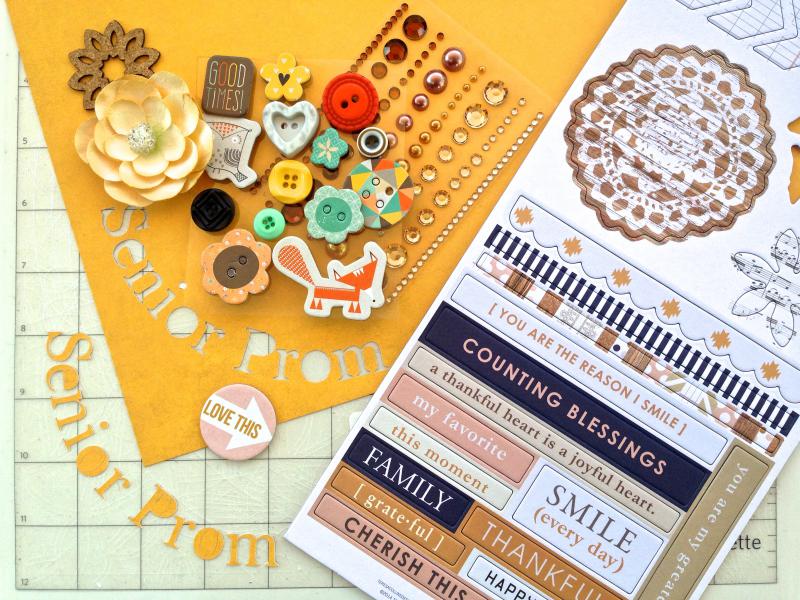 Next I gathered some of the other embellishments, trying to decide which ones I wanted to use, moving them around until I was happy. Then the fun layering part began! A combination of flowers (chipboard and paper), leaf stickers, cork, buttons and rhinestones, is what I ended up with.
After placing the embellishments, I had to figure out where to put my journaling, because for me, it's about the story as much as it is about the photos. Originally I had planned on having more journaling than I ended up with and that's ok. I included the most important parts and by using the chipboard journaling sticker I was able to include my handwriting which is also a bonus. Family members will love that you included your handwriting and I try to do that as often as possible. Maybe that becomes a 2015 scrapbooking goal of mine. More journaling in my handwriting.
Scrapbook.com offers unique kits stuffed full of patterned papers, embellishments and more. But don't pay full price. Sign up to receive your subscriber coupon today. Thanks for stopping by and taking a look!
---