Scrapbook.com is truly privileged to have the largest and longest-running creative industries trade event happen each year, only a few miles from our offices in Gilbert, AZ. It's called Creativation, and it's a massive convention-style event in which manufacturers, designers, educators, professional makers, retailers (like Scrapbook.com!), distributors, and other creative professionals come together to learn, connect, and discover.
Our fantastic team attends each year to discover new products and collections, gain inspiration and ideas, and continue to provide you with the best supplies and service possible.
This year, the Scrapbook.com team picked out just a few of our favorite new products, tools, and collections to get you super excited about your next must-have purchases. Join us as we recap 19 of our favorite new products for 2019.
Be sure to stick around at the end - there's a bonus favorite pick at the very bottom that you don't want to miss! And make sure to check out our companion podcast episode!
19. Mermaid Dreams Collection by Echo Park
Who hasn't dreamed of being a mermaid? Well, with Echo Park's new Mermaid Dreams Collection, all your dreams are about to come true. The magenta and turquoise hues truly made waves and stood out as a new, magical way to express artistic visions. If you made a wish upon a starfish for magical papers, stickers, stamps, and more, then your mermaid wishes have come true!
We're getting 'mermaid hair, don't care' vibes from this mythical and magical collection by Echo Park!
18. Dip Pen Kit by Heidi Swapp for American Crafts
Modern calligraphy, hand lettering, and beautiful cursive flourishes are coming back in style, and there's nothing as stylish as this new Dip Pen Kit* from the Color Fresh Collection by Heidi Swapp. The delicate pen made entirely of glass comes with two bottles of ink - one black and one vibrant fuschia pink - for creating bold block letters or fancy cursive swirls on all your projects, notebooks, journals, and more!
*Please note this product has been discontinued.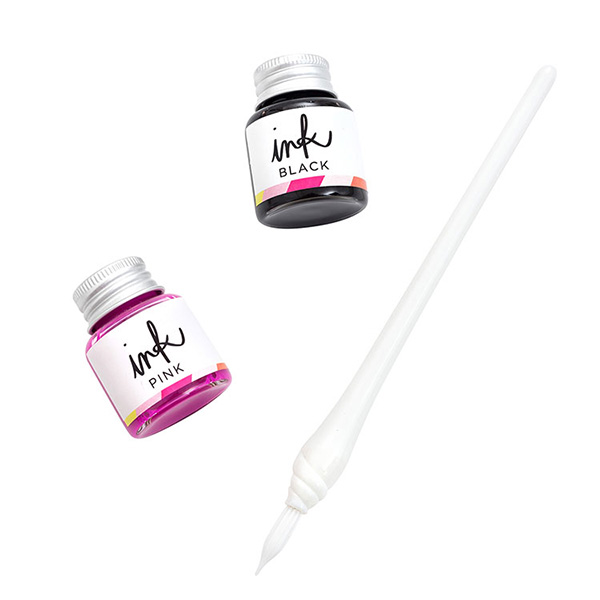 This elegant product has us super excited (in a sophisticated way!)
17. Water Media Mat by Waffle Flower
This year, Waffle Flower is branching out into the world of craft tools, and we think you're going to absolutely go crazy for their first one. The Water Media Mat is a bright white non-stick, waterproof, and heat resistant silicone work surface for ink blending, ink transferring, faux watercolor stamping, and so much more. This great new tool was even designed with photography and videography in mind for social media sharing! And it's also super easy to clean up when you're done.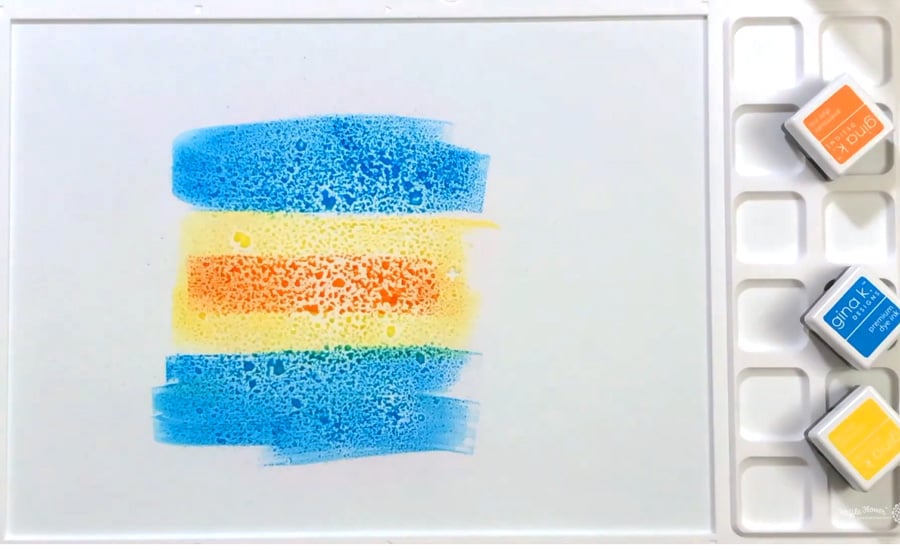 We especially like the attention to detail in the 12 palette squares for inks and the center mark for accurate measurements. It even has a suction back, which means no slipping and sliding on your table. You will want to check back on Waffle Flower's amazing products at the end of April 2019 to get your hands on this fantastic new tool!
16. Distress Oxide Sprays by Tim Holtz for Ranger
If you love Tim Holtz's Distress Oxides, you're going to love them in the new spray form! Your favorite dye and pigment ink fusions can now be spritzed and sprayed for that amazing oxidation effect in a whole new format. The best part (so hard to choose one best part!) is that all 12 colors are exact matches to their ink pad counterparts, making mixed media applications a total breeze!
What's your absolute favorite Distress Oxide color? We simply cannot choose just one!
15. Tidy Towel by Gina K. Designs
Say goodbye to inky stamps with Gina K.'s new Tidy Towel. Don't let the adorable name fool you; this tool takes tidy to a mighty level! Clean your clear stamps, rubber stamps, acrylic blocks, and your surfaces with this lint-free towel. With a slightly textured weave, the intricate crevices of your stamps don't stand a chance against the Tidy Towel. Just add water to activate its awesomeness or clean it - it's that easy!
A black stamp cleaner that hides ink stains in between washes - genius!
You won't want to miss this amazing product! Check back on all the amazing supplies offered by Gina K. soon to get your hands on the Tidy Towel!
14. Effect Paste in Golden Nugget and Unicorn by Finnabair
If you love mixed media sparkle and shine, Finnabair has new effect pastes you're bound to be obsessed with. The first, Golden Nugget, may not look like much in the jar, but once it spreads on your layout background or through the intricacies of a stencil, you'll be amazed at the dark, sparkly results.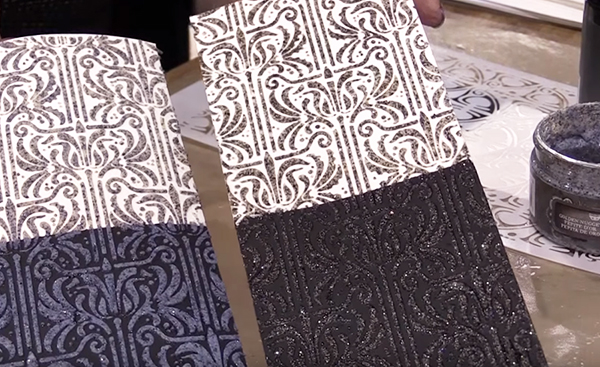 Look at that gorgeous deep sparkle once the paste dries!
On the flip side, Unicorn Effect Paste has iridescent flakes encased in a clear, shiny gel that looks amazing on light and dark projects. If there's such a thing as "too much sparkle," we don't want any part of it! Sparkle it up with the essence of unicorn all the way!
These amazing glittery flakes look amazing on both light and dark surfaces!
13. Say Cheese 4 Collection by Simple Stories
Too many Disney-themed collections? Surely you jest! Simple Stories unveiled their fourth Say Cheese collection this year because we definitely didn't get enough cheese the first three times around! Say Cheese 4 is packed with exciting patterned stencils, stamps, and dies that capture the true magic of the park and so many wonderful, colorful papers and stickers for commemorating your adventures.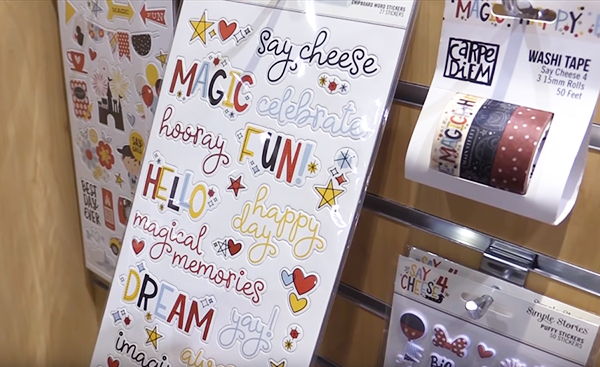 The best part about their continuing cheesiness is that all of the Say Cheese collections use coordinating colors and patterns, so your leftover scraps, ephemera, and hold out stickers will match perfectly!
12. Wolf Pack Collection by Heidi Swapp for American Crafts
There's something incredibly unique about Heidi Swapp's new Wolf Pack Collection that has us captivated. Crafted with dark and neutral tones, this adventurous collection is all about your family, or "wolf pack," and embracing every special moment together.
Get back to nature with scrapbook papers of mountains and trees and blankets of stars, with stickers in all shapes and sizes reminding you that adventure is out there. Find more details about the heartfelt inspiration behind Heidi's new collection here.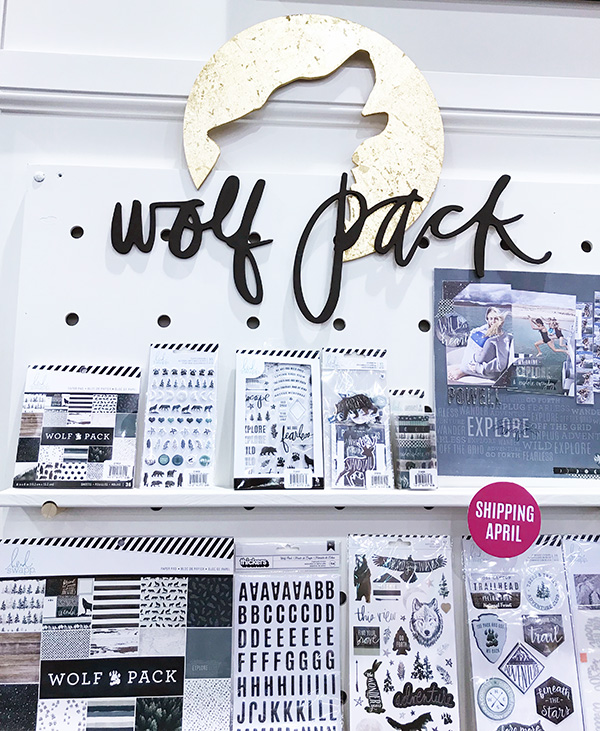 Heidi's new collection reminds you that your pack has your back!
11. Dream Drops by Nuvo for Tonic
When you simply can't get enough shimmer and glitter on your projects, you turn to Nuvo! This year, Nuvo is launching a bunch of new products that will absolutely put stars in your eyes. Although it was difficult to choose just one new Nuvo product to highlight, we're going with the opalescent new Dream Drops. This product is everything you love about the dimensional details in Nuvo Drops with an iridescent opal glimmer.
A picture is worth 1,000 words, and we want to make 1,000 projects with these shimmery beauties.
With color names like Fairy Wings, Dragon Scales, and Love Potion, there's definitely a little bit of magic behind these new drops.
10. Simon Hurley Create Collection for Ranger
You've seen his classes for stamping and cardmaking, and now your favorite teenager craft genius Simon Hurley is rolling out his very own line of stamps, inks, cardstock, and stencils! We were so unbelievably excited to see Simon's creative imagination come to life in the Simon Hurley Create line of products for Ranger.
Simon's bright, exciting personality comes across in his line of dye inks in fun colors like Later Gator green, Rosy Cheeks pink, Traffic Cone orange, and Grrr brown. Paired with some of Simon's new photopolymer stamps of adventurous critters, awesome dudes, and background rubber stamps of flowers or flannel, this collection is sure to make some amazing cards and layouts!
9. Foil Quill Collection by We R Memory Keepers
We are always impressed with We R Memory Keepers and the tools of the trade they come out with to make crafting easier and more exciting. This year was no exception with the introduction of the Foil Quill Collection, that turns your electronic cutting machine into a foiling machine! The device itself is a heat pen that is inserted into your Cricut, Silhouette, Brother, or Sizzix electronic cutting machine by use of an adapter to foil your project with amazing graphics and sentiments!
Turn your electronic cutting machine into a foiling machine and get your shine on!
We R has three different pen tips (bold, fine, and standard) for different designs and over 20 different colors of foil. But that's not all! They also are coming out with six different thumb drives that each contain 200 files that you can use with your foil quill pen and cutting machine! They've teamed up with Kelly Creates, Heidi Swapp, Paige Evans, and Amy Tangerine to lend their creative brilliance into those files, and we could not be more excited to see what foiled masterpieces you create with them!
8. The Make Art Stay-tion by Wendy Vecchi for Ranger
When precision is key in your creative process, you need a tool that's going to help you make amazing artwork. Enter the Make Art Stay-tion by Wendy Vecchi for Ranger. This magnetic 12" x 12" surface is perfect for aligning your tools and supplies before creating handmade brilliance.
Align, measure, and hold everything down while you create perfect projects.
No longer will stencils shift as you are blending with ink, paste, or mousse. Say goodbye to askew Washi tape lines or sentiments that start at one height and end at another. With four powerful (yet ouch-free) aluminum magnets and a flexible magnetic centering ruler, the Make Art Stay-tion ensures perfect alignment from all angles. You'll be drawn to this amazing tool like a magnet to a Make Art Stay-tion for sure!
7. The PA Scribe Collection by Spellbinders
Paul Antonio, the esteemed calligrapher, and master of handwritten artwork, recently unveiled his new PA Scribe collection of stamps, etched dies, and Glimmer Hot Foil plates. Now your projects can have elegant, timeless accents that look as if a master calligrapher did all the work!
Create metallic magic with Paul's glimmer plates and his new stamps that can be used with traditional ink or embossing powder and heat for extra oomph. He's even launching a booklet binding set that uses etched dies and your die cutting machine to create a beautifully bound booklet for writing, journaling, creating programs, etc.
If you haven't already been mesmerized by Paul Antonio's talents in action, be sure to check out our free calligraphy and foil design class starring the master himself!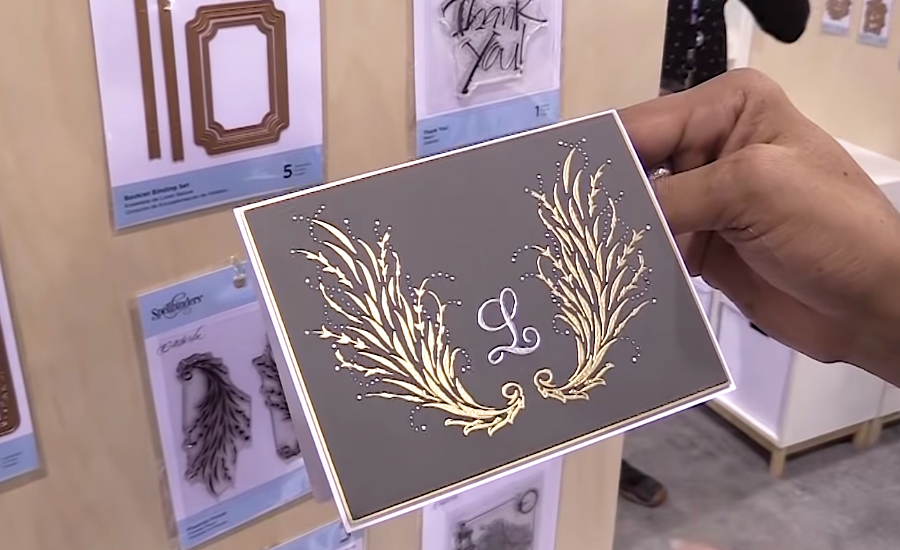 You, too, can create brilliant metallic flourishes like the master, Paul Antonio!
What really brings out the magic in Paul Antonio's glimmer foil plates is the foil itself. Spellbinders has a wide range of new foil options coming your way in 2019 for an absolute rainbow of foil possibilities! Keep checking the Spellbinders Glimmer Hot Foil System Collection so that you can be one of the first to foil with fantastic, fun new colors!
6. Kaleidoscope Collection by Graphic 45
When we first set our eyes on this dark and brilliant collection, we were immediately under its spell. It's dramatic, vibrant, colorful, and mysterious, all combined together into a truly unique collection of scrapbook papers, stickers, tags, cards, and accents. The Kaleidoscope Collection embraces vivid imagination, exotic wildlife, and a world of splendid opportunities.
This neon rainbow of wild possibilities caught our attention immediately.
5. Doodle Stamps and Doodle Cuts from Doodlebug Designs
Stampers and die cutters, Doodlebug Design, has heard your requests and announced an unbelievably adorable collection of Doodle Stamps and Doodle Cuts that coordinate with their popular paper collections. Now the characters, phrases, shapes, and more that you continue to love can be stamped and die cut for layering, dimension, and unique personal touches!
The cute characters you love in all things Doodlebug Design are coming to stamps & dies soon!
You'll want to keep an eye on Doodlebug's collection - these adorable sets of dies and stamps (sold separately) are coming your way in March 2019!
4. Washi Tape Runner from We R Memory Keepers
Who doesn't love adding touches of Washi tape to scrapbook layouts, cards, planners, notebooks, and more? We R Memory Keepers knows how much you love using Washi tape and is making it easier than ever to apply it to your heart's content with the new Washi Tape Runner*. Quickly and easily load and unload Washi tape into the runner for seamless application every time!
*Please note this product has been discontinued.
This little runner has run away with our hearts. We can't wait to load it up with tape!
The runner fits rolls of tape from 1" to 1.25" and has a retractable blade on the top to cut the tape when you're done applying it. We R is even releasing a collection of Washi tapes that fit perfectly in this handy little tool (but you can use your own as well!). As Arizonans, we're partial to the Succulent* rolls, but they're all irresistibly cute.
*Please note this product has been discontinued.
3. Paper Collections by Authentique
Scrapbook.com is very excited to now be carrying the Authentique line of paper crafting products. This imaginative company pairs vintage charm with a modern twist for unbelievably beautiful collections of paper.
Marked by soft pastels and neutral tones, their collections are unique and inspiring for projects that need just a hint of throwback charm. It was hard to choose our favorites from their extensive line, but the Glamour Collection with blue roses and vintage lace has us captivated!
2. Alcohol Pearls by Tim Holtz for Ranger
Whenever Tim Holtz and Ranger pair up for new tools or supplies, you know you're going to be excited. This year, Tim unveiled Alcohol Pearls, which are fast drying pigment and dye-based inks that create a mysterious pearlescent effect on your projects.
With colorful names such as "Intrigue" magenta, "Villainous" purple, and "Deception" red, these mysterious hues are enchanting and inspiring us!
1. Magic Picture Changer Die by Lawn Fawn
When it comes to cute cards, Lawn Fawn really steals our hearts with their adorable characters, scenes, and sayings. This year, alongside a bunch of really cute new stamp and die sets, they're changing things up (literally!) with their Magic Picture Changer die.
Chase those cloudy skies away with just one little pull tab!
Create interactive amazingness with one scene that transforms into another. Make rainbows of cloudy skies and turn frowns upside down for those feeling under the weather. You'll have so much fun creating unique changing scenes for birthday cards, get well cards, and even surprising little add-ons for your scrapbook pages!
Bonus Favorite Item - The Stamping Village!
We had one more very special favorite pick from this year's Creativation. There was an unprecedented collaboration by some of your absolute favorite makers of stamps, and this year they went in together to create a unique, memorable, one-of-a-kind stamp set that has us impressed and in love.
The collaboration of companies reminds us that happiness is a life handmade!
The Stamping Village Mail Delivery set is a collaborative effort amongst Altenew, Art Impressions, Dare 2B Artzy, Concord & 9th, Gina K. Designs, Hero Arts, Lawn Fawn, Pink Fresh Studio, Waffle Flower, and Jennifer McGuire. That's right - all of these companies came together to design individual stamps for a set that is all about happiness, love, and the joys of handmade creation.
---
There you have it, everybody! 20 of our favorite new products, tools, lines, and collections. With all the amazing products announced so far in 2019, we could easily tell you about 20 more! We hope that you've found at least one new item or collection that will make 2019 the best year ever.
Don't forget to keep your eyes on our Coming Soon section so you can get excited for amazing new craft supplies all year round! And, if you click 'Notify Me,' you can be the first to know when we have it in stock for purchase!
Can't get enough of our product sneak peeks and behind the scenes tidbits? Then you won't want to miss our in-depth article about your favorite American Crafts designers for insider info on their new and upcoming collections!
---